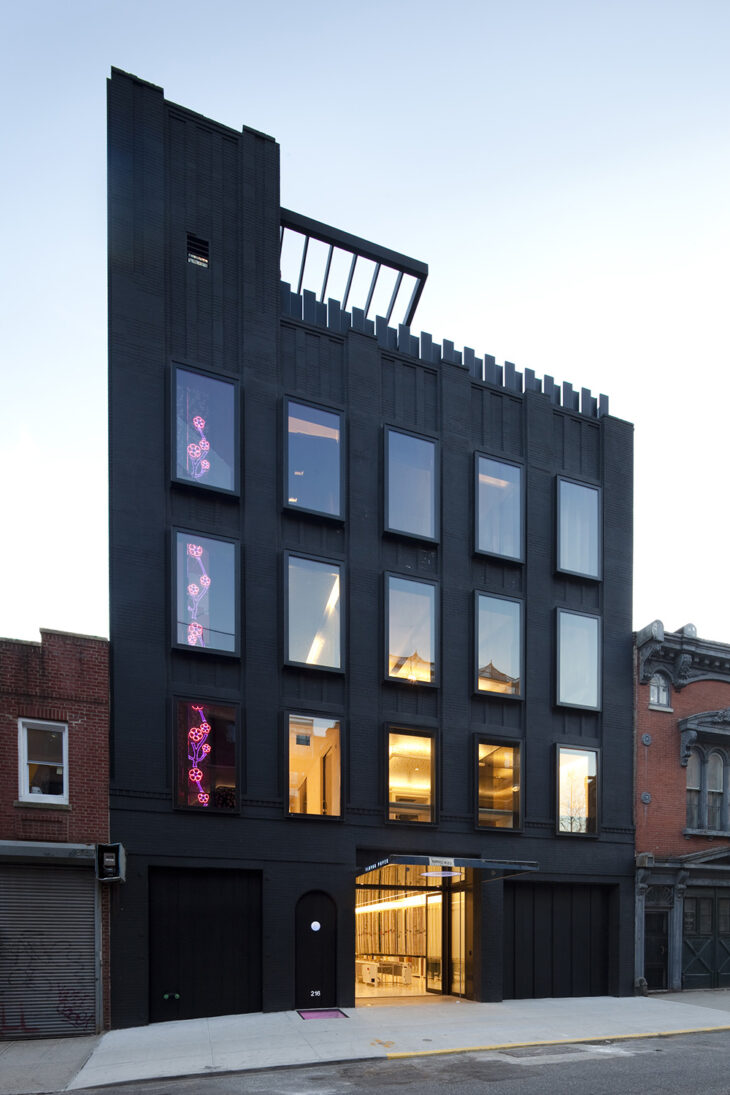 Skylab has recently completed the Flavor Paper Headquarters and Showroom in Brooklyn, New York. In this adaptive reuse project, a four-story garage is converted into a mixed office and residential complex. Flavor Paper is recognized for producing distinctive hand-screened and digital wallpaper, thus the design for the offices examines the company's goods to provide a visually dynamic setting in which to study the brand and its influence on space.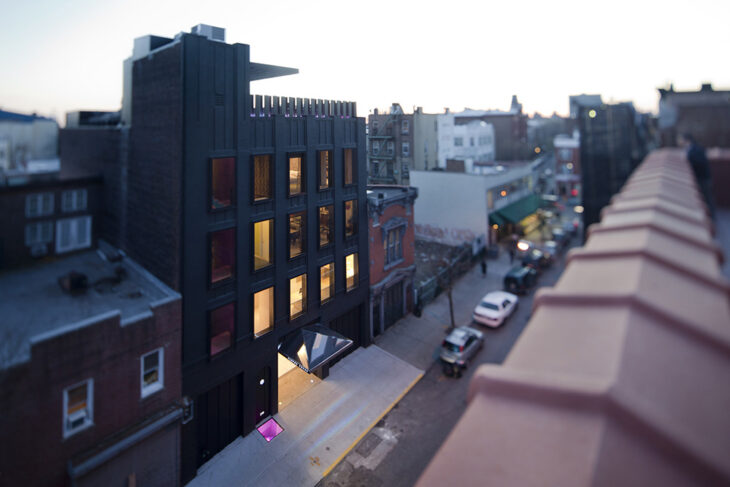 The way the building is laid out displays the skill of creation. The 13,800 square foot Flavor Paper Headquarters has offices and production areas on the first level, where hand-crafted custom wallpaper is planned and created. The families of two employees live on the top two levels in apartments, and the company's founder lives in a penthouse. Both staff and residents have access to a 3,000 square foot roof deck.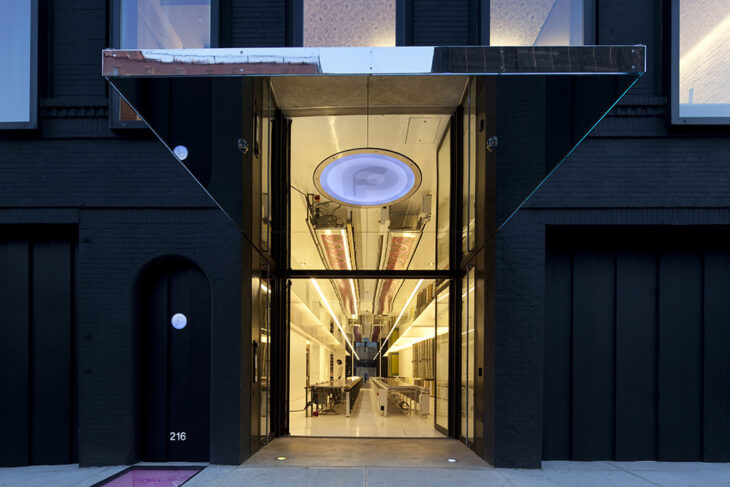 A number of views are set up in the area to experiment with the ideas of seeing and being seen. This impression is furthered by windows that offer glimpses of the activities inside. During the day, three rooftop pyramidal skylights let plenty of light into the building; at night, they can be used to create dramatic mood lighting. A pair of 50-foot-long printing tables are reflected in a cantilevered mirror that highlights the front door in a kaleidoscopic gesture, giving the print manufacturing facility the appearance of electrifying the street.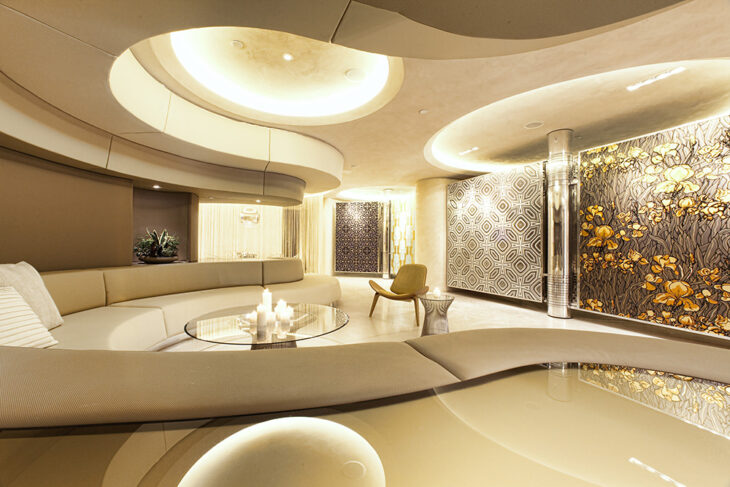 The object serves as an experimental lab for the applications of wallpaper. Flavor Paper and the architect worked closely together to incorporate three-dimensional wallpaper patterning into the actual spaces. On the second story, a cycloid abstraction of curvilinear chairs, wall, and ceiling contrasts with a "Bubbly" wallpaper. In response to the floral wallpaper in the stairway, a sakura neon vine connects the four floors into a single stem that rises to the roof deck. Five cutout light bands that alternately slice the open space with horizontal streams of light are set against neutral-colored wall and ceiling panels. The bands illuminate the area while also exposing the building's original framework.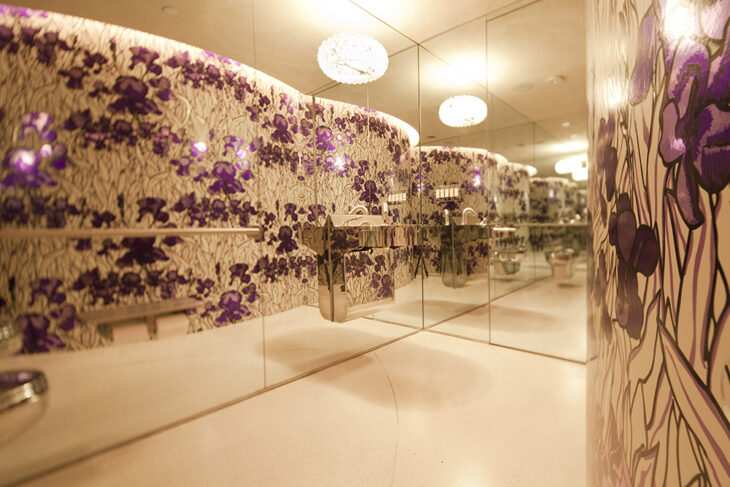 In the residences, the herringbone steel tile of the bathroom contrasts with the chevron-upholstered wall in the guest bedroom. The primary bedroom's wallpapered ceiling responds poetically to the fabric wall and shag carpet floor. In the training area, reflective wallpaper unites two distinct wall textures: one made of glass and the other of genuine brick.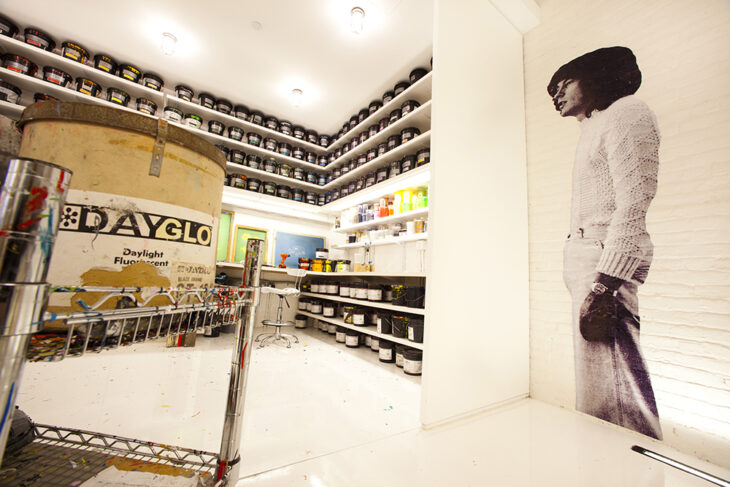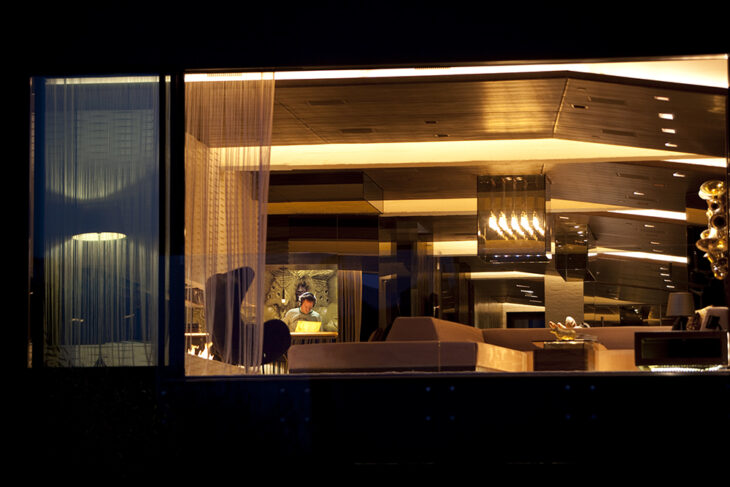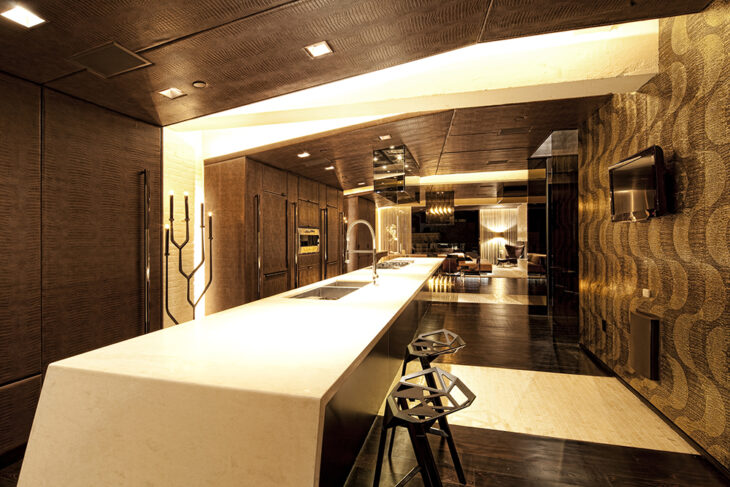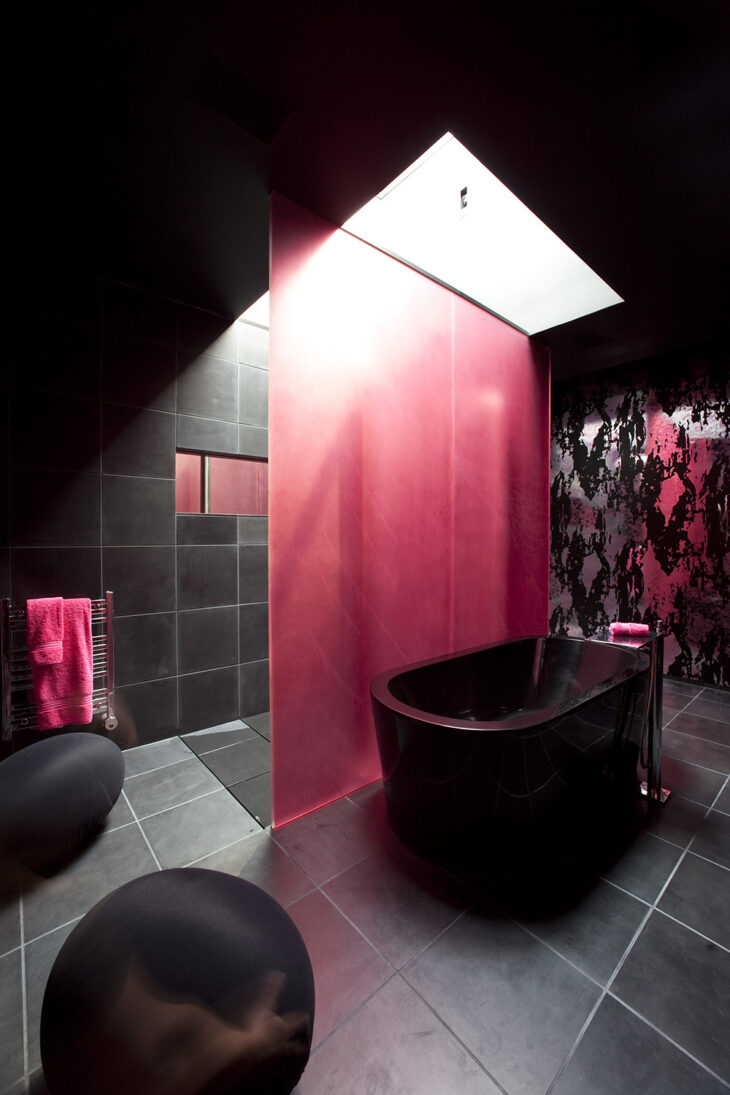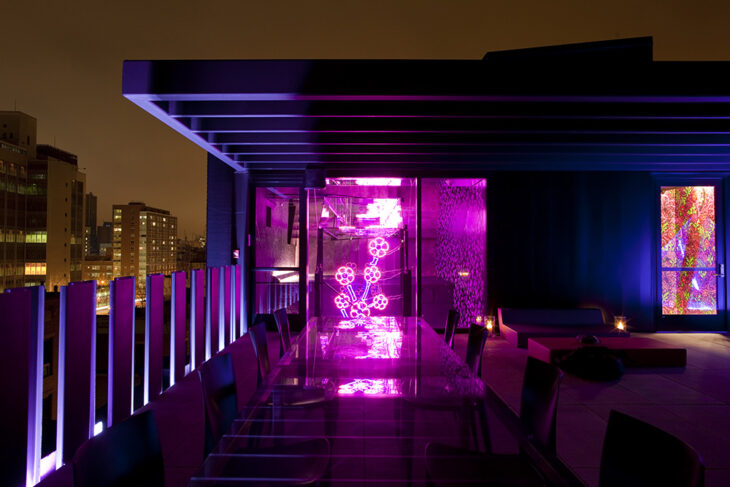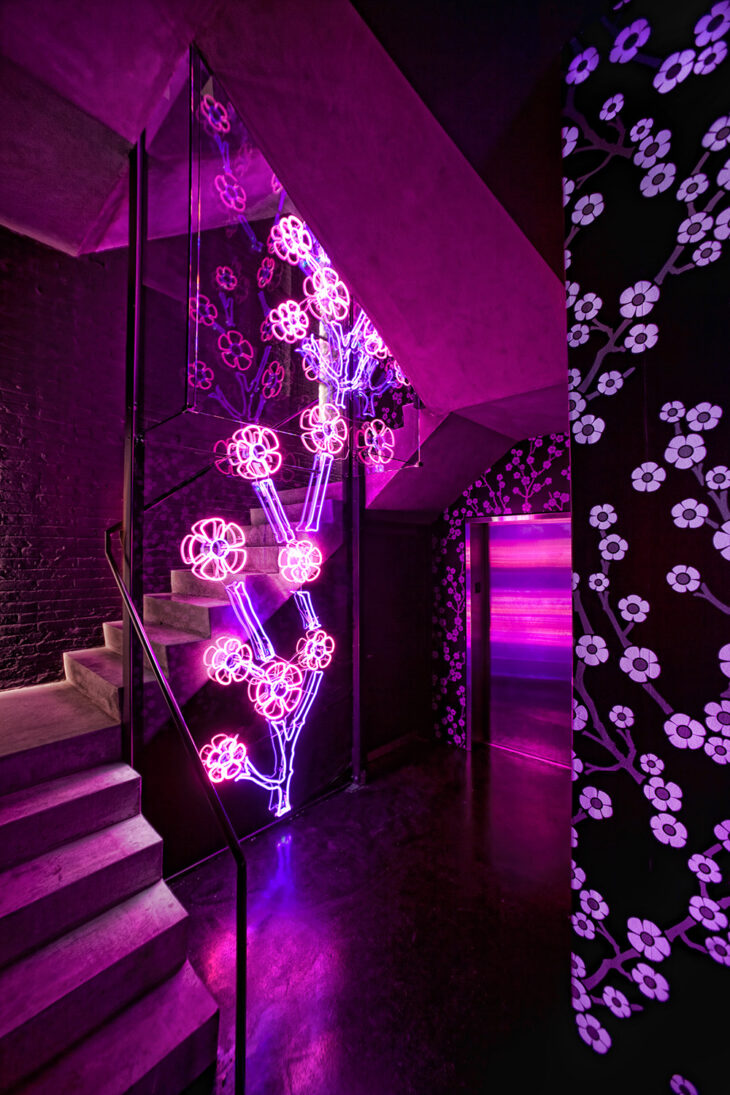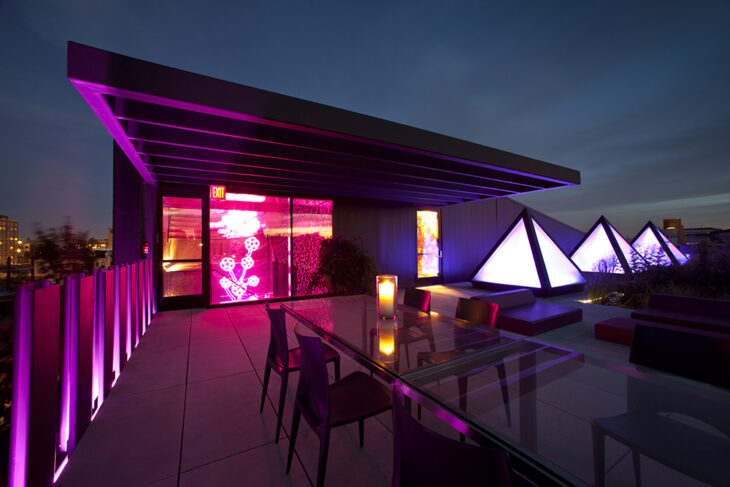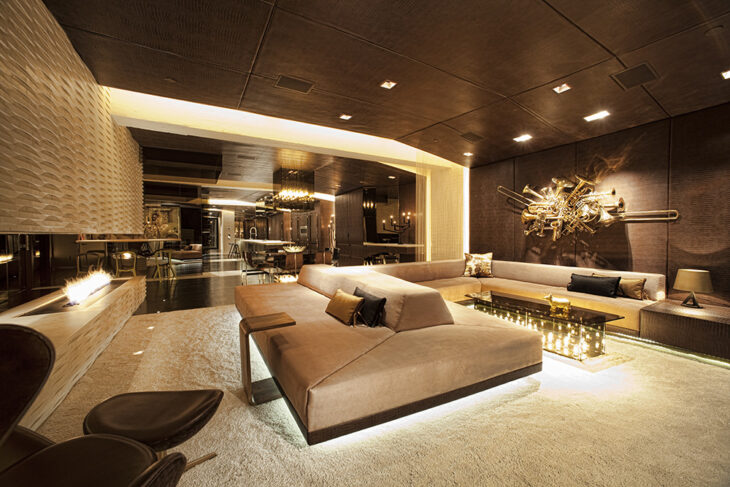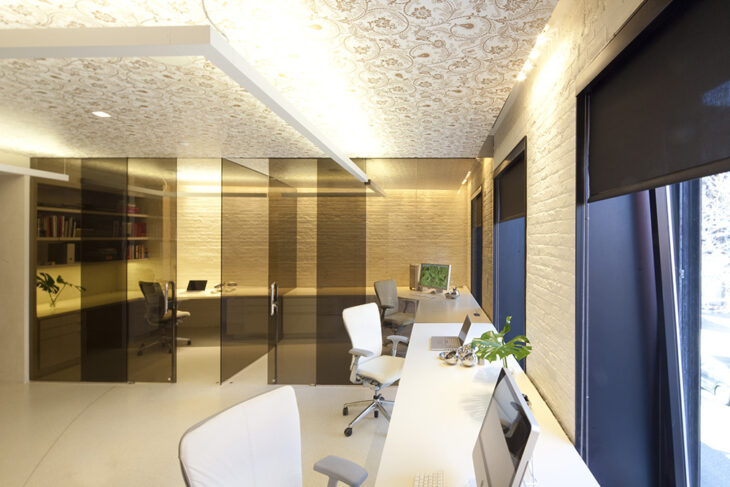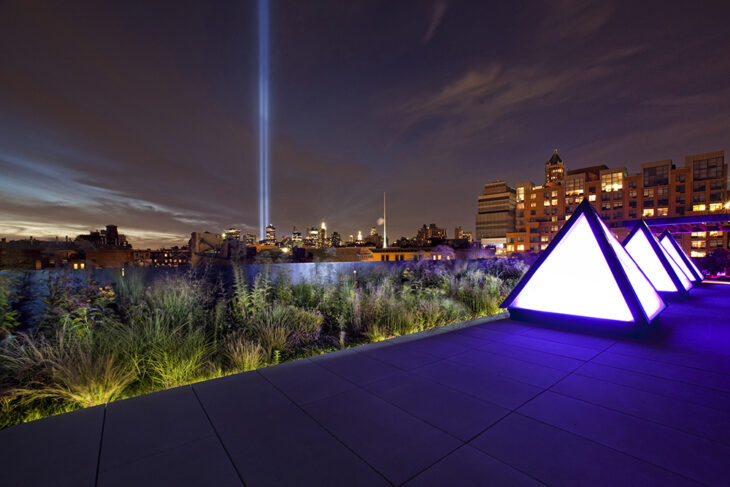 The penthouse's decor is influenced by New Orleans, the city where Flavor Paper was first established. On a wall with crocodile print, there is a brass musical instrument wall ornament. The owner, a former DJ, has a large music collection and a music booth in the middle of the living space.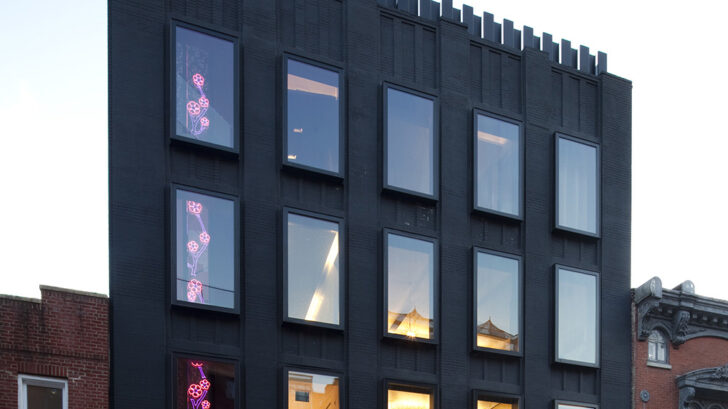 Skylab project team
Jeff Kovel, AIA – Principal | Lead Designer
Kent Heli – Project Lead
Kim Kovel – Interior Design
Cecily Ryan – Interior Design
Matt Geiger – Project Team
Daniel Meyers – Project Team
Christopher Brown – Project Team
Dannon Canterbury – Project Team
Brent Grubb – Project Team
Dru Ueltchi – Project Team
Photography by Boone Speed
Materials/Furnishings
Flavor Paper Showroom:
Floors: Terrazo with zinc inlay (custom pattern)
Conference Table: Knoll Platner Dining Table w/ custom 63" top
Conference Chairs: Kartell Eros
Conference Area Pendant: Tom Dixon Mirror Ball Pendant (chrome)
Wallpaper Racks: Custom by Ghilarducci Studio (polished aluminum)
Showroom Coffee Table Bottom: Knoll Warren Platner Coffee Table (stainless)
Showroom Side Table Bottom: Knoll Warren Platner Side Table (stainless)
Entry/Stair:
Poured-in-Place Concrete stairs and landings
Walls/Rail: Custom glass
Neon: Custom neon by LiteBright
Wallpaper: Sakura by Flavor Paper
Penthouse:
Floors: River reclaimed cypress by the Flooring Group; limestone tile by Ann Saks
Living Room Chair: Fritz Hansen Egg Chair
Kitchen Cabinets/ Walls: Custom by Made with Kravit Ankora upholstery by Think Design
Lighting: Kurtversen
Master Bathroom Counters: 3 Form
Find more projects by Skylab Architecture: www.skylabarchitecture.com/