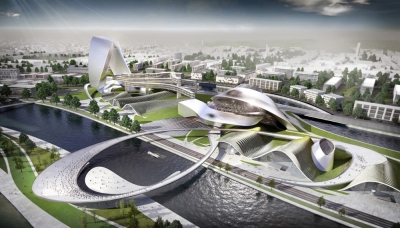 Project: Changsha Meixihu International Culture and Art Center
Designed by Coop Himmelb(l)au
Client: Changsha Meixihu Industry Co., Ltd.
GFA: 416 500 m2
Location: Changsha, Hunan, China
Website: www.coop-himmelblau.at
Another proposal for the ongoing Changsha International Culture and Art Center in Changsha design competition. This time the proposal comes from the creative team of the prolific Coop Himmelb(l)au of architects. For more about this proposal continue after the break: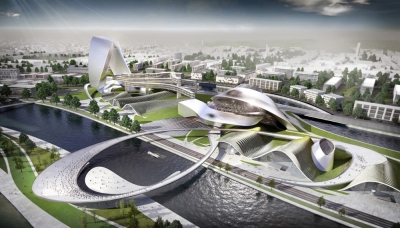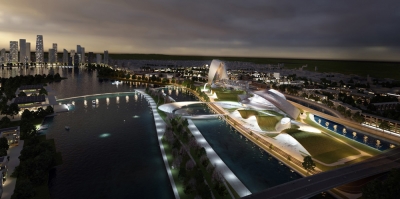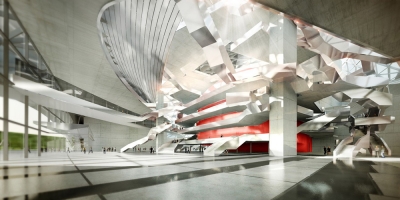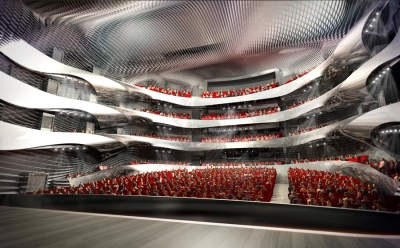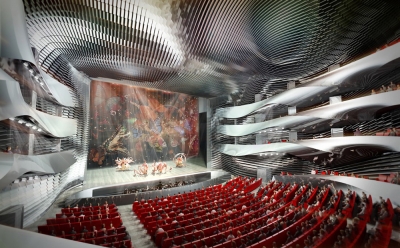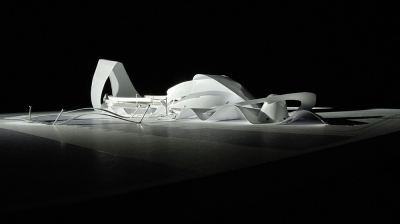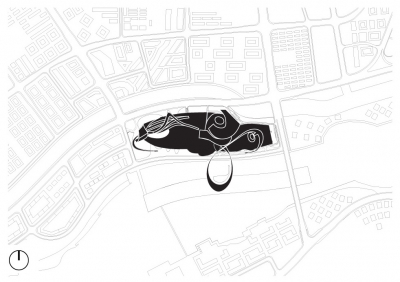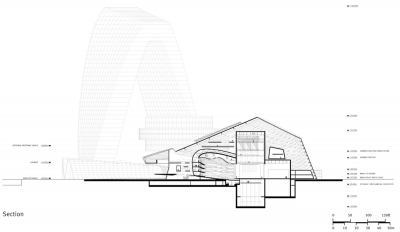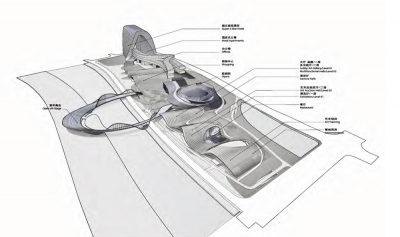 From the Architects:
The new Grand Theater and the International Culture & Art Center are located in the Daheexi District on the northeastern side of the new Changsha Meixi Lake, opposite to "Yuelu" hill/mountain.
The beautiful landscape scenery of the Meixi Lake drives the overall concept of the project by arranging the architectural parts like precious objects into an urban Chinese garden. COOP HIMMELB(L)AU's proposal consequently "thickens" up the ground surface and transforms it into a flexible and lively landscape integrating all the service and leisure facilities to provide an attractive and continuously active support for this dedicated cultural site. The naturally shaped waves of the garden also provide sports and recreation conveniences that also include refreshing water surfaces and allow a controlled passing-through of light and air. The distribution of architectural volumes at the Meixi Lake Culture & Art Center follows the idea of traditional Chinese Gardens transforming the elements of water, stones, hills, bridges and flowers into significant urban shapes animating and vitalizing the daily life of the entire Daheexi District.
Directly on the ground and on the landscaped roof surfaces a pedestrian walkway system interweaves the important infrastructural hubs like the subway station of the line 2 at the north-west corner of the new development with the garden landscape and the individual building parts: Open Air Stage, Grand Theater, Art Center, as well as an optional Office and Apartment Extensions and a 5-star High rise Hotel. The walkway extends to the East over the garden landscape to link the lecture halls, exhibition spaces & the art training center. The waterfront promenade closes the loop between the west and east end of the development opening with a generous plaza in front of the Grand Theater.

The Grand Foyer reflects and highlights all of the advanced aspects of an Opera House with bridges, stairs and platforms already performing as a 3-dimensional pre-stage to the Grand Hall. The state-of-the-art equipped Opera Hall provides a multifunctional layout to easily switch between eastern and western as well as traditional and modern stage designs.