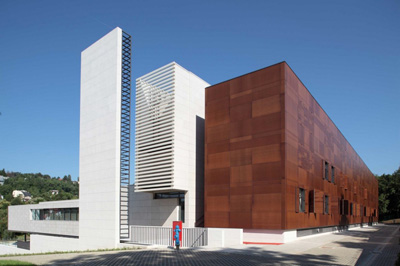 Project: Croatian Bishop Conference Building
Designed by Faculty of Architecture, University of Zagreb
Project Team: prof. Nenad Fabijanić, Sonja Tadej, Marija Grković, Zvonimir Pavković, Željko Pavlović, Davor Pavlović
Client: Croatian Bishop's Conference
Project Area: 11,900 sqm
Location: Zagreb, Croatia
Website: www.arhitekt.unizg.hr
Croatian Bishop Conference building in Zagreb shaped in a contemporary manner by the architects at Faculty of Architecture in Zagreb. For more of the project continue after the jump:
About the Project:
The front of the building faces the main road which provides access to the building. It also functions as the external side of the atrium covering the internal courtyard and the ground floor. Its white onyx slats cladding acts at the same time as an effective shading device. However, its special effect is created by night due to its light absorption and emission properties. The decision to use this material was inspired both by its aesthetic properties and the symbolism of the building referring to light and purity.
The atrium around the internal courtyard accommodates the offices. The central area contains a chapel and a conference room whereas the east-facing residential area with a view of the park is located in the rear. These two areas are distinguished by the use of different materials such as concrete or plastic cladding acting in harmony with the onyx cladding. The building dominates the gentle slope with its position, undisturbed horizontals and a shimmering facade screening off complex and dynamic activities going on in its interior.
Source ArchDaily. *