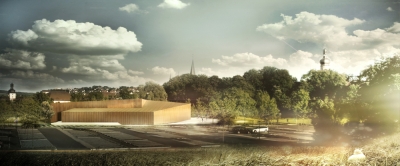 Project: Winning Proposal for Culture and Exhibition Center
Designed by HENN Architekten
Location: Weikersheim, Germany
Website: www.henn.com
HENN architects share with us their winning proposal for Culture and Exhibition Center designed for a location in Weikersheim.
From the Architects:
Weikersheim on the "Romantische Strasse" in the north-east of Baden-Württemberg is known as the Town of Music through its music academy and the "Jeunesses Musicales" initiative. Until now, the only performance venue for musicians in Weikersheim had been the town hall. The town in the Tauber valley will soon have another: a new concert hall. The design engages in dialogue with its immediate surroundings, the nearby Renaissance castle and the town church St. Georg. The sloping roofs and timber facades make reference to the architecture of the old town and the aesthetics and materiality of the sound boxes of musical instruments. The form and position of the free-standing building creates an interface between the footway along the Tauber and the old town.

Two components make up the single-storey building: a large main chamber and a smaller space with chorus room and ancillary rooms. In the south-east, a deep recess marks the main entrance, the conical foyer opens to the concourse with a large glass front. Small chamber and chorus room are brought together along one line and can be flexibly divided into smaller units or opened to the foyer to create a larger exhibition space. The trapezoidal stage, convexly curved wall panels, reflective ceiling elements and textile blinds on the side walls produce the optimum acoustics. The all-round wood laminate cladding gives depth to the facade of the new concert hall and emphasises its sculptural building form.