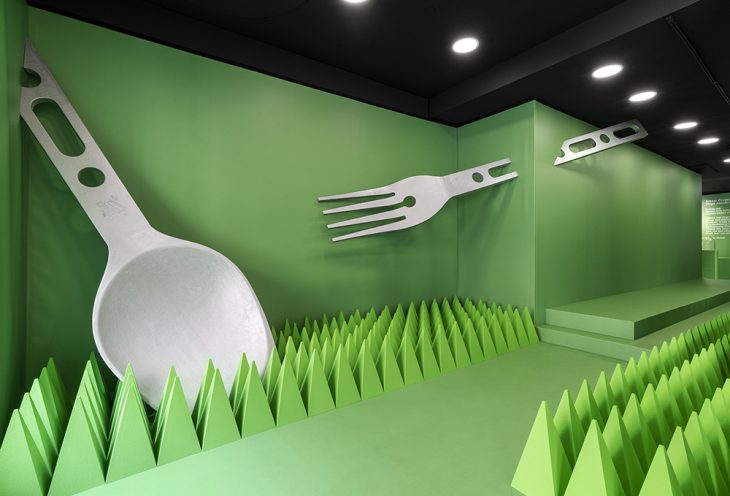 Alessi's centennial year is commemorated at Milan Design Week with the exhibition Alessi 100 – 001, which expresses the character of this Italian Design Factory as exemplified by its past, present, and future through the narration of the company's 12 founding values of identity and practice in the field of applied arts.
Alessi 100 – 001 looks over the last 100 years while also revealing the company's first new project of the next 100. Discover more after the jump.
Taking place at Galleria Manzoni on Via Manzoni in Milan, a shopping mall designed by Rationalist architect Alziro Bergonzo that dates from 1949, Alessi 100 – 001 occupies the entire gallery.
The exhibition is split into two components:
The first – the 100 of the title – is a corridor of curiosities. Here, Alberto Alessi has invited AMDL CIRCLE – the mul- tidisciplinary studio founded by his long-time friend and collaborator, designer, and architect Michele de Lucchi – to curate 12 rooms to express and illustrate the 12 core values of the brand.
These values, which have formed the foundation of Alessi's centenary celebrations over the past 12 months, are: Industrial Craftsmanship, Art, Paradox, Beyond, Hybridisation, Research Lab, Irony, Borderline, Poetry, Thingness, Transgression and Futurespective.
To embody these, Alessi has issued 12 limited edition products, released one per month from May 2021, which make up the 100 Alessi Values Collection.
Alessi 100 – 001 gathers all these products together for the first time, brought to life by AMDL CIRCLE in a series of installations, some of which are interactive. Industrial Craftsmanship, for example, is represented by a room into which a corner of the Alessi factory in Omegna, has been literally transplanted. Poetry gets its own actor performing live. Research Lab is a Wunderkammer that displays a selection of more than 30 different coffee makers and coffee pots designed by 30 designers from around the world, including prototypes of projects never put into production belonging to the Alessi Museum collection and here displayed in public for the first time.
Paradox presents an unexpected art installation created using toilet paper, staged in a room entirely in gold, to celebrate the Merdolino toilet brush gold edition.
The second – the 001 of the title – marks the beginning of a new era of experimentation for Alessi.
This is a collaboration with one of the most popular designer in the modern age that will be showcased in an extraordinary bright green walk-through that feels like a natural setting interpreted by a computer programmer. Into this geometric landscape, designed by Italian graphic design studio Studio Temp, are inserted giant versions of the new-project objects, creating a surreal experience for the visitor. The green colour is not just aesthetic, though. Through a specially developed Instagram filter using green-screen technology, people can create imagery that merges the digital world with the physical.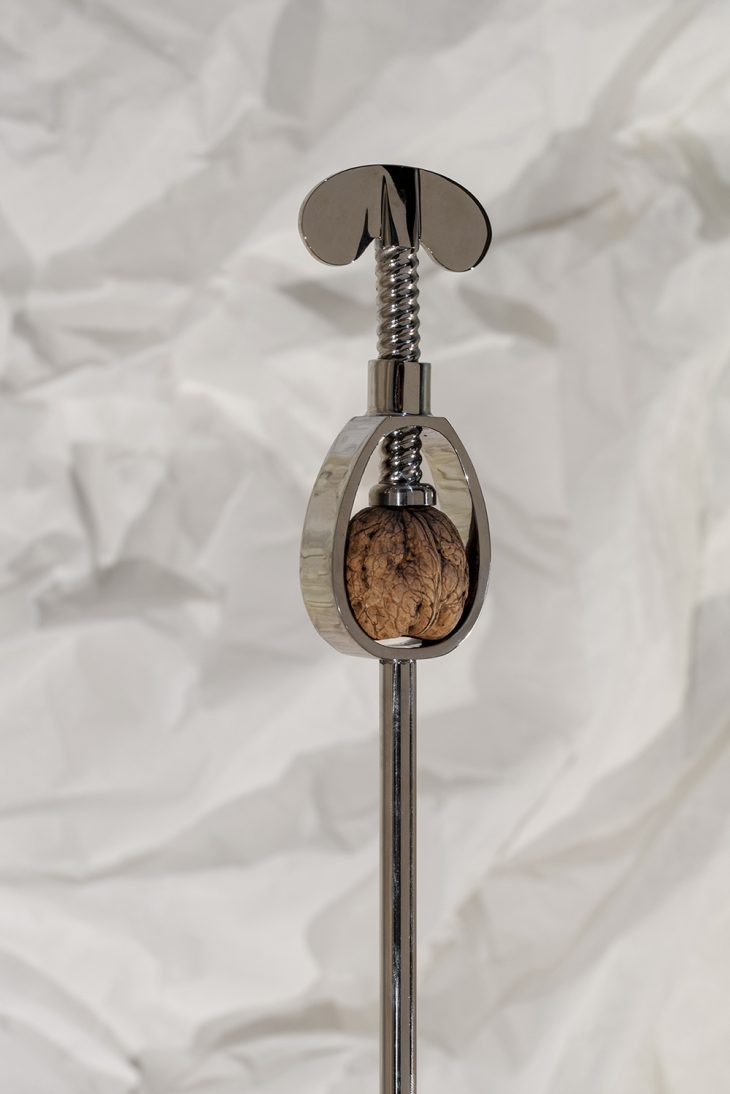 Galleria Manzoni also features selection from the brand's archive, spanning from the '20s to the '60s, when it became a fully-fledged Italian Design Factory. These products are displayed with pieces from the historical archive of the British firm Globe-Trotter.
Following Milan Design Week Alessi 100 – 001 will become a travelling exhibition that will be put on worldwide in the company's main markets.
"The centenary exhibition in Milan is an important summa- tion of our 100-year adventure. While the parallel exhibit of our new project – the first of the next 100 years – and the new project itself, stand as testament to Alessi's commit- ment to remaining relevant to this and future generations. Because, if I am being entirely honest, the past only interests me insofar as it can inform what we will do tomorrow."
ALBERTO ALESSI
ALESSI PROJECT 001: VIRGIL ABLOH'S OCCASIONAL OBJECT CUTLERY SET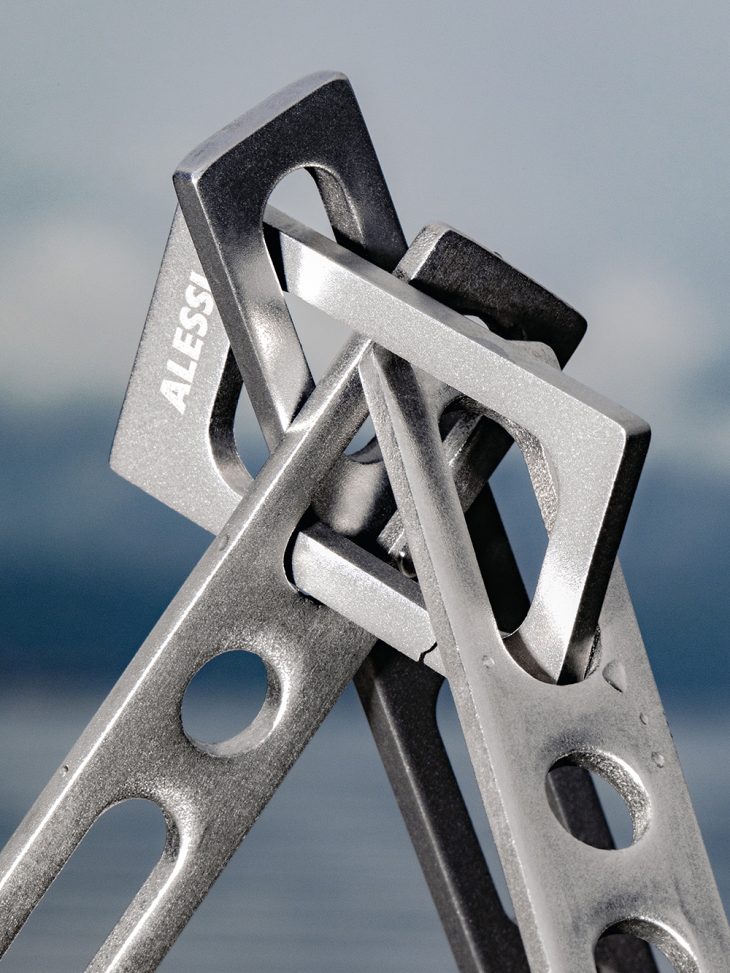 A new take on cutlery by the fashion designer is the first new project of Alessi's next 100 years.
Alessi's centenary year celebrations culminate at Fuorisalone with the exhibition Alessi 100 – 001, an installation that expresses the character of this Italian Design Factory through an exploration of its past, present and future with the narration of the 12 founding values of the company's identity and practice in the field of applied arts.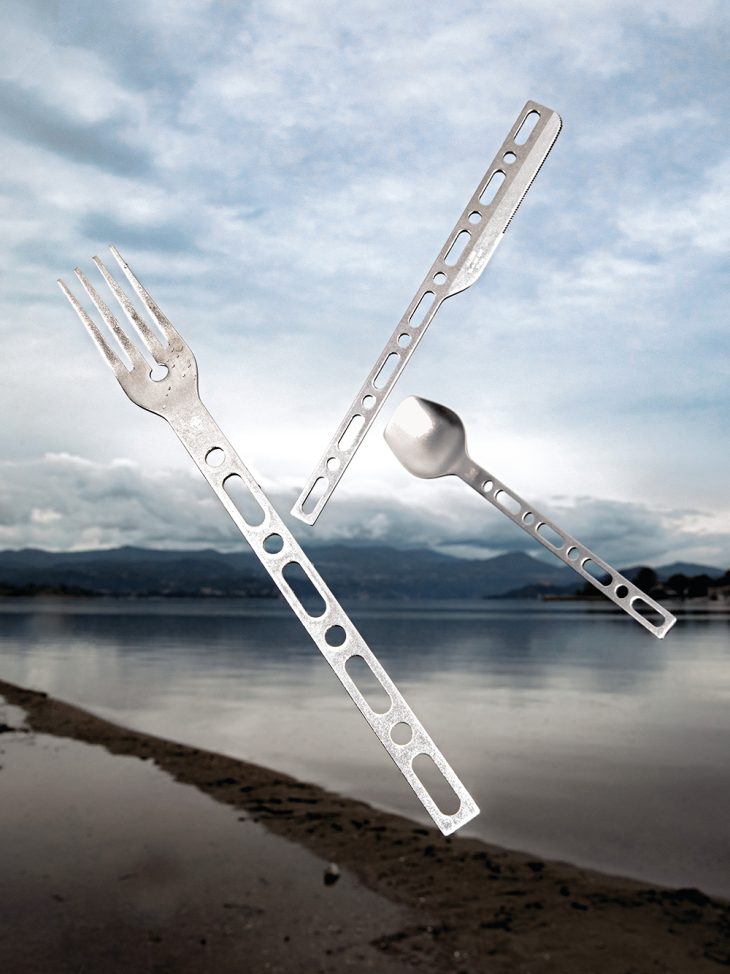 While the 100 of the exhibition title refers to the design firm's activity throughout its first century, which is illustrated through a series of installations curated by AMDL CIRCLE, the multidisciplinary studio founded by designer and architect Michele De Lucchi, the 001 refers to Alessi's first project of its next 100 years.
This is a cutlery set created in partnership with Virgil Abloh and his London-based design studio Alaska Alaska, which is showcased in a modern-surrealist installation created by Studio Temp, the Italian graphic design studio that is a regular collaborator with the American fashion designer.
It was around a year ago that Virgil Abloh contacted Alberto Alessi to suggest that they might work together. He had in mind a new approach to designing tableware in general and cutlery in particular.
A well-known creative disruptor in the fashion world, where he explored the boundaries between streetwear and high fashion, Abloh had also trained as an architect and had a passion for design of all types.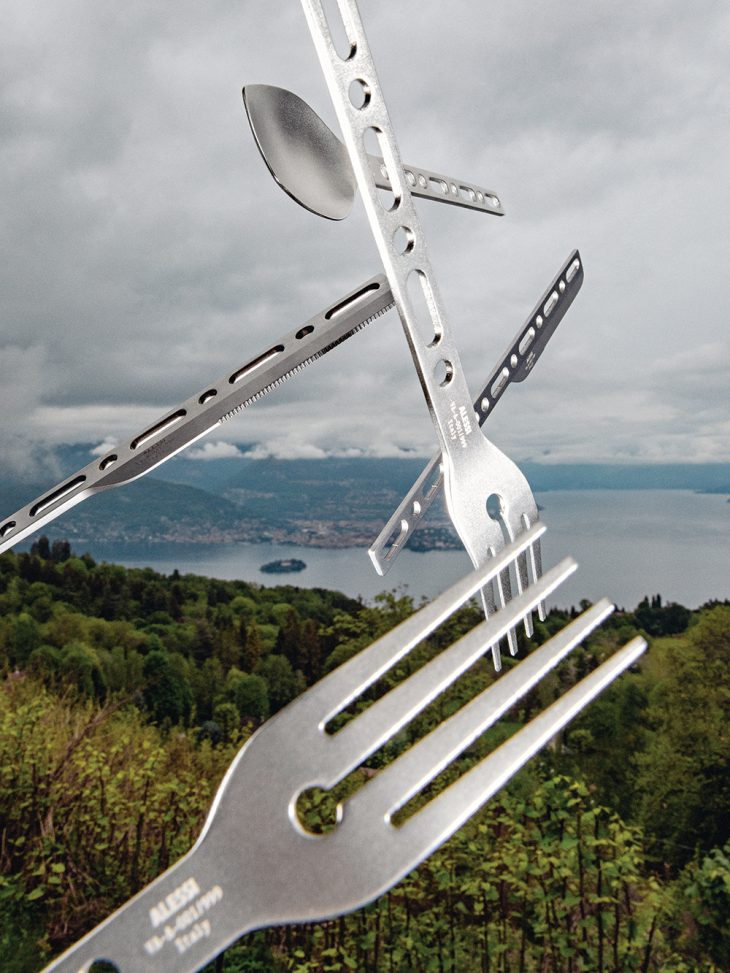 "Virgil thought of Alessi as the best in class, not only in terms of its design history, but also because of the calibre of the artists and designers it has worked with in the past. This provided Virgil with the perfect context to actualise this project amongst great company."
TAWANDA CHIWESHE CREATIVE DIRECTOR OF ALASKA ALASKA
Alberto Alessi was intrigued by the approach. Alessi has over the past 50 years produced more than 20 designs for cutlery by designers such as Achille Castiglioni, Ettore Sottsass, Marcel Wanders and Massimiliano and Doriana Fuksas. All these exemplified a very elegant approach typical of Italian design. This was very far from what Abloh proposed.
"I found that Virgil had a completely different way to look at things and objects. So when he looked at our world, the world of Alessi, it was through the eyes of one who loved the idea of a mechanical workshop – I remember that the first reference he showed me was a wrench – very far from what we habitually think of as good design. It was almost brutalist. I found this very interesting, as for us it was a new approach. Alas, we had very little time to make our collaboration with Virgil, but I am so glad we did."
ALBERTO ALESSI
The cutlery set, made in Italy, in stainless steel, features geometric shapes and comprises a knife, fork, spoon and, importantly, a carabiner to fasten all three to- gether, either in the context of a new way of setting the table, or as a means of attaching these utensils to the body. Tools that have become associated with the formality of place settings and a seated experience have thus been reanimated as objects that can be freed from convention.
An example of the set will be showcased at the Alessi 100 – 001 exhibition, and the products will be concur- rently displayed in a Studio Temp-designed installation at Alessi's flagship store at Via Manzoni 14.
The edition is limited to 999 sets.
This is the first Alessi project that will be released in partnership with Alaska Alaska. Essentially, the stainless steel cutlery is the initial manifestation of "Conversational Objects", a series which will be fleshed out with ceramics and tableware later next year, in ad- dition to Alaska reimagining an Alessi classic.
Alberto Alessi sees the 001 project with Virgil Abloh as a statement of intent.
"Alessi today is the result of the collaborations we have done with so many design minds like Sottsass, Starck, Mendini and Castiglioni. Each of them has left an important mark on the Alessi practise and contributed to what the company has become. Virgil Abloh is the latest name to add to that list, and I cannot think of anyone better to express our desire to remain relevant and contemporary for today's and future generations."
ALBERTO ALESSI