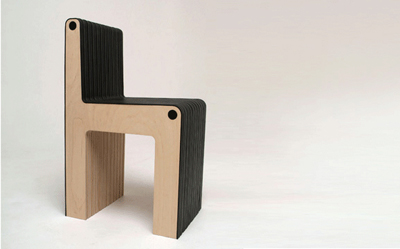 Project: Silhouette Chair
Designed by Evie Group
Dimensions: closed width: 370mm, depth: 470mm, seat back height: 780mm, seat height: 470mm, seat depth: 380mm
Website: www.eviegroup.com
Creatives at Evie Group find a unique way to morph Silhouette Chair from a regular piece of furniture into an art piece. For more images and designers description continue after the jump:
From the Designers:
A piece of furniture should have its own personality. Silhouette was named to correlate with the concept of what a stereotypical form of a chair is. An exploration in conceptual design and material interaction in order to create a visual statement.
Each individual profile is assembled together to form a modular type of seating system that allows it to be whatever the user wants it to be. Totally closed up – a tightly knitted chair for one. When opened, it forms a curvaceous bench in any direction for two or transforms into an art piece.