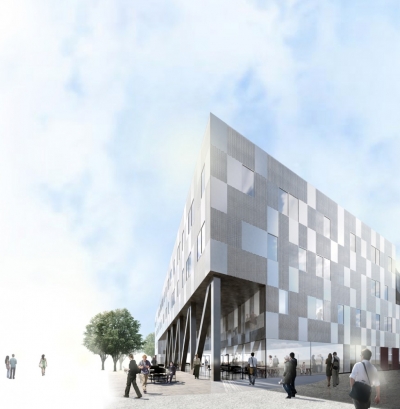 Project: Adult Education Center
Designed by CEBRA
Location: Denmark, Odense
Website: www.cebra.info
CEBRA has shaped the refreshing design for Adult Education Center building in Danish town of Odense. Discover more of the project after the jump:
From the Architects:
In cooperation with developer E. Pihl & Søn and engineers Hundsbæk & Henriksen, CEBRA has won the competition for the new adult education center VUC FYN & FYNs HF-kursus in Odense, DK. The new 134.550 sq. ft. school building consists of a regular volume that is penetrated by curved and soft forms. The duality creates tension, diversity and versatility – and most importantly, a flexible and manifold learning environment with the human being placed at the center. The building is organized around a very active pivotal space – named the Agora, based on the ancient Greek example – with gradually increasing tranquility and spaces for contemplation towards the building's edges. In addition, this organizational principle is transferred from plan to section – with high activity at ground level and tranquility on the top floor.