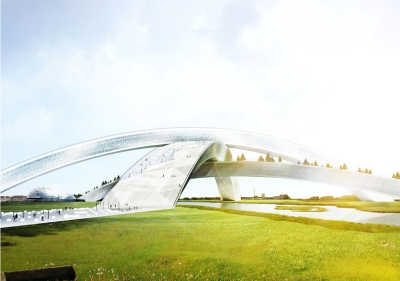 Project: World's Largest Skidome
Designed by CEBRA
Location: Randers, Denmark
Website: www.cebra.info
CEBRA architects design this impressive solution for the World's Largest Skidome in Denmark. Discover more of their design after the jump:
From the Architects:
CEBRA has designed a vision for a skidome in the city of Randers for Danski: Skidome Denmark. The basic idea of Skidome Denmark is to share and pass on the joy of skiing to the Danes by bringing a piece of the Alps to Denmark. The proposal offers over 3 km of indoor and outdoor slopes and a freestyle park as well as a hotel, a restaurant and shops on an area of 1.076.000 sq.ft. The structure consists of three arches, which resemble the shape of a six-armed snowflake. The arches each span 700 m across the river Gudenåen and the top arch's highest point rises 110 m over the surrounding landscape. It is the aim of the skidome that it can be used and enjoyed by everyone – any time of the day, any time of the year. Thus, the arches' exterior roof surfaces are an integrated part of the design equal to the interior slopes with real snow. The top arch's roof offers two black pistes, allowing outdoor skiing even during the summer. The middle arch is shaped like an urban playground with street sport facilities for skateboarding, BMX etc., while the bottom arch has a green landscape roof, which like a raised city park invites to a wide range of leisure activities.