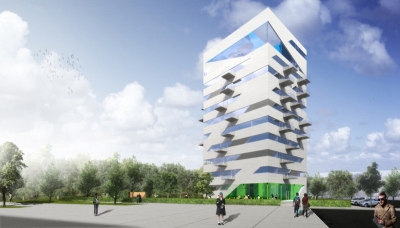 Project: Student Housing
Designed by CEBRA
Client: Boligforeningen Ungdomsbo
Size: 2 500 m2
Location: Esbjerg, Denmark
Website: www.cebra.info
Wining Student Housing design by CEBRA created for a location in danish town of Esbjer, in collaboration with engineers at LB Consult the architects have created 48 new units. Completion is expected for the beginning of 2014, making the project ready for the first students to move in.
From the Architects:
In cooperation with engineers LB Consult, CEBRA has won the competition for 48 new student housings in Denmark's 5th largest city Esbjerg. The eye-catching proposal consists of 26.910 sq. ft. apartments spread across ten floors and outdoor areas with terraces and activity zones such as a street basket field. The project is commissioned by the housing association Ungdomsbo and they expect the first students to move in by January 2014. The building contains two basic functions: apartments – both for students and for young elitist sports practitioners – and common areas. The common areas are located at ground level, with direct access to the terraces and outdoor activities, and on the roof, with a spectacular view over the Danish Wadden Sea. By placing the apartments between the two common areas, the building achieves a high level of flexibility and the housings can be reorganized freely, according to possible changing functional demands in the future.