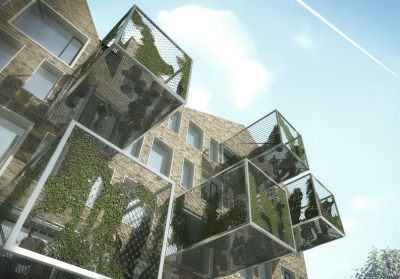 Project: Bulowsvej
Designed by CEBRA
Client: The municipality of Frederiksberg
In co-operation with: Liw Planninig
Area: 37 700 + 29 900 sqf of new building and rebuilding
Location: Frederiksberg, Denmark
Website: www.cebra.info
Bulowsvej is CEBRA's winning proposal for the redevelopment of an old school building in Frederiksberg. For more of the project continue after the jump:
From the Architects:
The front of the new building for the elementary school facing the street is now finished and the first children have moved in. At the same time, the work on the façade facing the yard and the school's other buildings is progressing. The new building is both visually and organizationally divided into three bands, which reduce the building's scale and create variety, recognisability and flexibility regarding the school's functions and pedagogical principles. In addition, the building is pulled out towards Thorvaldsensvej in order to fill a gap in the street façade and thereby permitting the school's scattered buildings to be connected by a green inner school yard.