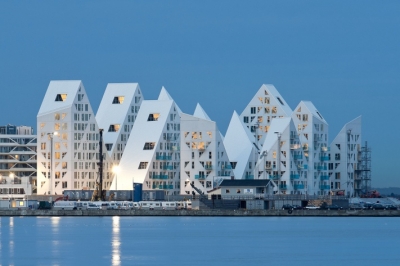 Project: Isbjerget Housing Project
Designed by seARCH, CEBRA, JDS Architects, Louis Paillard
Client: PensionDanmark
Size:Size: 25 000 m2
Location: Aarhus, Denmark
Website: www.search.nl, www.cebra.info, jdsa.eu & www.louispaillard.com
The massive Isbjerget Housing Project is almost completed, Iceberg design is work of seARCH, CEBRA, JDS, and Louis Paillard studio.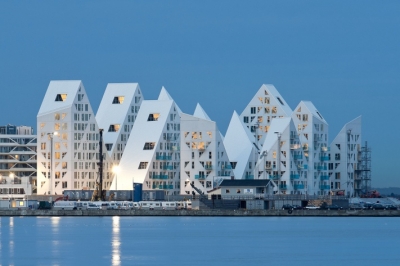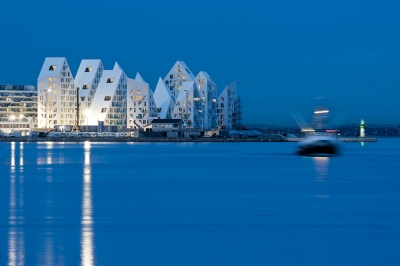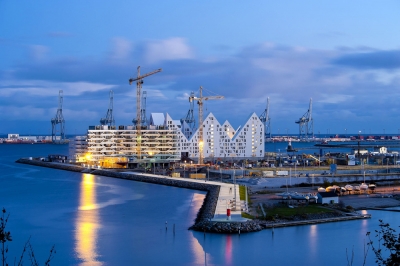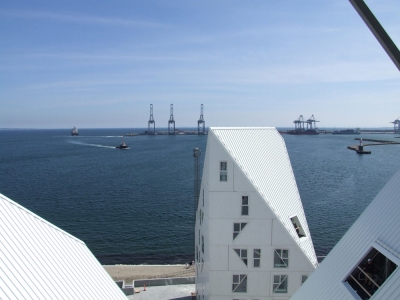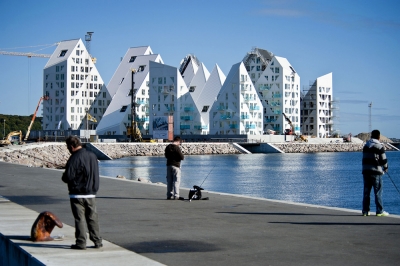 From the SeARCH Architects:
Isbjerget (Iceberg) located on a stunning site on the waterfront of Aarhus, takes its inspiration from floating icebergs in continual motion. The design team reshaped the masterplan that consisted of closed blocks, into four L-shaped wings. Its peaks and canyons elicit the project's iconic strength while ensuring that all apartments take in a generous amount of natural light and feature waterfront views. At 7 and 8 stories and 21,500 m2, Isbjerget houses 155 one or two story apartments and commercial space on the ground floor. The varied building shapes create a series of apartment types. At ground level a number of 2 story townhouses are integrated into the volume. Penthouse apartments are located within the stunning peaks of the building. Balconies feature glass changes in gradations of deep blue at the base to transparent at the top in keeping with the color of an iceberg. A mix of apartments with different balconies, shapes and orientations ensure an urban living environment with social diversity.
Isbjerget was designed in collaboration with JDS, Louis Paillard and CEBRA after winning a limited design competition and is on schedule for completion early 2013.