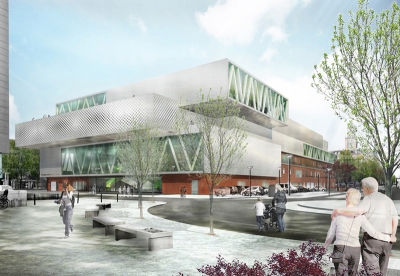 Project: Experimentarium Science Centre
Designed by CEBRA
Team: Dongwoo Yim, Rafael Luna, Jihyun Park
Client: Experimentarium
Location: Tuborg Havnevej, Hellerup, Denmark
Website: www.cebra.info
Architects at CEBRA have shaped an impressive project design for Experimentarium Science Centre in Denmark, taking over 30,000 square meters. For more images as well as architects description continue after the jump:
From the Architects:
The A.P. Møller and Chastine Mc-Kinney Møller Foundation has donated DKK 200 mio. to the modernization and extension of the science center and museum Experimentarium in Hellerup, Copenhagen. In 2011, CEBRA won the architecture competition for the new Experimentarium and the approximately 320.000 sq. ft. project is is brought one substantial step closer to realization. The ambitious plans include a rooftop exhibition, a botanical roof garden, a large new exhibition hall, a flexible stage for an audience of 400 people, centres for learning, innovation and research, a conference centre, cafeterias and modern staff facilities.