Takashige Yamashita Office has recently completed work on Children's Forest, a nursery school designed to cater to the developmental needs of children aged 0 to 5. Nestled amidst the serene beauty of a forested hill near the majestic Mountain Fuji, this architectural gem is poised to provide a nurturing and stimulating environment for young minds to flourish.
During the architects' initial visit to the site, the landscape was adorned with the majestic presence of Hinoki trees, casting dappled sunlight that painted a tapestry of light bubbles on the forest floor. The ethereal sceneinspired the architects, leading to the vision of a sunlit sanctuary harmoniously woven into the woods. The site's undulating topography, including a gently rising hill to the west, was considered a crucial element to incorporate into the design. The team behind the project recognized these natural features as invaluable educational tools, enabling children to interact with and learn from the environment around them.
An innovative architectural approach distinguishes the Children's Forest from conventional nursery schools. The facility is composed of separate cubical units, accommodating different age groups and various programs like temporary care and a teachers' lounge. Each of these units is strategically placed on different ground levels and angles, ensuring that every space provides a unique perspective of the surrounding natural wonders. The children are afforded stunning views of a wide grass field, a symbolic 8-meter-tall tree offering shade and wonder, and a hill complete with a playful tunnel for exploration.
Inside the Children's Forest, an imaginative interior landscape unfolds. Ramps and interconnected courtyard spaces facilitate safe play, exploration, and learning, even in inclement weather. At its heart lies a multipurpose hall designed to host up to 150 individuals, a central gathering point for playtime and events. The hall is embraced by the surrounding room units, and its design ingeniously incorporates gaps, openings, and connections with the outdoors, allowing natural light and greenery to infuse the interior space. This seamless blend of indoor and outdoor areas creates a stimulating atmosphere for young minds to thrive.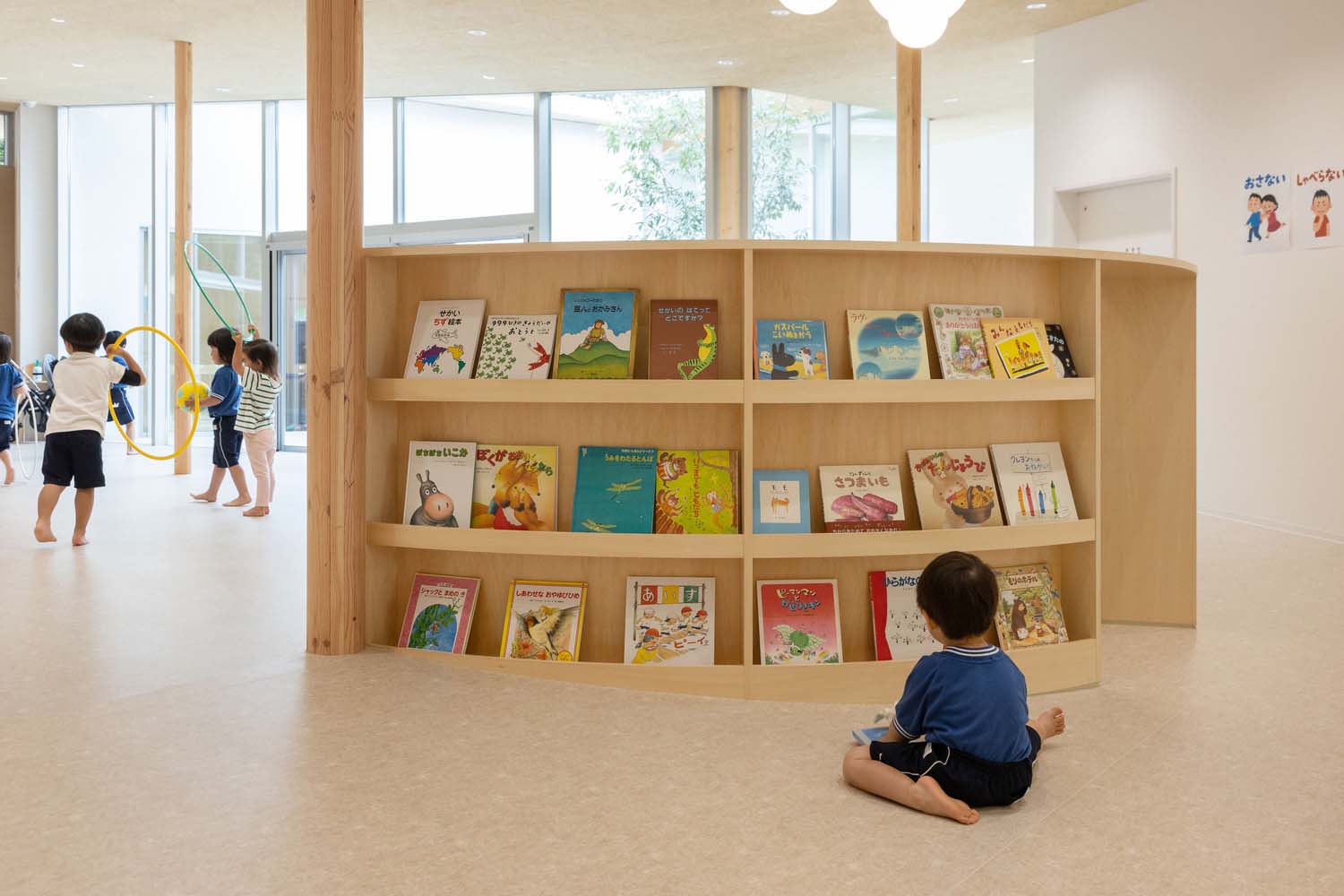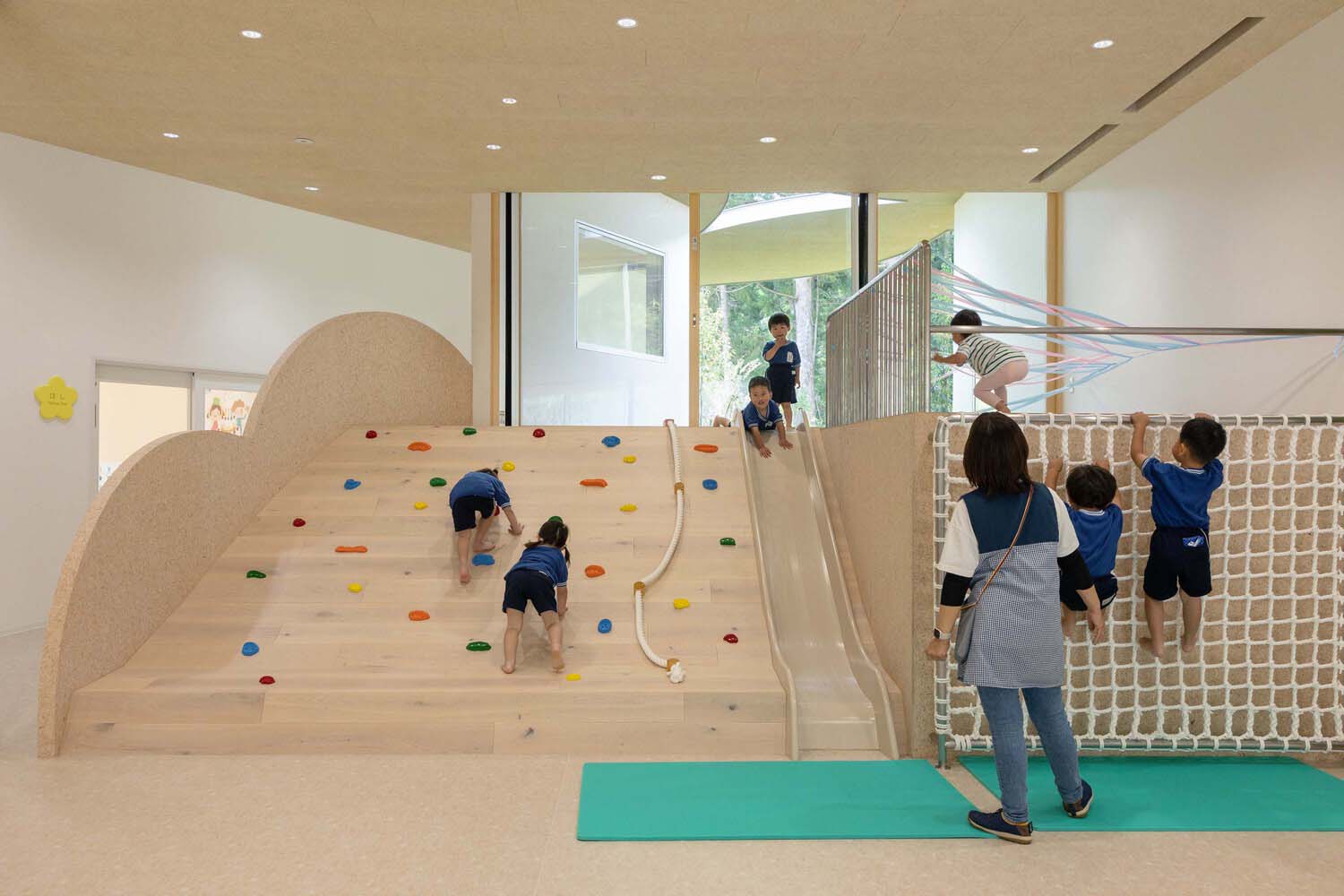 The open courtyard with a wooden deck provides a secure playground for the youngest attendees, while a bouldering area beckons more adventurous children to engage in active play, enhancing physical and mental development. This integration of play zones and nature is an embodiment of the Children's Forest's commitment to fostering holistic growth.
By immersing young learners in the serene embrace of the forest, this nursery school aspires to create a warm, nurturing, and wholesome environment that will leave a lasting impression on the hearts and memories of the children it serves. As it opens its doors, the Children's Forest is poised to become a sanctuary of learning and a haven of cherished childhood memories.
Project information
Architects: Takashige Yamashita Office – www.tksgymst.com
Area: 1008 m²
Year: 2023
Photographs: Kai Nakamura
Structural Engineering: Hiraiwa Structural Consultants
MEP Engineering: Nagano Engineering
General Contractor: Usuko Sangyo, Tonbo Sougo Kensetsu
Principal Architect: Takashige Yamashita
Project Manager: YoungAh Kang
City: Gotemba
Country: Japan