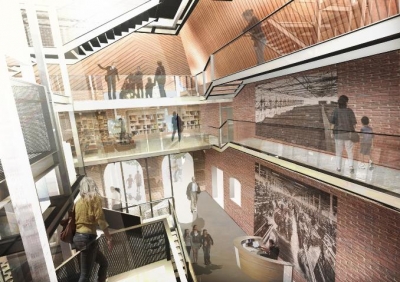 Project: Ditherington Flax Mill
Designed by Feilden Clegg Bradley Studios (FCB Studios)
Location: Shrewsbury, United Kingdom
Website: www.fcbstudios.com
Ditherington Flax Mill reconstruction project is work of Feilden Clegg Bradley Studios aiming to create a vibrant centre for learning, working, social enterprise and leisure. Discover more of the project along with architects description after the jump:
From the Architects:
This outstanding group of buildings in Shropshire has won development funding from the Heritage Lottery Fund (HLF) for the regeneration of a former flax mill and maltings. FCBStudios have been acting as strategic advisors and architects to clients English Heritage and Shropshire Council since 2003 and have advised them through all stages of the project to date. In November 2010 we gained full planning and listed building consent for a £20m phase of works which includes a heritage-led mixed-use development with the potential to create 120 new homes on the site. The total development value is estimated at £52m.
The HLF has now awarded Shropshire Council a 'first round pass' which provides funding of £465,300. This grant is to be used to develop more detailed business plans for the regeneration of the Flax Mill Maltings which includes 8 Listed Buildings, 4 at Grade I. A second round bid will be submitted by the council to HLF within the next 18 months in the hope of securing a major grant of £11,686,000 which would enable the conservation and redevelopment of Shrewsbury's unique and historic mill complex.
The aim of the project is to work with the local community and others to develop a vibrant centre for learning, working, social enterprise and leisure. A full HLF grant would allow the main historic buildings on site to be repaired and brought back into use -including the Main Mill, the Kiln, the Dye and Stove House and the Office and Stables. Proposals by FCBStudios are designed to provide an exemplar of how modern technology and innovation can be applied to heritage buildings, complementing their historic technology and preserving their special character.