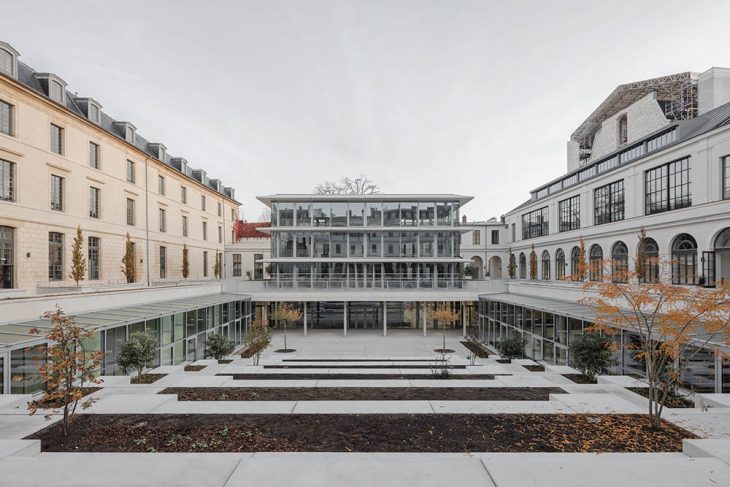 As part of Sciences Po's "Coeur 2022" project, Moreau Kusunoki completes the central Pavilion of the school's new urban campus, reinventing the typology of the contemporary urban campus in the fragile built fabric of central Paris. Wilmotte & Associés and heritage architect Pierre Bortolussi collaborated on the design of the project. Moreau Kusunoki focused on the contemporary extensions, namely the Pavilion and the main courtyard in relation to the underground library. Discover more after the jump.
From the architects: Nestled within a former monastery, introverted and withdrawn from its surrounding dense historic city fabric, this strategic centripetal expansion Sciences Po redefines the typology of the 21st century urban campus as a place of communication, integration and transparency. Three historic courtyards, each distinct in its architectural language and landscaping, the Cours Gribeauval, Sébastopol and Teuille de Beaulieu weave together the different units of the campus.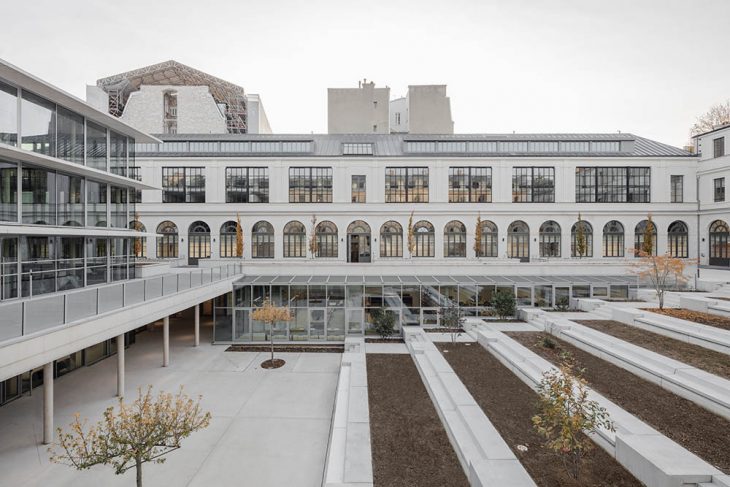 "Emergence", a glazed pavilion positioned in the largest courtyard across the landscaped steps, is the symbol of the new campus, transparent and open to the world. The large pivoting windows on the main facade, in an open position, push the feeling of continuity between the interior and the exterior to its climax. The principles of openness and transparency and the dissolution of the boundary between inside and outside are at the heart of the Pavilion's conception, reflecting the university's own values of diversity and exchange.
In its play with different nuances of grey — the grey of the concrete, of the steel, of the skies of Paris as reflected in the glass — the project creates a universal and timeless aesthetic, free of superficial expressive acrobatics. It brings out the honest and raw beauty of the slabs, the columns and the volumes, all in harmony with the dignified and sparsely decorated architecture of the heritage buildings.
The glass façades mirror the historic buildings, and subtly invite a new light on them. This minimalist attitude establishes the Pavilion firmly within the historic court, and turns it into a welcoming link between city and campus, an inviting place of encounter and exchange, strongly rooted in the past and looking into the future.
Completed : November 2021
Budget : 42 M € for the entire intervention
Surface : 16 106m²
Client : La Fondation Nationale des Sciences Politiques (FNSP)
Promoter : Groupe Sogelym Dixence
Architects : Wilmotte & Associés (coordination)
Moreau Kusunoki
Pierre Bortolussi (heritage)
Partners : Franck Boutté Consultants (sustainable engineering), Mugo (landscaping), Barbanel (MEP), TERRELL Group (façade engineering), SASAKI (strategy and urban planning), CORELO (project manager)