Studio Architektura has recently completed works on Větrník Kindergarten in in Říčany . When given the task of creating a kindergarten, studio Architektura started by considering children as a phenomena and determining what childhood is. They responded by providing a whimsical product made up of vibrant "pagodas" that round off the classrooms. The classrooms are set around an entrance atrium with a rope-made spider web suspended from the tree trunks. The classrooms were designed as playable, free-form worlds.
The architects were tasked with creating a new sports-focused kindergarten and a gym building. They designed three objects kindergarten, a gym, and a garden—and connected them to one another. While the kindergarten and a portion of the garden are being erected, the gymnasium will also be constructed.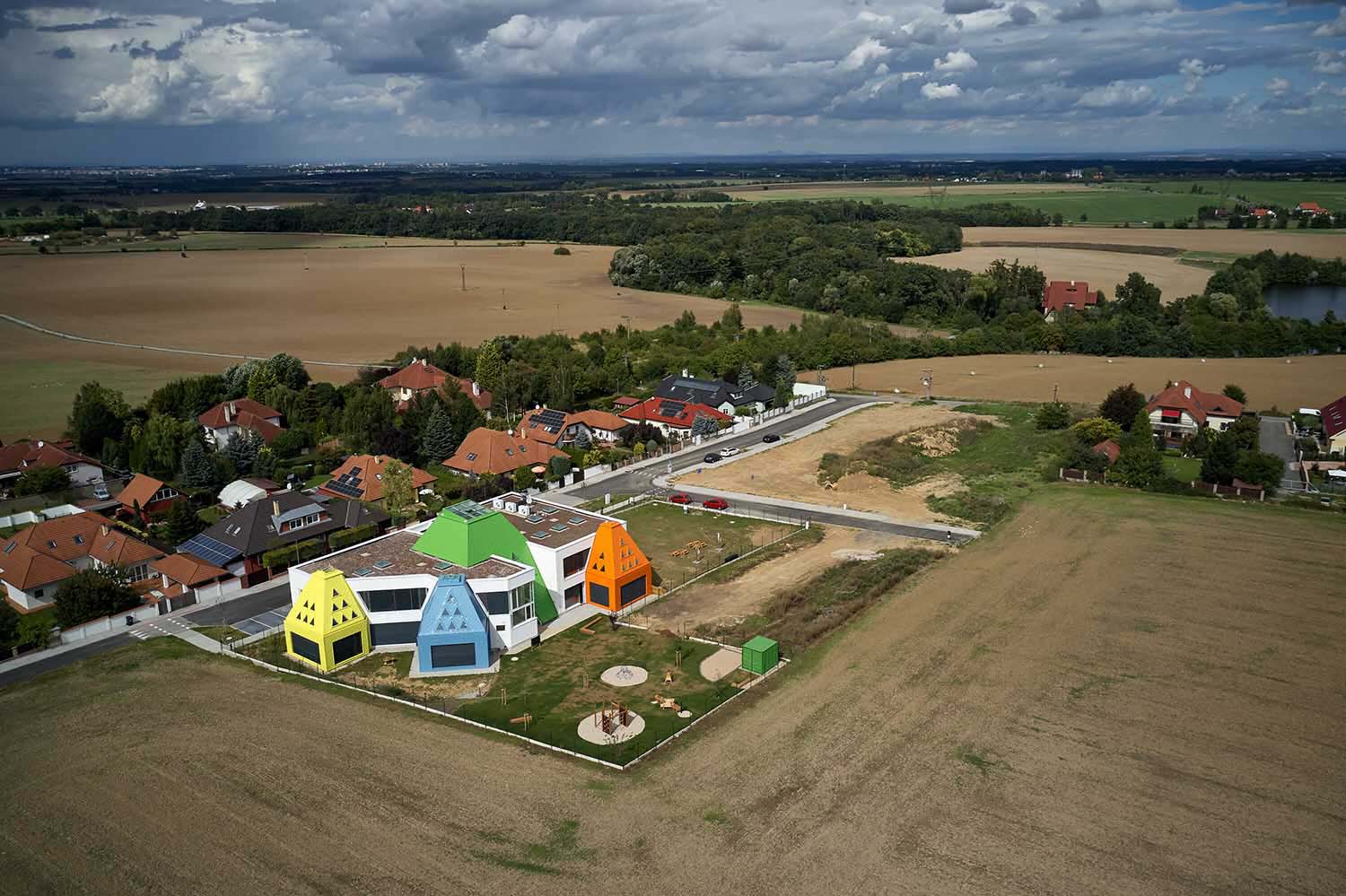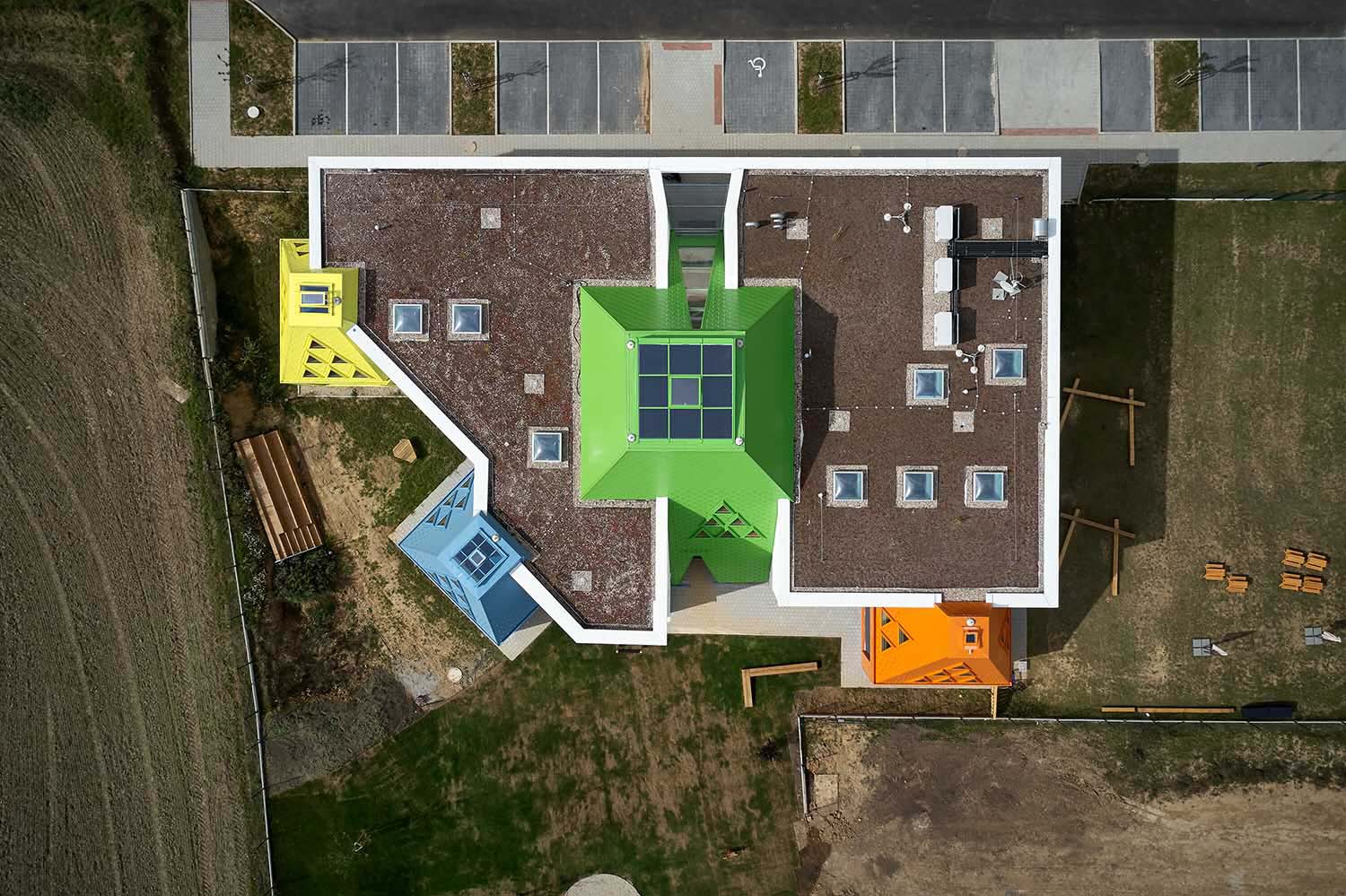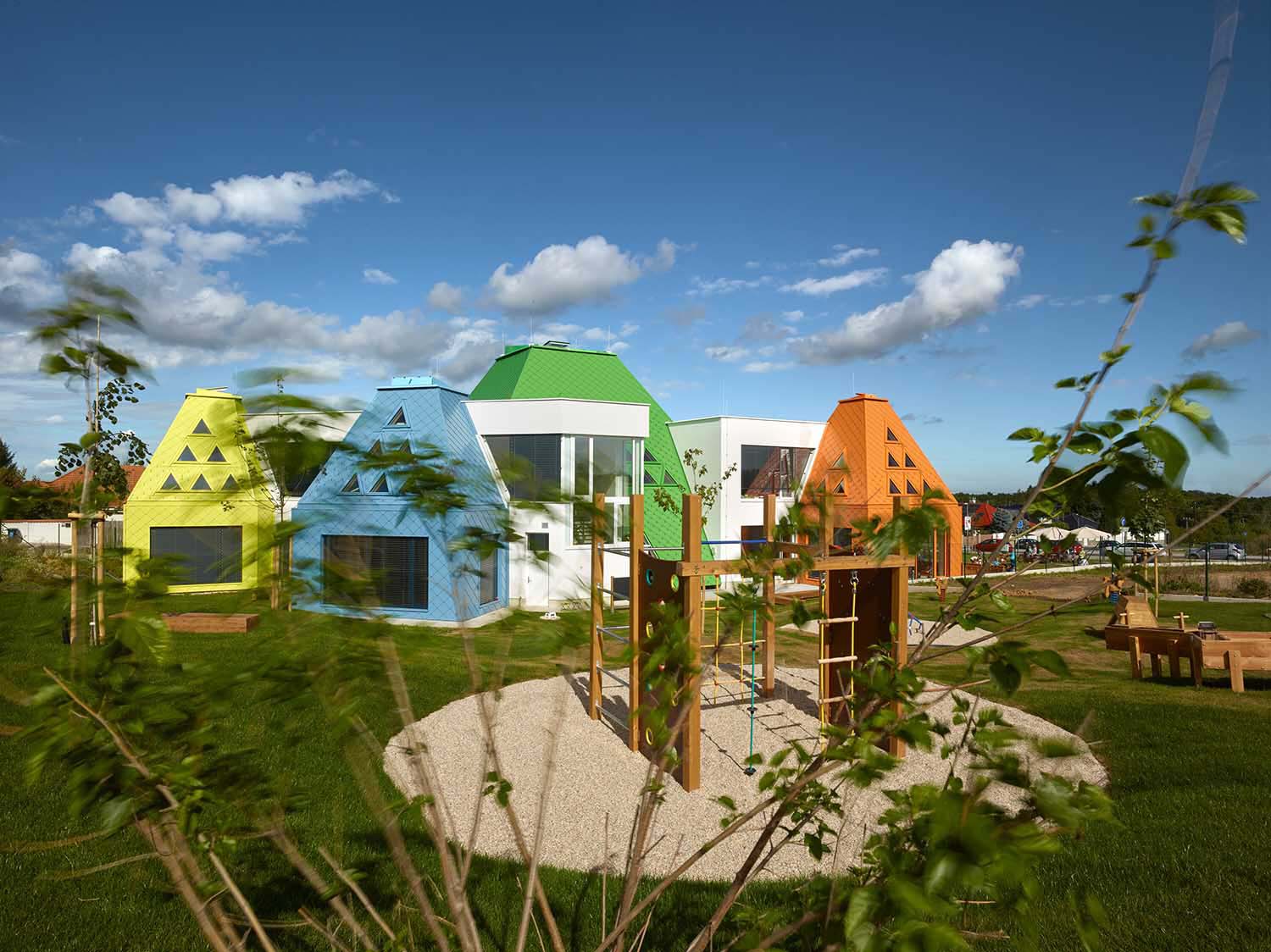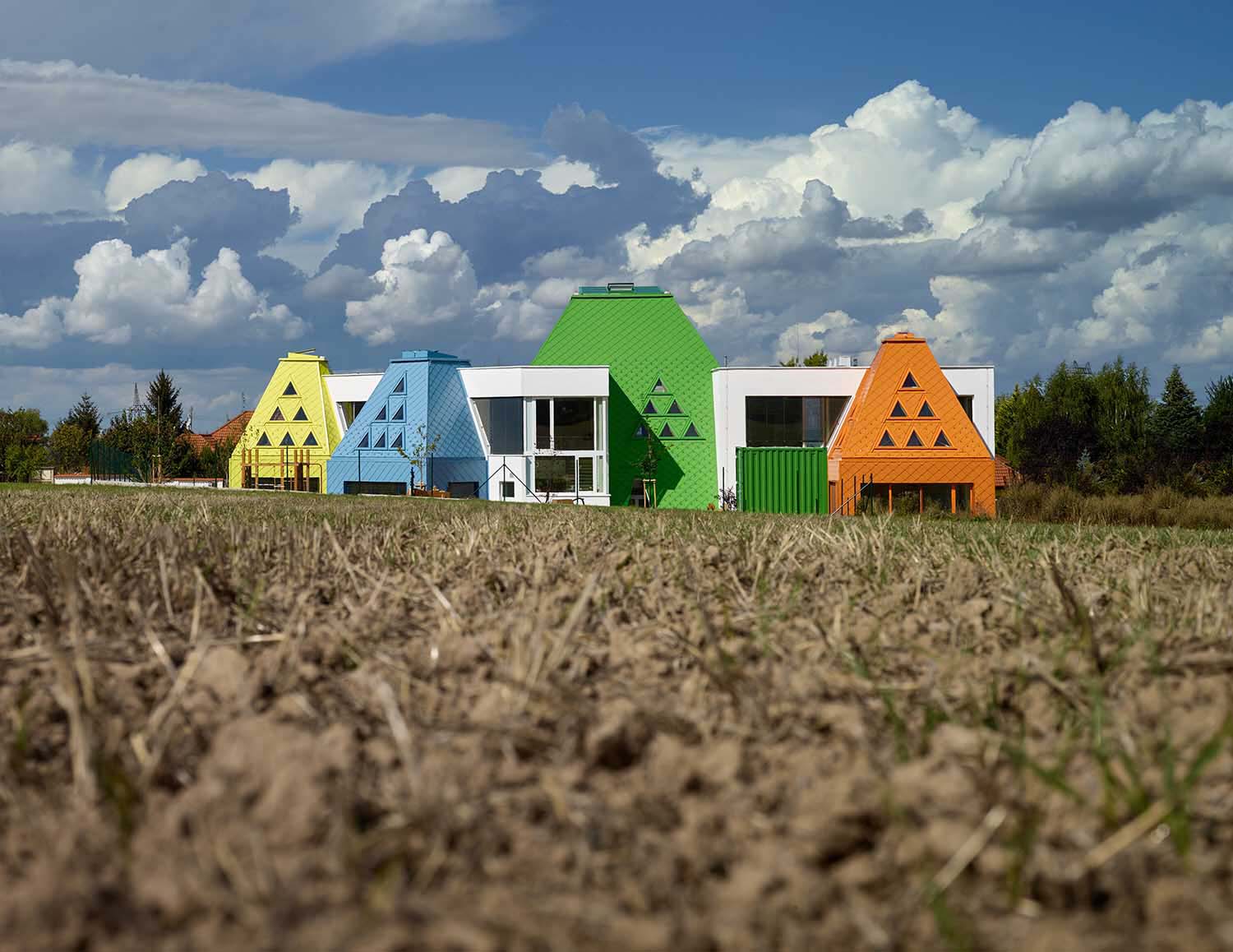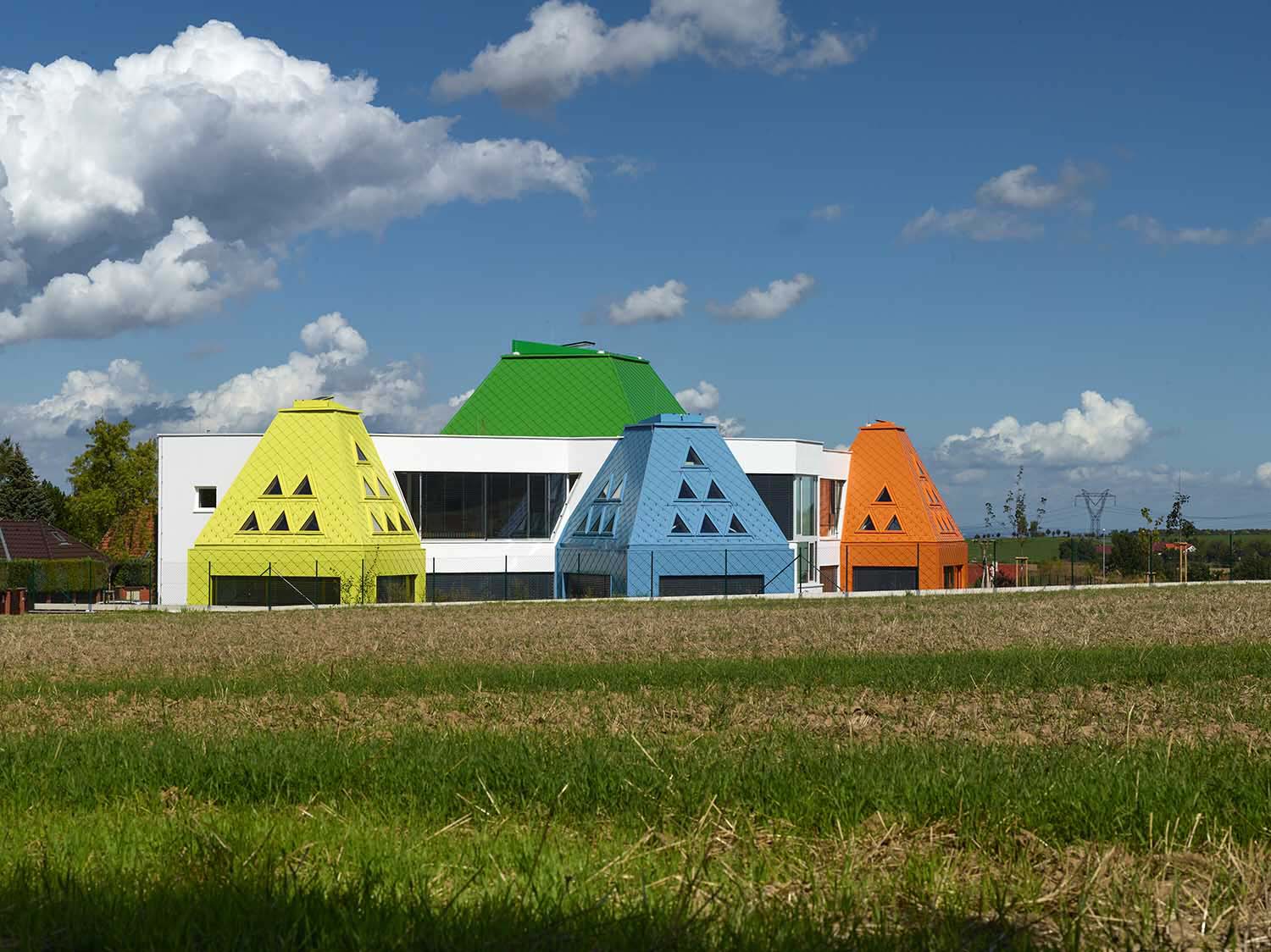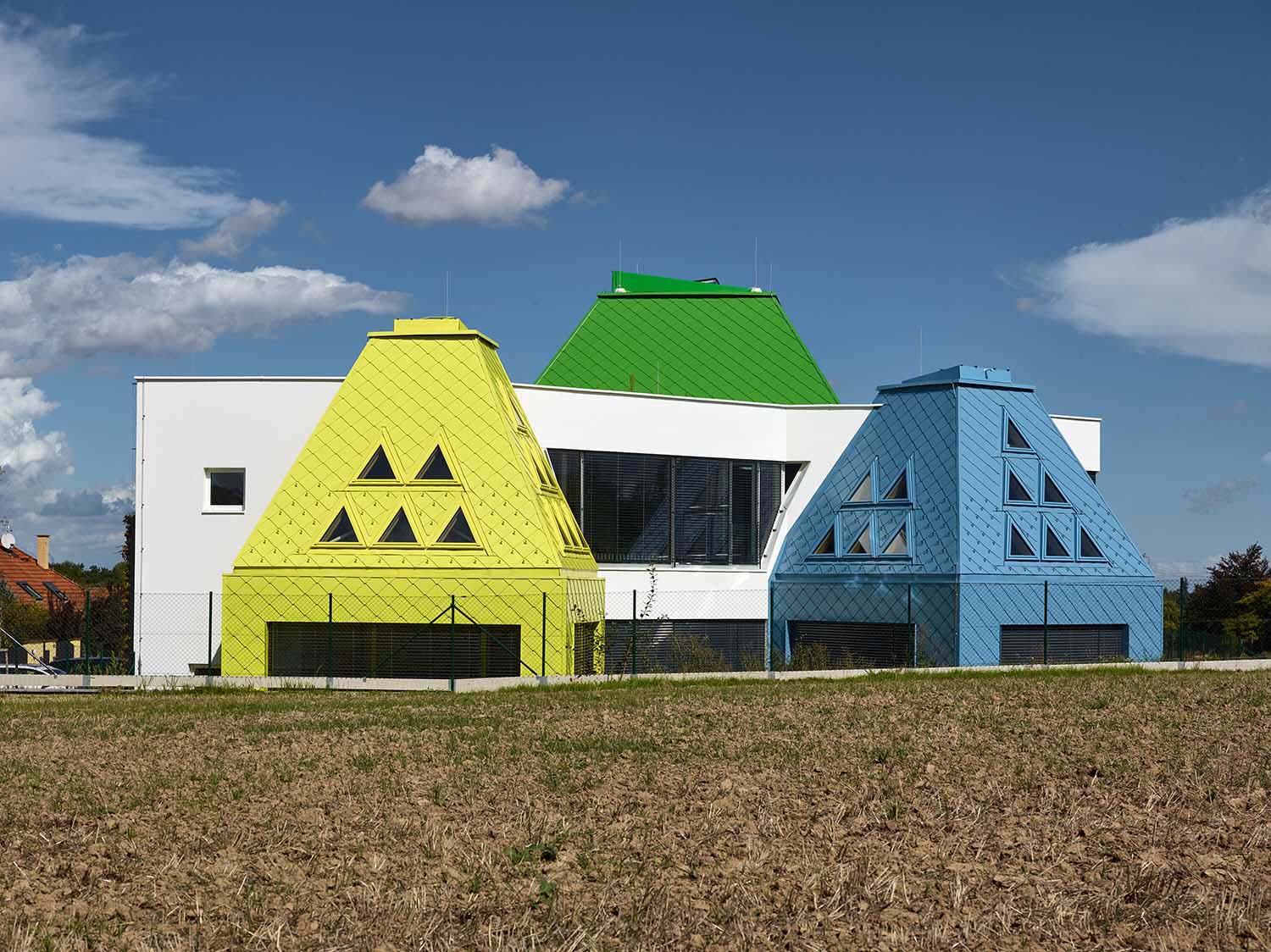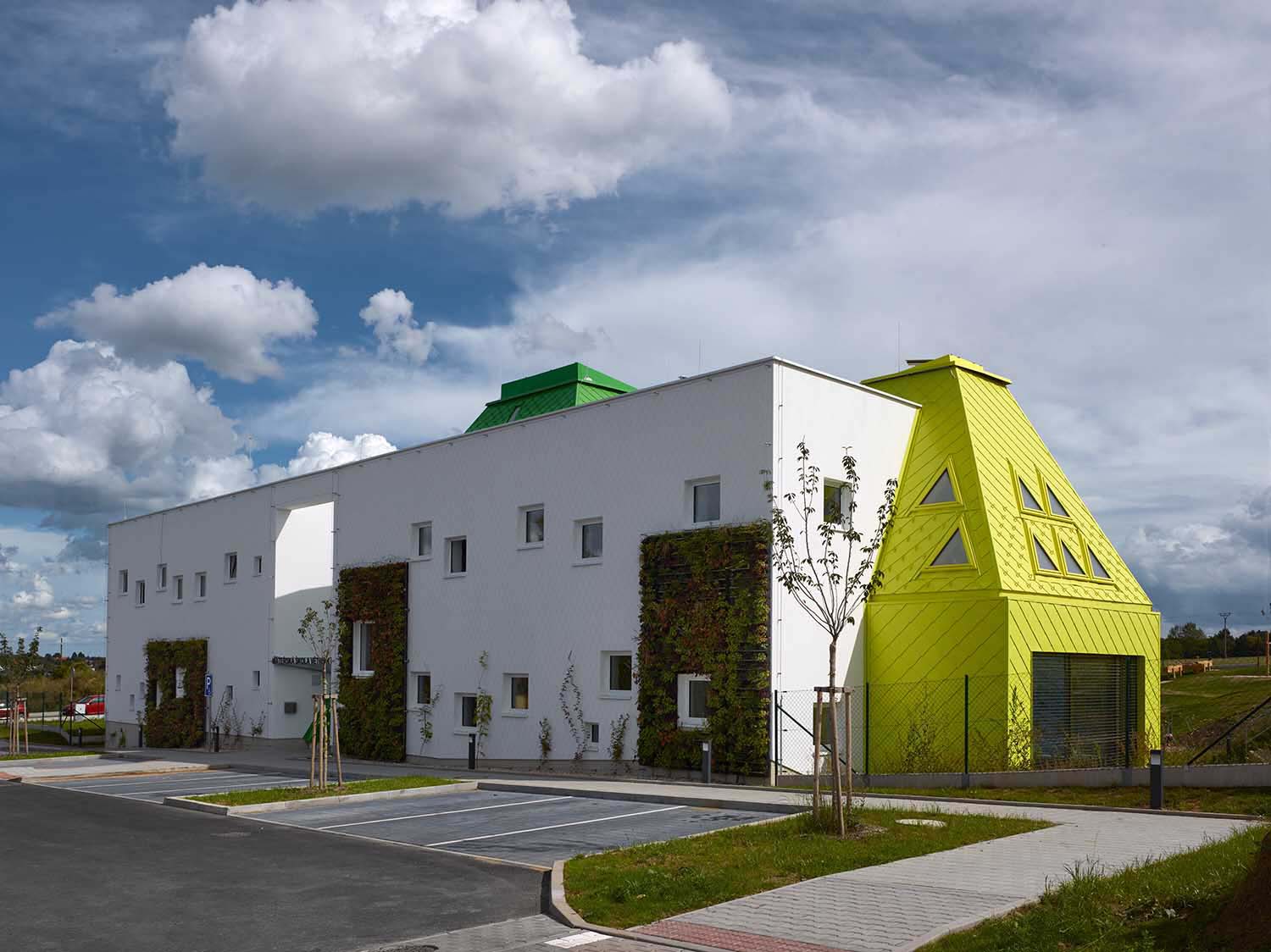 They separated the mass into individual parts. Facilities, offices, entrances, and everything else required for practical operation are contained in a cube. Then this connects to individual classrooms, which are no longer rectangular and link to the garden. They are playable, free-form universes. The pagodas serve as both the house's silhouette and, from the inside, a concealing spot akin to an Indian tee-pee, where light streams in via triangular windows and clearly discernible wooden structures resembling tree branches. A play space accessible from every classroom, a spider web, and a rope center are all located in the atrium at the entrance. The atrium also functions as a public venue for theater, exhibitions, singing, and acting.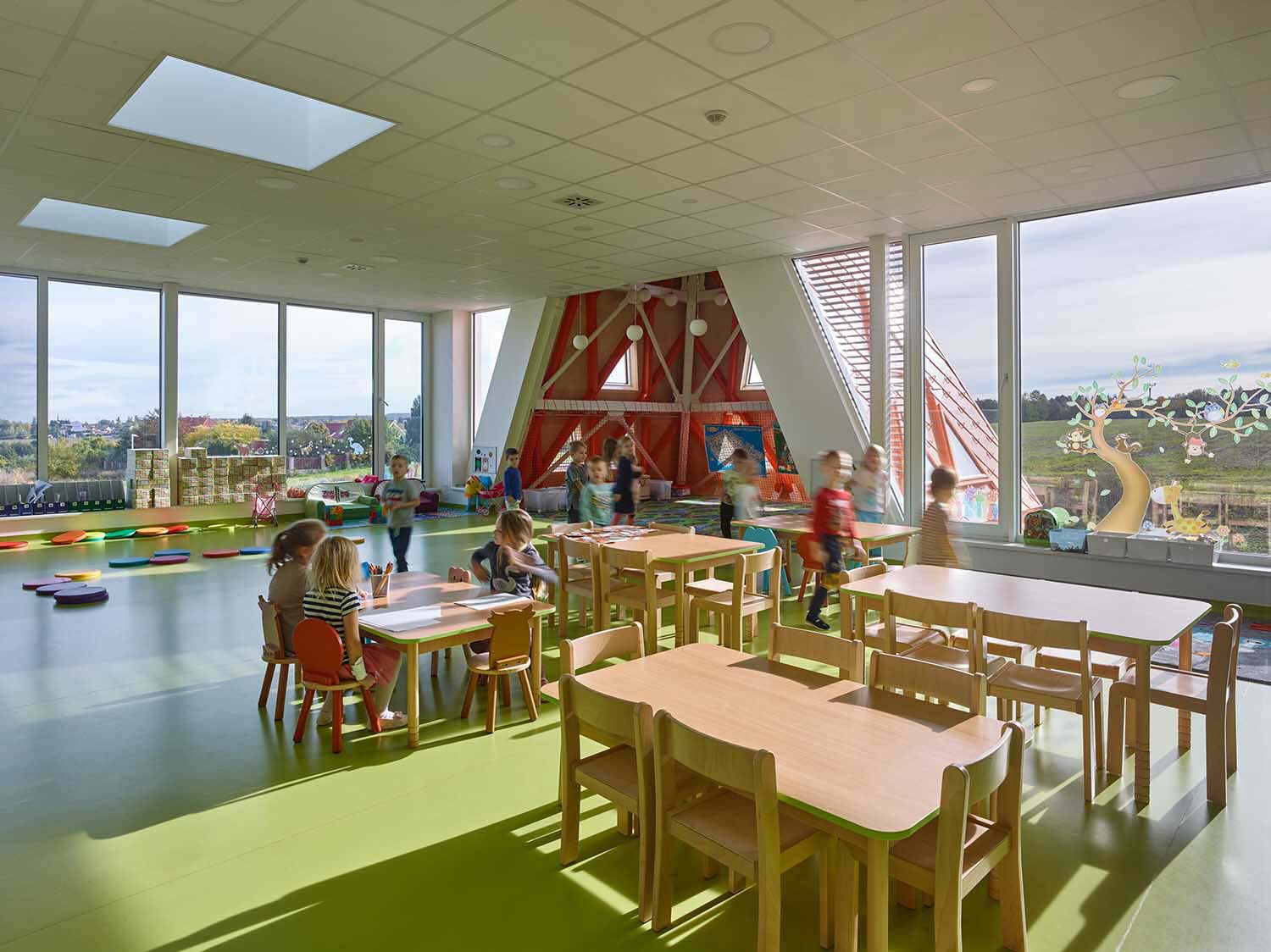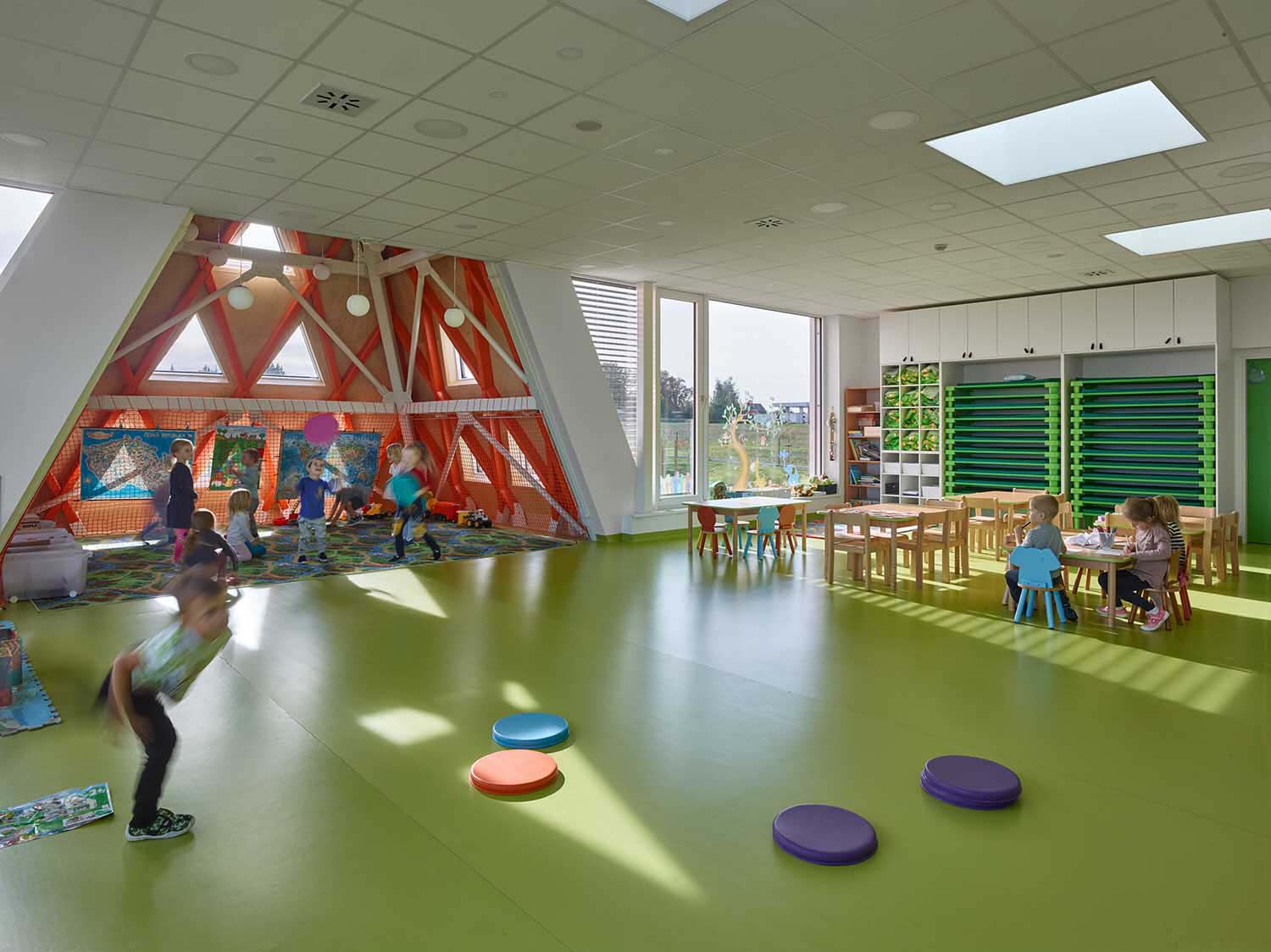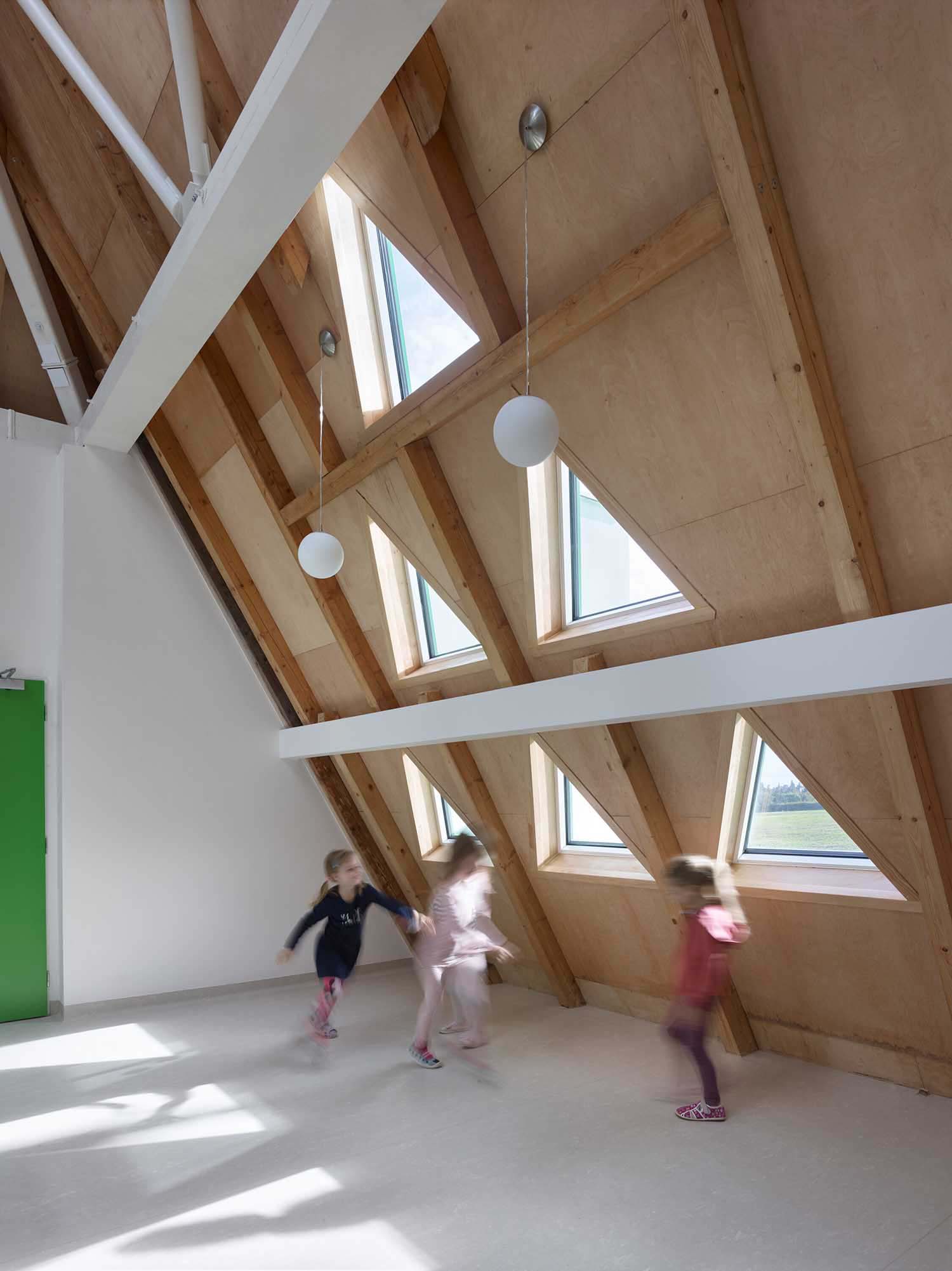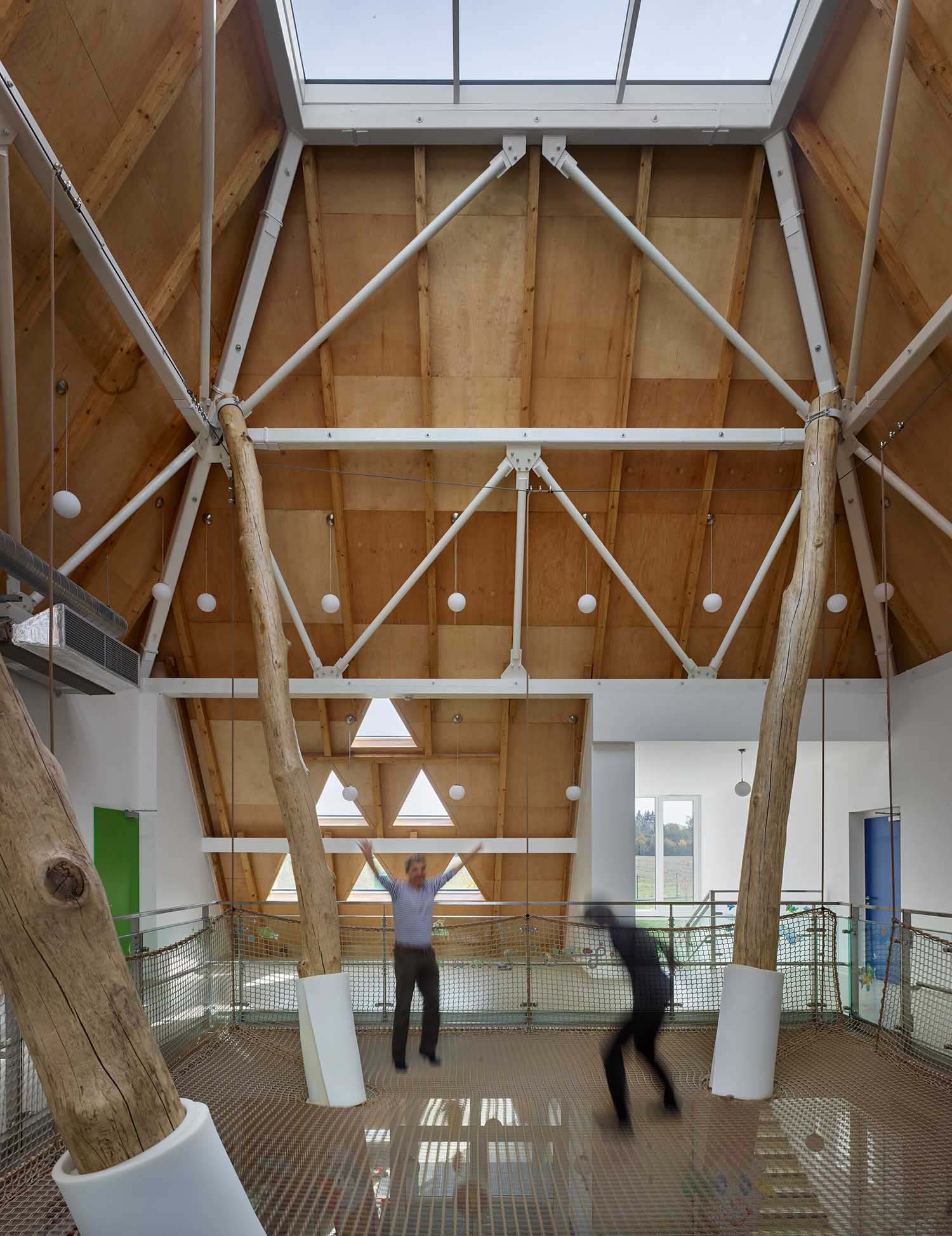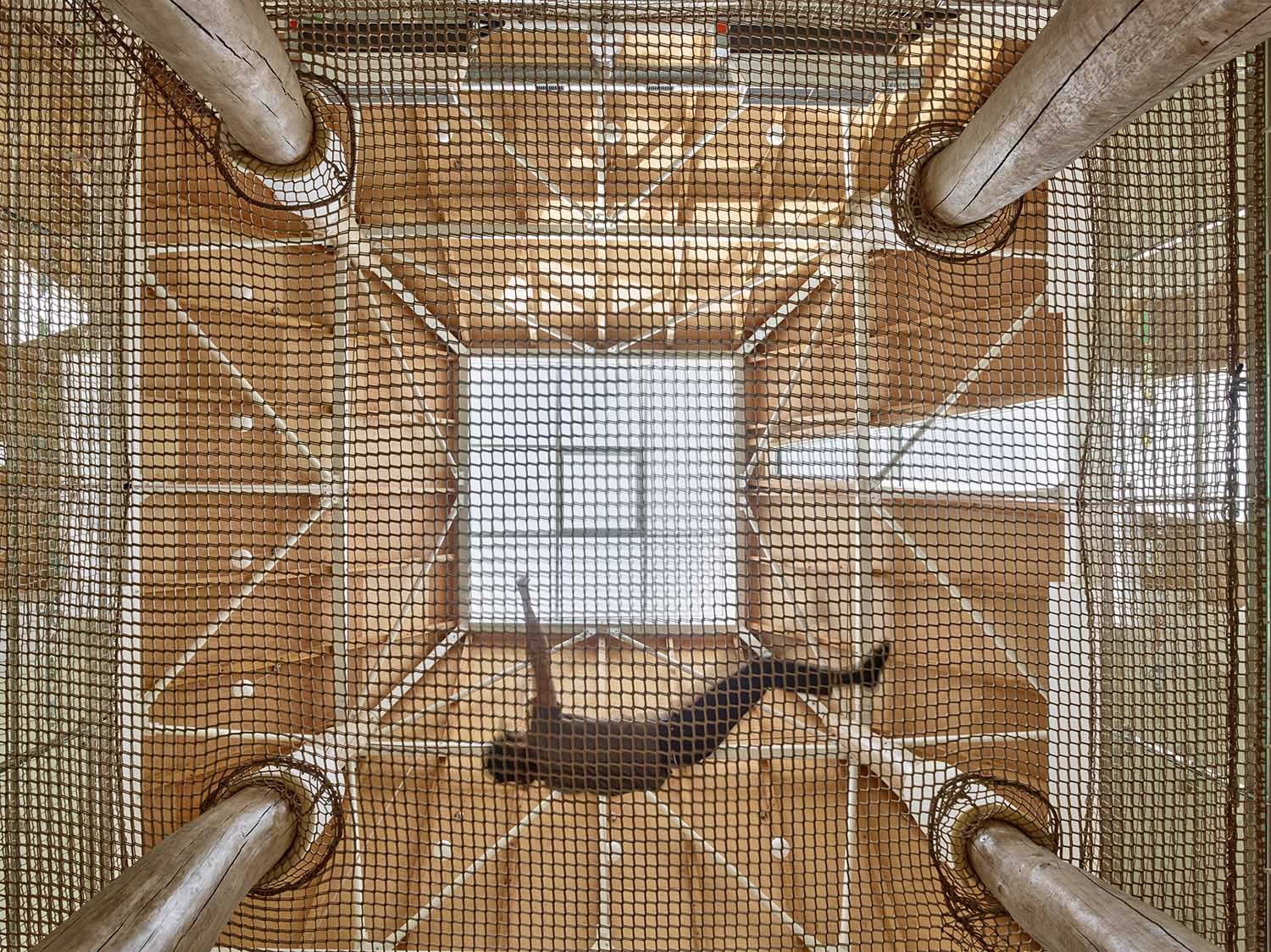 The nursery school has two faces, displays a picture of the street, and is lively in the garden. The earth trembles, the matter disintegrates, and the Sun can now enter the space. Two classrooms are located on the first floor and two are located upstairs. The main entrance is on the street. We hope that by partially incorporating vertical flora into the kindergarten's street facade, it will eventually spread and thicken to engulf the entire structure. It's intended that the entrance mimic the entrance to an enigmatic temple or spaceship. The youngster can observe where the water, power, and air move thanks to the partially visual control of the technical infrastructure. A playground, which is currently unfinished or only partially finished, is located behind the property.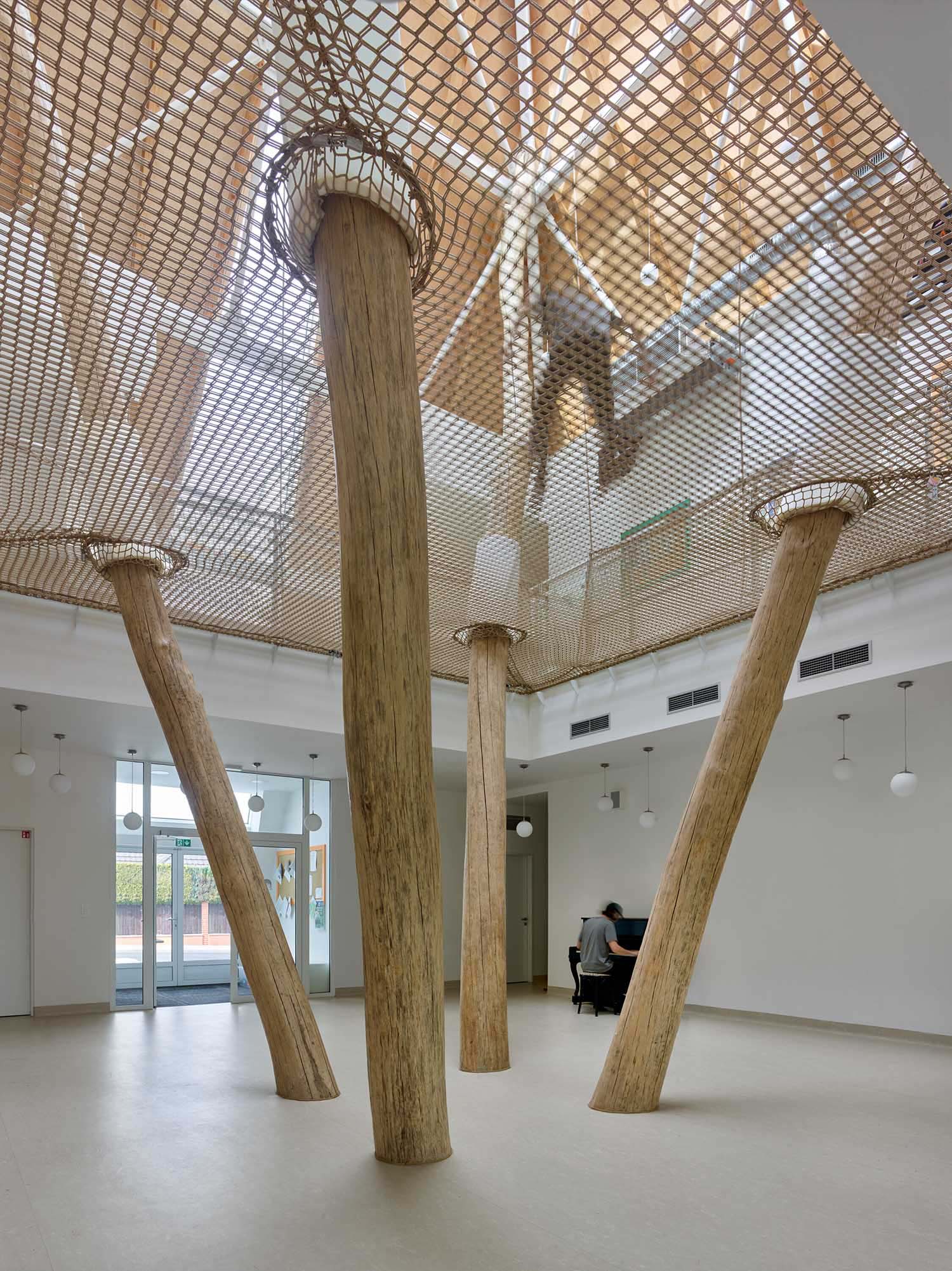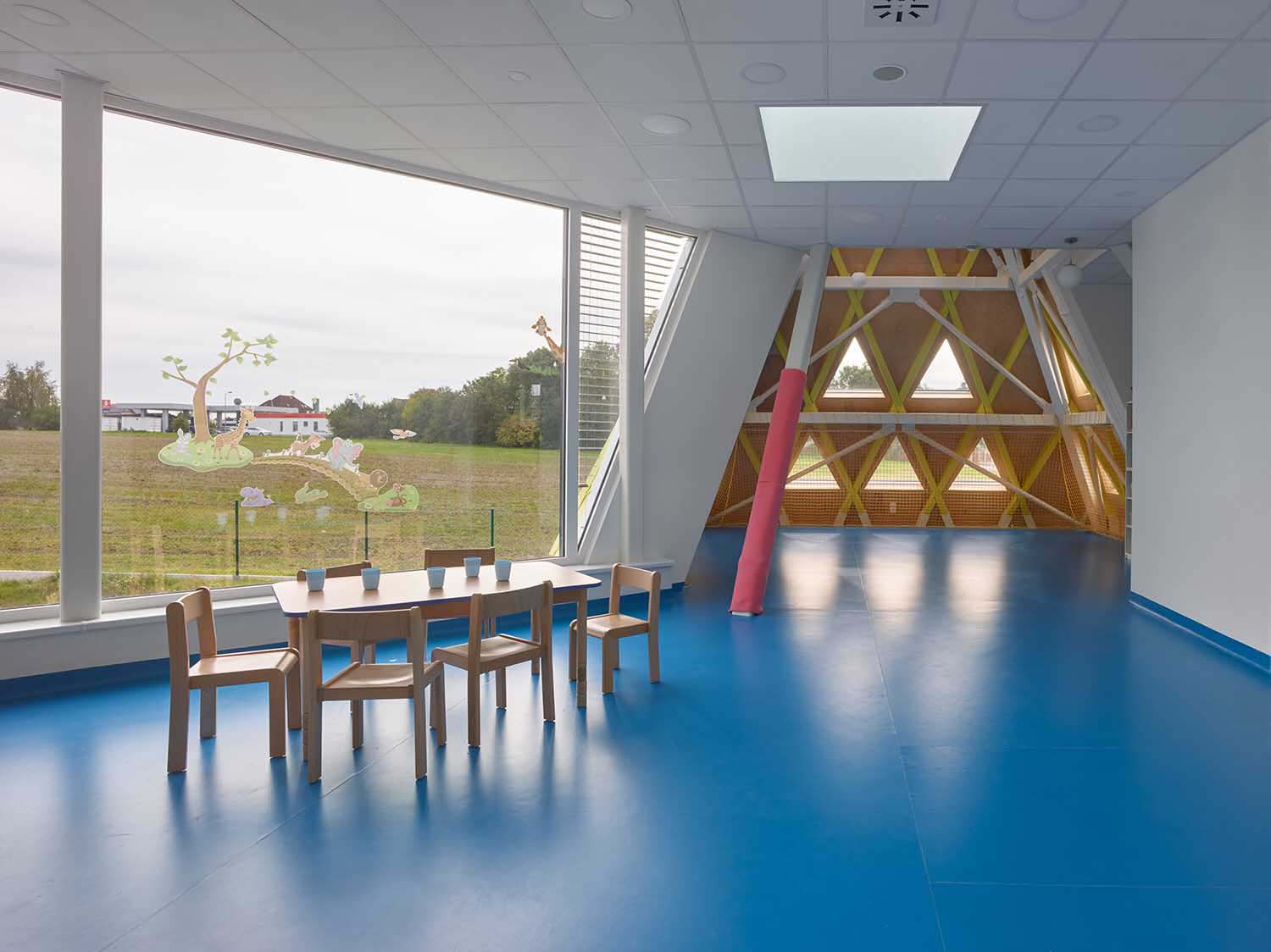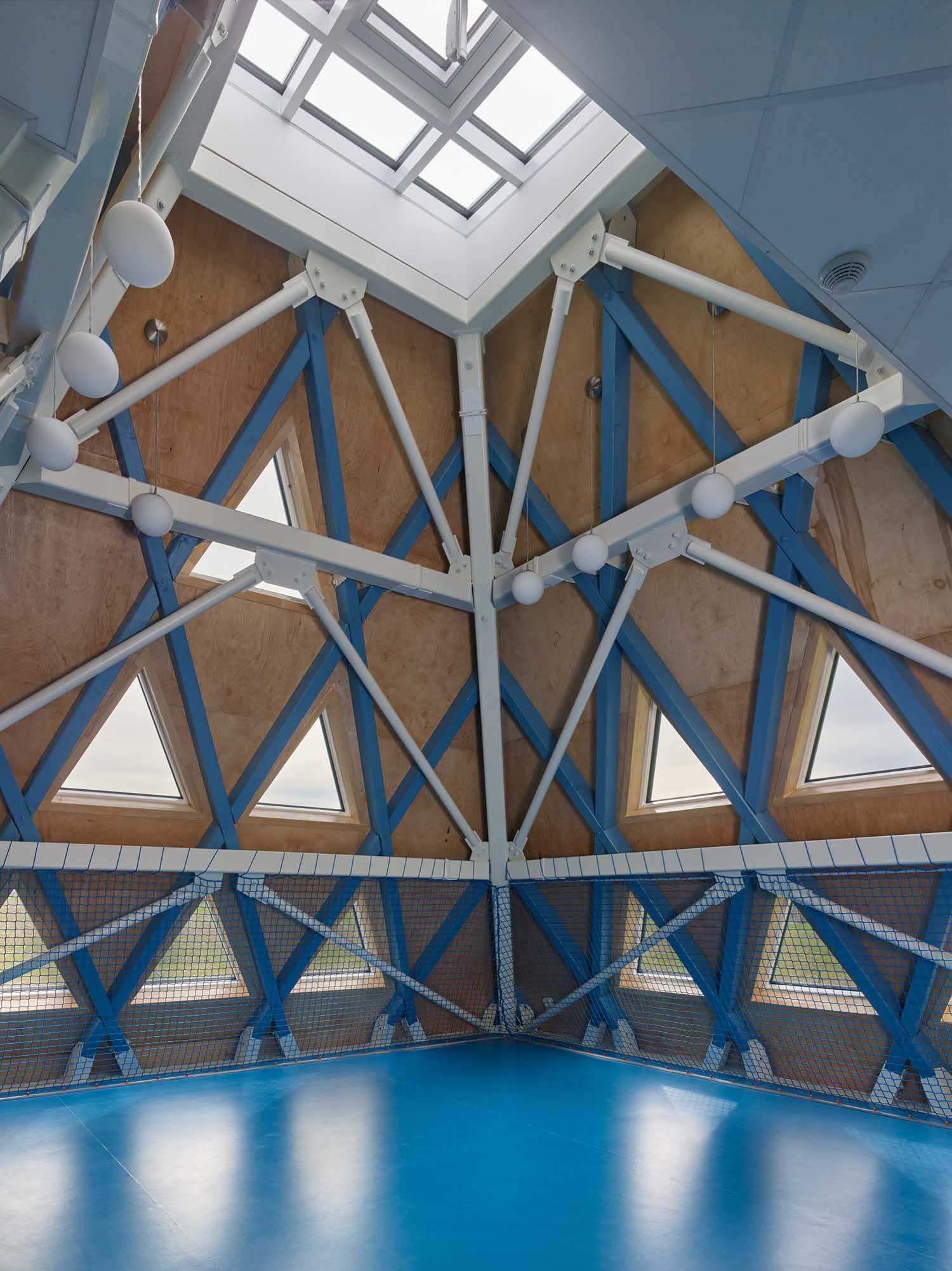 We wanted to build an object for children that is not an institution, it is playful and will enable the development of creativity and all the beautiful specificities of the child's soul. An object that will create subconscious images for children that may one day arise in adulthood to develop Something…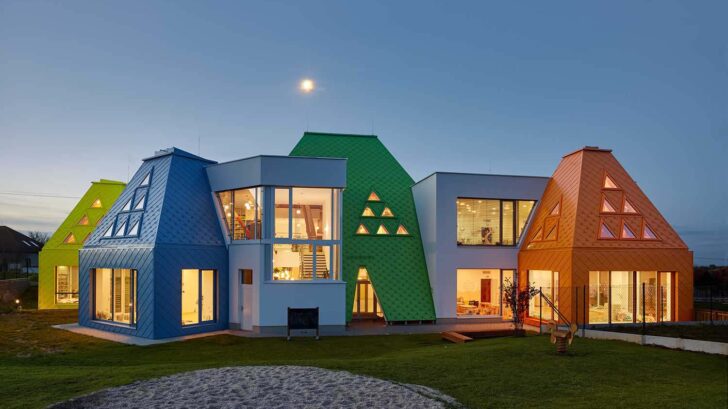 Project information
Studio: Architektura – www.archi.cz
Author: David Kraus
Studio address: V korytech 169/11, 106 00 Praha 10 – Záběhlice, Czech Republic
Co-author: Marek Trebuľa, Alina Fornaleva, Šárka Andrlová, Michaela Kubinová
Project location: Bílá 785/6, 251 01 Říčany
Project country: Czech Republic
Project year: 2016
Completion year: 2021
Built-up Area: 716 m²
Gross Floor Area: 1 114 m²
Usable Floor Area: 1 058 m²
Plot size: 3 009 m²
Dimensions: 10 016 m3
Cost: 2 640 000 €
Client Municipality of Říčany
Photographer: Filip Šlapal – www.filipslapal.cz
Collaborator: Project, construction part, statics, all professions: Projecticon [Pavel Ježek, Tomáš Kalous], www.projecticon.cz
Main contractor: Zlínstav
Technical supervision of the investor: Vejvoda
Greenery: Flora Urbanica
Furniture: Kanona
Playground: S.O.S. – DEKORACE