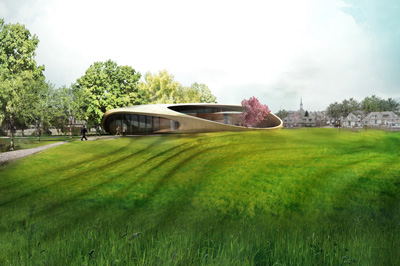 Project: Maggie`s Cancer Caring Centre
Designed by Snøhetta
Size: 350 m2
Location: Aberdeen, Scotland, United Kingdom
Website: www.snoarc.no
The noted practice Snøhetta designs in a pavilion form Maggie`s Cancer Caring Centre in Aberdeen. For more images and architects description continue after the jump:
From the Architects:
The building is conceived as a pavilion in its parkland setting. The soft exterior form envelops the whole of the centre and defines the courtyard garden.
The soft forms of the exterior cladding have a hard concrete materiality. The interior building is harder and more angular in for but constructed from soft timber materials.The exterior shell creates the framework for the centre and sculpts the main spacees, whilst the timber interior buildings create to more intimate rooms and spaces that the Centre requires.
The centre is primarily on one ground floor level with a smaller mezzanine area devoted to the office functions. The building is approximately 6m above the existing ground level.