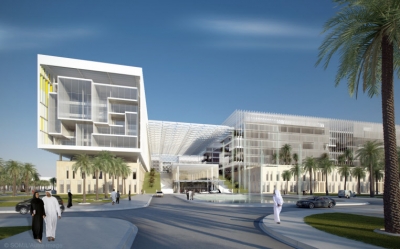 Project: Sheikh Khalifa Medical City
Building Height: 57m
The massive Sheikh Khalifa Medical City is work of the world renowned Skidmore, Owings & Merrill practice, the whole project follows city within a city concept.
From the Architects:
The new Sheikh Khalifa Medical City (SKMC) is a 2.5 million sq ft. medical complex in the heart of Abu Dhabi. Conceived as "three hospitals under one roof," this medical complex will combine a General Hospital with a level 1 trauma center, tertiary Women's Hospital, and Pediatric Hospital. This model enhances patient care through specialization while improving efficiency through shared services.
Designed for SEHA, the Abu Dhabi Health Service company, the new facility is rising on the site of the existing SKMC, which will undergo a phased demolition to make way for future hospital-related facilities and mixed-use development.
Envisioned as a city within a city, the design creates a bustling campus-like environment of distinct character. With vibrant public spaces and a strong sense of community, the hospital is intended to alter perceptions about both the healthcare environment and the patient experience.
The design integrates historical and regional precedents, responds to its desert climate, and strikes a balance between a state-of-the-art vision and local heritage. The project achieves a Two Pearl rating under the Estidama guidelines for sustainable design.