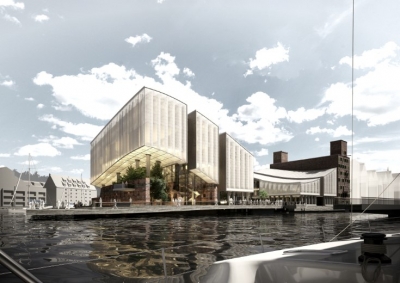 Project: Amber Museum
Designed by Stanislaw Kempa
Supervisors: mgr inż. arch. Jacek Droszcz, dr hab. inż. arch. Krystyna Pokrzywnicka
Reviewer: dr inż. arch. Bazyli Domsta
Location: Granary Island, Gdańsk, Poland
Website: stanislawkempa.carbonmade.com
Project for Amber Museum in Gdańsk takes a unique island location in the center of the old town, Stanislaw Kempa studio has found a contemporary solution for the design.
From the Architects:
Granary Island is located in the center of the Old Town of Gdańsk. it has been the heart of the port of Gdańsk from XIV century till the WW2. After the war the island, unlike the rest of the Old Town has not been rebuilt, and it remains a devastated area since then. It still contains some remains of the old granaries, which are meant to be saved and exposed as a remainder of the old function of the island.
The idea of the form was based mainly on the historical land subdivisions. In the old times the solid foundations of the granaries had a great value on this flooded terrain. Any kind of reconstruction after fire was held based on the same foundations, and that is why the subdivisions on the island ware changed very rarely throughout the history. The project continues this trend following the old parcellation. The only addition to the plan are the 3 meter spaces between buildings, which illuminate the interior and are used as a vertical and horizontal communication spaces.
The wave of the roof tops follows the function of the buildings and is meant to vary the dynamism of the form. The very northern part (the exhibition building) reaches the highest point of 27 meters and is a dominant on the axis of the water canal. Its bottom part has been elevated to expose the remains of the XIX century granary.
Apart from exhibition spaces, the complex also consists of indoor and outdoor public tree garden, restaurant, business and education spaces, workshops for amber craftsmen and a hotel; all integrated with surrounding public spaces.
The structure of the buildings consists of reinforced concrete frames, crossing each other in the roof plane. The slim, square-shaped columns create a strong vertical divisions on the elevation, and together with wavy roof plane are a modern interpretation of a post-and-beam granary construction.
Building envelope is designed as a double facade. Its outer layer made in ETFE cushions technology is pattern printed. The double facade helps obtaining a low coefficient of heat transfer and is also used in a HVAC systems to obtain an extra sun heat energy. The buildings uses the ETFE – integrated fotovoltaic membranes on the roof planes, as well as systems reusing the rain and grey water for plant moisturizing.