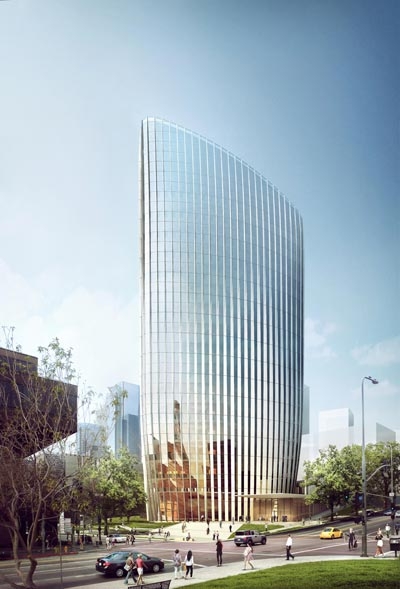 Project: New United States Courthouse Competition Entry
Designed by Yazdani Studio of Cannon Design and Gruen Associates
Client: General Services Administration
Location: Los Angeles, California, USA
Website: yazdanistudio.com & gruenassociates.com
Practice Yazdani Studio of Cannon Design and Gruen Associates shapes a proposal for the design of New United States Courthouse located in Los Angeles, California. Architects' design of the center aims to reconnect humans with nature. View more of the design after the jump:
From the Architects:
The values expressed in the courthouse of the past reverberate in the public consciousness, and are an indelible part of this proposed design for the New U.S. Courthouse in Los Angeles. It is an iconic addition to the Los Angeles skyline. It embodies and promotes the enduring democratic qualities of dignity, stature, transparency, openness and accessibility. It continues the tradition of providing a sense of place and continuity within the fabric of urban open spaces at the Civic Center. The proposed Courthouse is triangular in plan, with two courtrooms and three judges chambers on each floor, offering a functional organization of striking clarity, with an efficient separation of public, restricted, and secure circulation. The triangle also serves as a symbolic representation of the three essential constituents of the American judicial process – judge, jury and litigants.

This translates to a bold exterior form, easily comprehended, and unique in the city's skyline. The crest of the tower slopes diagonally skyward, evoking in modern terms the classical pediment of the traditional courthouse. It also engages an aesthetic dialogue with the stepped pyramidal peak of City Hall. These two essential civic buildings, of similar height, visually resonate with one another across the eighty years and two city blocks that separate them. In association with Gruen Associates and Hensel Phelps Construction Co.