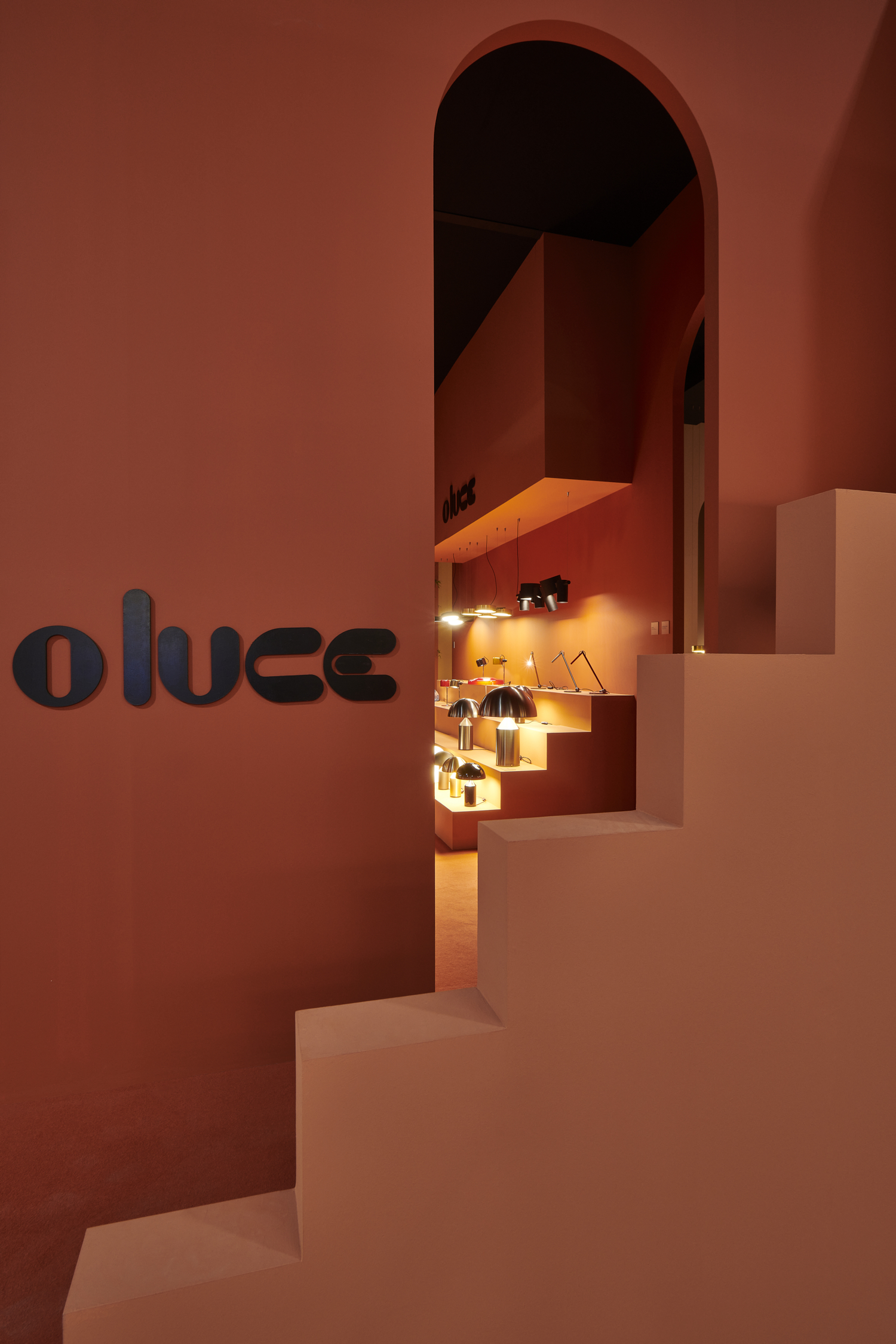 Oluce attended Euroluce and displayed its newest light line for 2023. The objects on display were brand-new creations by Italian and international designers; indoor lights that are the embodiment of a deliberate decorative aesthetic that uses light to influence daily environments.
RELATED: The Latest Light Designs on ARCHISCENE
Designer Ferruccio Laviani created the stand, which was intended to be a strange and evocative location with strong architectural allusions and a color scheme dominated by warm and brilliant hues. It appeared to be trying to evoke the kind of emotional architecture found in De Chirico's mysterious paintings, where walkways and hallways cross paths with stairs and arched passages and are accentuated by colors that are incredibly strong. To tell the story of the new items and collections inside, living spaces and exhibit spaces alternate. Oluce lights lighted, adorned, and expressed a style and aesthetic narrative.
Continue reading to discover more of the new Oluce 2023 light designs:
Berlin 2023 lamp design Christophe Pillet
The Berlin collection by French designer Christophe Pillet, an instant favorite in the Oluce catalog, served as the opening act for the event revealing the new goods for 2023. This year, the business unveiled a brand-new floor-standing and suspended version with the same sophisticated decorative presence as the versions for the ceiling and wall.
Berlin's refined appearance is demonstrated by its substantial metal ring diffusers and its slim contour, which encloses two wired glass discs. The diffusers, which come in two floor-standing and four suspended variations, are each supported by a thin, tubular stem that can be spun 360 degrees to meet different lighting needs. Berlin has a matte black surface and an LED light source, which give it a distinctly more modern appearance while displaying a clear art deco influence.
With its materials and design, Berlin shows off its sophisticated side in these new iterations, bringing light to the areas that need it and encouraging physical interaction with objects. This transforms people into conscious creators of their own light space and invites them to adjust it to meet their individual needs.
Dancing Queen by Oluce
The suspended lamp Dancing Queen has a flexible compositional framework that enables many light configurations. The center horizontal body of the composition, which houses the LED light source and holds ten thin metal cylinders of various diameters intended to function as adjustable spotlights, serves as the composition's key structural component. Due to the spotlights' atypical design in terms of size and placement along the central support, which are typically thought of as technical components, this lamp turns them into beautiful elements.
Dancing Queen produces intriguing lighting harmonies and resembles a suspended artwork. There are two color options for it: matte black and glossy grey. Dancing Queen is a project that offers many lighting configurations that are ideal for typical residential situations. It combines elegance and functionality, quality and dynamism of light, simple designs, and modern finishes.
DORA – Design angelettiruzza
The Dora line of indoor lamps is built on the contrast between the glass diffuser's warmth and the metal body's stability. The lampshade design, in particular, makes strong references to classical lines, which are softened and modernized by the minimalism of the metal stem and foot. It has a light presence with an old soul. Its distinctive quality is its delicate essentiality.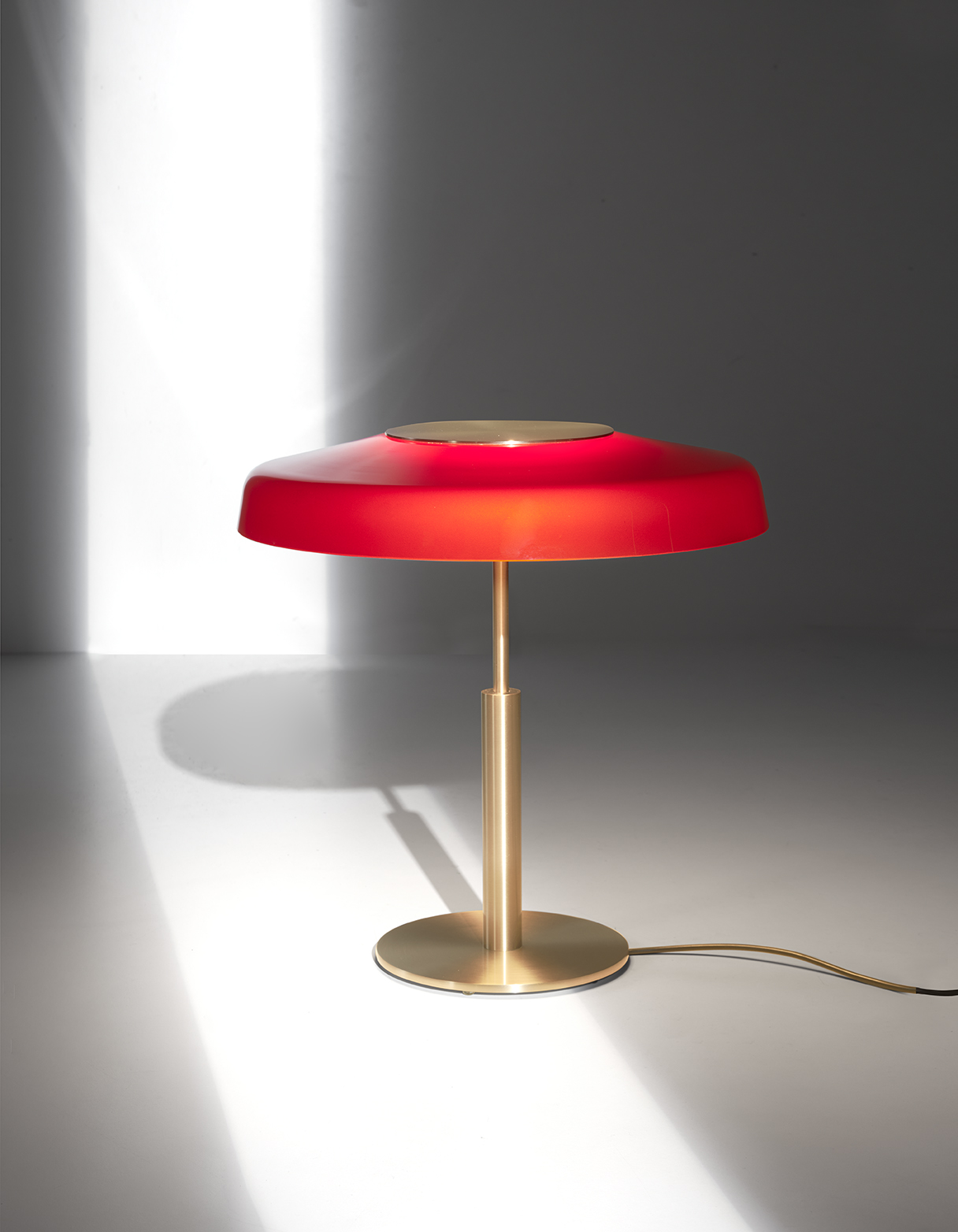 A glass cap lampshade supported by a metal stem, completed by a higher metal disc, makes up the table- or floor-model of Dora. There are two finishes available in the catalog: satin-finished nickel body with smoked lampshade, which is more modern and austere, and satin-finished gold body with red lampshade, which has a distinctively retro look.
Calamaio desk lamp designed by Marco Cervelleri, Giulia Di Lorenzo and Giacomo Montini
The Calamaio desk lamp has a rotating head that is set on a moving frame to direct light where it is needed. Its two thin cylindrical stems are joined by a pivot that enables the lamp head to be adjusted, and it is made entirely of metal. A focused light beam is produced by the LED light source, which is located at the lamp's end. The Calamaio body may rotate a great deal since it is fastened to a sphere that is perched on a circle. A modern design that is influenced by the flow of simple, essential forms and enhanced by human interaction.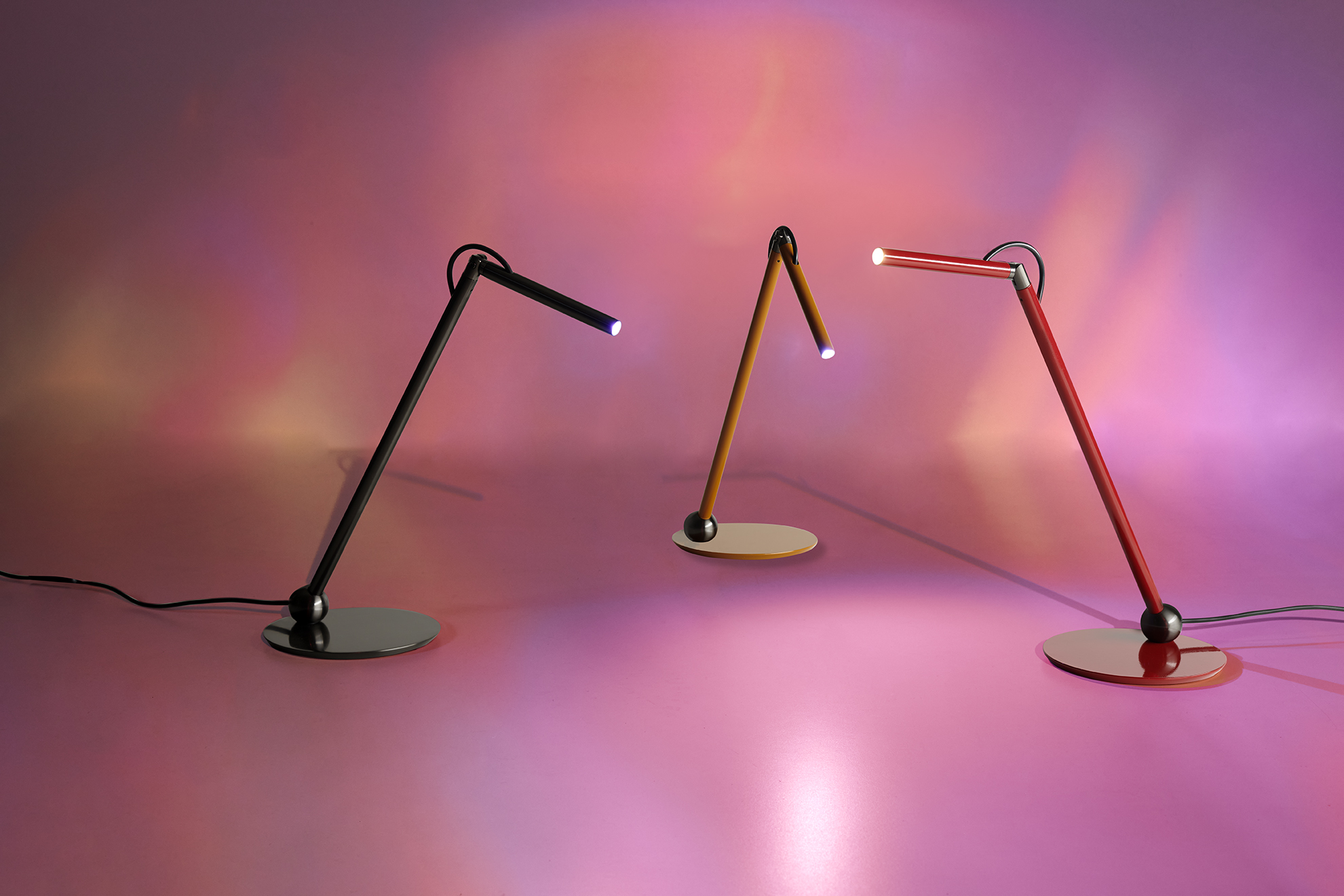 Its personality is portrayed through the strong hues and glossy lacquer of crimson red, mustard yellow, and satin black nickel. It is light and flexible.
Iride pendant light designed by Bellucci Mazzoni Progetti
Iride is a lamp that reimagines the traditional form of dome illumination by employing a vocabulary more common in today's world. Two hung lights of varying diameters provide a lighting effect that is purposefully chosen and sought for. This effect offers the lamp harmony and ensures that light is diffused uniformly around the space, providing visual comfort. Because it is made of opaline glass and draws the stylized shape of a drop in the middle of the minimalist dome on which it rests, the central diffuser gains a distinct personality as an architectural component.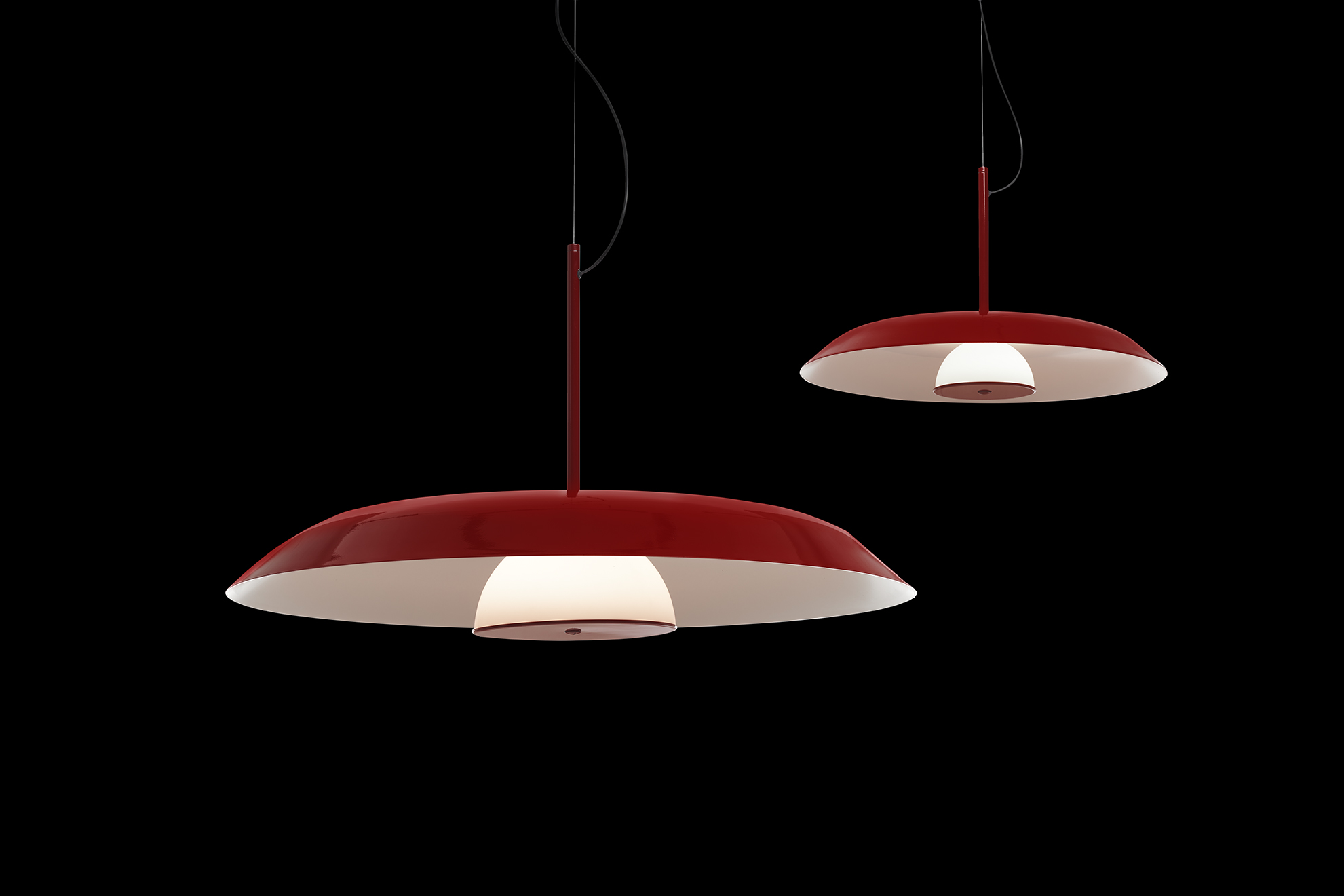 Because of the reflection of the lampshade, the light is diffused, and the result is a softer light. Iride is a lamp for the interior that has been built specifically for use in residential settings. It is offered in a form that is entirely white, as well as in two other colors: reflective white inside, black or glossy red outside.
Medusa lamp for Oluce designed by Quaglio-Simonelli
The basic idea behind the creation of the glass table lamp known as the Medusa by Quaglio-Simonelli was to place a dome-shaped piece of metal inside of a cylindrical container. The light source is housed within the dome, and the glass cylinder is responsible for diffusing the light onto the surface that the lamp rests on.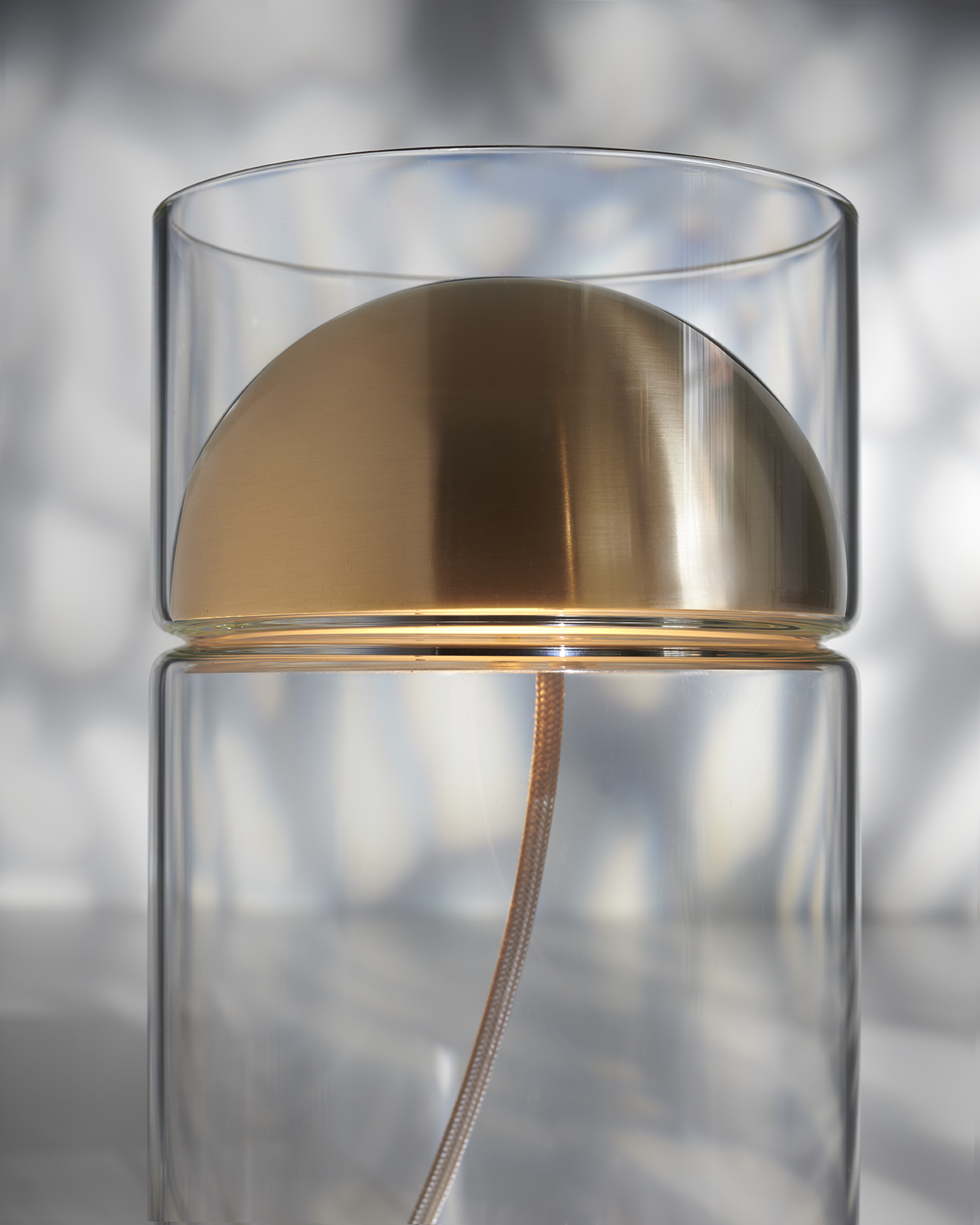 The relationship between the support and lampshade is turned on its head by Medusa. The lampshade is not held up by the support; rather, it is contained by it. The dome, which conceals the light source, is held in place within the cylinder by a sophisticated glass fold, which makes it possible to maintain an air of formal and refined cleanliness. The design is finished off by the electric cable that hangs freely from the middle of the diffuser.
Due to reflections, the cable gives the impression that it is moving, which contributes to the airiness of the lamp. A spotless appearance in exchange for a gentle and comforting glow. There are three color incarnations of the Medusa available to purchase: glossy black, satin gold, and fiery red.
The Iconic ATOLLO Lamp by Vico Magistretti gets a 2023 Update
The Atollo lamp, which Vico Magistretti originally designed in 1977, is being reissued in a new satin black nickel form.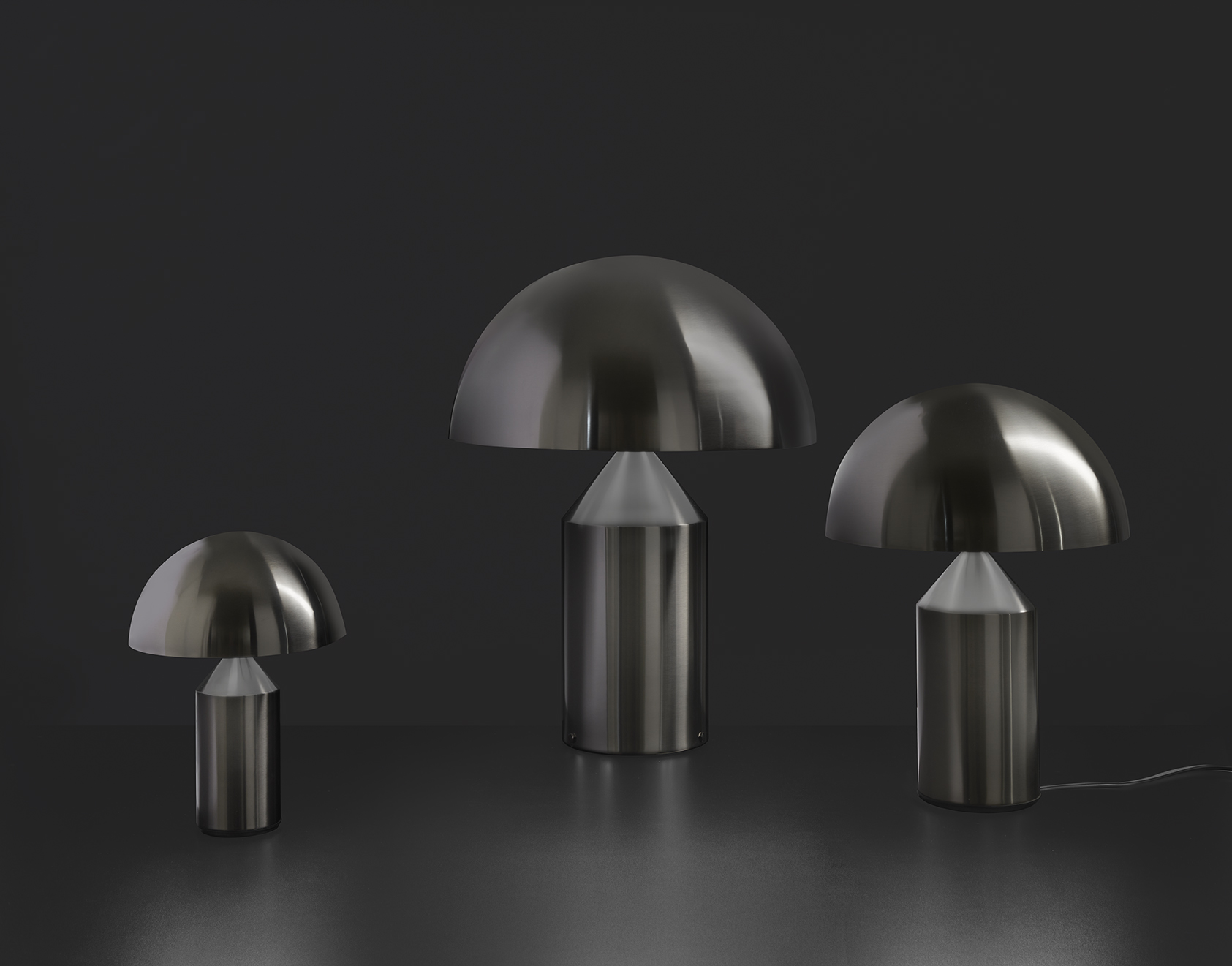 Atollo, which is a table lamp archetypal and an icon of Italian style, fully encapsulates the design ethos that Vico Magistretti was going for: pure geometric elements blended to create arrangements that are both useful and symbolic. The shape known as Atollo is formed by combining a cylinder, a cone, and a half sphere. It was a timeless ornamental lamp that earned the Compasso d'Oro award because it delivers value via its simplicity. Additionally, it transformed the traditional table light depiction. Atollo comes in three different sizes and a variety of different finishes, and it features a lighting system that may be dimmed. This year, it was improved with the addition of a new satin black nickel finish, which has a bold personality and a style that is quite stringent.
Have a closer look of the latest from Oluce presented in Milan in our gallery: