Han Yue Interior Design Co., Ltd. designed this modern hair salon situated in Taichung city, Taiwan. The design is inspired by natural elments like layers of flower petals . Take a look at the complete story after the jump.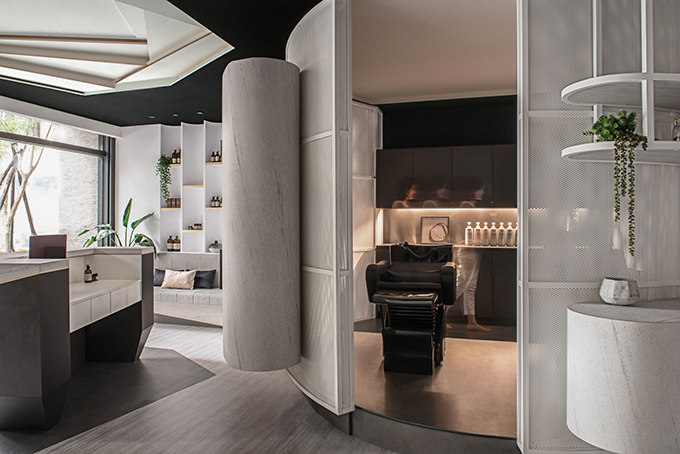 From the architects: To commercial space, spatial passage and ample seats are well arranged in a 6-meter-wide salon. The design concept is from natural elements; for example, the overlapping pattern of ceiling is inspired from layers of flower petals. Also, polyline details from front counter and sofa area, in black-and-white color scheme, are derived from irregular shapes after cutting raw rocks.
Unlike most hair salons, instead of hanging sheers and isolating to the least visible corner, the rinse area is situated in the center of space and covered with perforated metal sheet, implicitly as a rock centerpiece. By properties of perforated sheet, faint lights come through sheet holes and create calm ambiences, providing clients a soothing and relaxing time. A hanging coffee station clings to rinse section, which not only provide smooth flows for hairstylist and customers, but also echoes the visual lightness of the hairdressing.
Project Name: Mute White SalonCategory: Commercial
Architecture Studio: hanyue-interior.com
Photography: Anchevita (Anche Studio)
Location: Taichung city, Taiwan
Space: 76 sqm