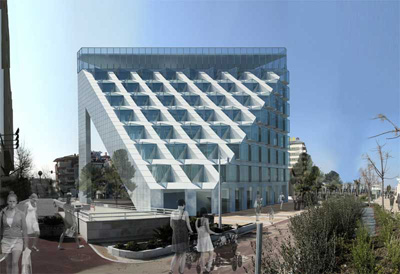 Project: Diamond Hotel
Designed by AM Progetti
Location: Milano, Italy
Website: www.amprogetti.it
Italian practice AM Progetti creates an impressive design for Diamond Hotel set to rise in worlds leading fashion destination city of Milan, emphasis of the design concept was on the unique facade.
After the jump view more images of the project and architects description:
Space of the former Dolphinarium is located in an area of Riccione of extreme interest and particular value. The area of the project has been interpreted as primarily directed towards the sea and the south. We have identified as a front for access the side on via Milano and as "service" face the one next to the north side.


The shape of the building process the theme of the bow window as suggested by the invitation and is born from the desire to give the best possible exposure to all rooms, both towards the sea and the sun. The building has a frontage on the beachfront that is partly flat but gradually recedes to encourage exposure to the sun.
The bow windows protruding into the flat part, project in a pattern rule, when the facade inclines expose to the sun a diagonal edge and look like diamonds embedded on the oblique surface of the building.