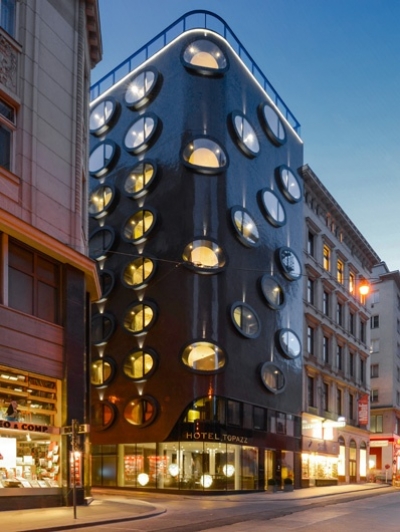 Project: Hotel Topazz
Designed by BWM Architects
Architecture: BWM Architekten und Partner, DI Michael Manzenreiter 

Building concept, Facade: BWM Architekten und Partner 

Floor Plans, Interior Designr: DI Michael Manzenreiter 

Project Area: 153 sqm
Location: Vienna, Austria
Website: bwm.at
Project for Hotel Topazz in Austrian capital Vienna coming from BWM Architects studio.
From the Architects:
The new Topazz design hotel can be likened to a glistening, dark-colored gemstone. Its brown mosaic façade, which absorbs and reflects the natural light, ensures that this building – on one of Vienna's smallest building sites – is a real eye-catcher. The design is characterized by striking elliptical window openings that jut out slightly. This unconventional, distinctive treatment of the façade gives this round-cornered building a sense of weightlessness and elegance as well as an unusually physical presence within the fabric of Vienna's historical architecture. Inside, the curved window recesses serve as comfortably rounded spots for sitting or lounging while you watch the hustle and bustle of the city below. In this way, the exterior and interior spaces engage in close dialogue and complement each other. The idea with the portholes was born partly out of a lack of space – with the aim of making the best possible use of the 153 square meters of site area. After relaxing and daydreaming in one of the niches, you will open your eyes and say: Good morning, Vienna!