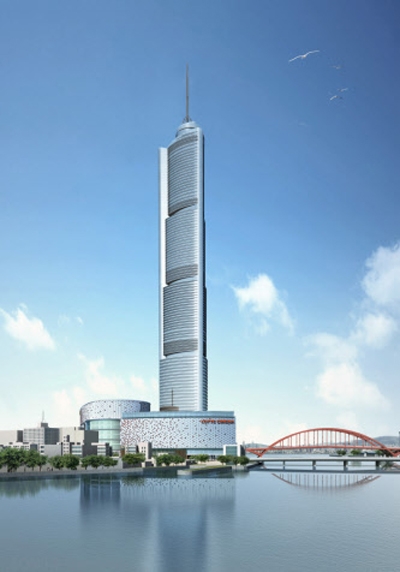 Project:
Busan Lotte Town
Tower
The prolific practice of Skidmore, Owings & Merrill has designed a solution for Busan Lotte Town Tower in South Korea, the mixed-use tower is set to reach the height of whooping 510 meters.
From the Architects:
Situated on a prominent waterfront site in Korea, the Busan Lotte World Tower is poised to become the new gateway to East Asia. Standing at over 510 meters, the landmark tower holds a vast 6.3 million sf mixed-use program consisting of office, hotel, condo, retail and entertainment facilities and underground parking. The streetscape is enlivened by a vibrant retail podium, while the waterfront side features raised parks and plazas that connect directly to the promenade.

The tower's shape and massing are driven by the compact site, the complex program, the desire to optimize views, and strict structural requirements. Tower setbacks occur at transitions between major program components and are arranged with a clock-wise spin to animate the façades. Concrete outrigger walls transfer perimeter column loads to six mega-columns, allowing each tier to have an independent column layout appropriate for its function.

Various sustainable measures will be used to ensure environmental responsibility, including energy optimization/cogeneration measures to reduce grid demand and light shelves for enhanced daylighting.