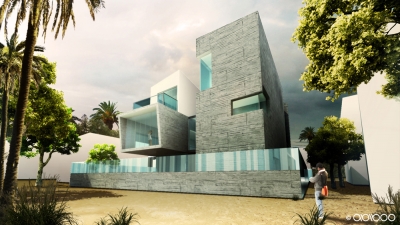 Project: KELLY House
Designed by ABIBOO Architecture
Location: Chennai, India
Website: www.abiboo.com
An interesting design for KELLY family house located in Chennai, India, coming from ABIBOO architects. The house takes on a 4720 sqf of space with 3 floors. For more about this project continue after the break:
From the Architects:
The Kelly House, located on a 4720 sq. ft. plot in the heart of Chennai city, has about 6200 sq. ft. arranged over 3 floors. The ground floor has service areas, a foyer and parking space. Alongside, there are an entrance hall, a leisure space and fitness center which open towards the yard. The spaces of this main floor are organized in a volume that cantilevers over this outside yard area and provide the most interesting views, to the south of the plot where most of the outside vegetation is located.

The configuration of the various areas of the house correspond to the Vastu philosophy that not only mark the relationship between the rooms and the orientation of the main spaces of the house, but also search for the best views and the best orientations weather-wise for each room. All the main spaces of the villa establish a dialogue with the yard, which becomes the central element of the house. This gets emphasized by the relationship of volumes that create the massing of the house in the southern part of the parcel.