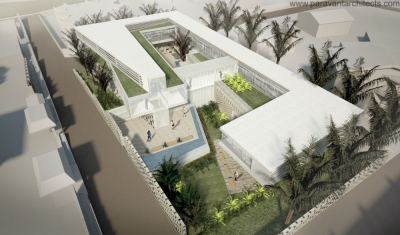 Project: Swiss Embassy in Cameroon
Designed by Paravant Architects
Location: Yaounde, Cameroon
Website: www.paravantarchitects.com
Paravan Architects have shaped the massive project for the Swiss Embassy in Cameron, along with administrative buildings ambassador's residence is part of the complex.
About the Project:
The Chancellery facilitating the main public and civic functions of the embassy faces south towards the main plaza and is marked by the iconic Swiss Cross shape of the façade near the entry gate of the plaza. From the Office of the Ambassador on the second floor of the Swiss Cross, there are views of the surrounding neighbourhood and the distant landscape.
The Ambassador residence, connected to the Chancellery by a two-storey corridor allowing controlled access to the representative functions on the ground floor and a private passage to the residence on the upper floor, follows the perimeter of the north courtyard, with views to the courtyard and of most of the embassy compound.
The Staff Quarters are located on the east side of the second floor facing west towards the entry plaza and adjacent courtyard and are rotated off plan from the first floor providing an outdoor terrace for their accommodations, and landscaped to provide a buffer between them and public sight. The private office suite of the Ambassador on the second floor is obscured from view of the public by a perforated screen wall system, but still offers views out across the south courtyard toward the Swiss Cross.
The site of the embassy is surrounded by a stonewall on the ground floor, composed of patterned openings, which serve as a privacy screen for the daily activities, but also acts as a medium for natural breezes and cross ventilation. Within the walls are the courtyards with set of multi level gardens that help facilitate the cooling of the crossing breezes, while providing space for gatherings and events. This approach to the joint function of the screen and ventilation system of the wall was influenced by the Mashrabiva elements that are a part of the local culture and anchored in traditional Arabic architecture.
Source WorldArchitectureNews. *