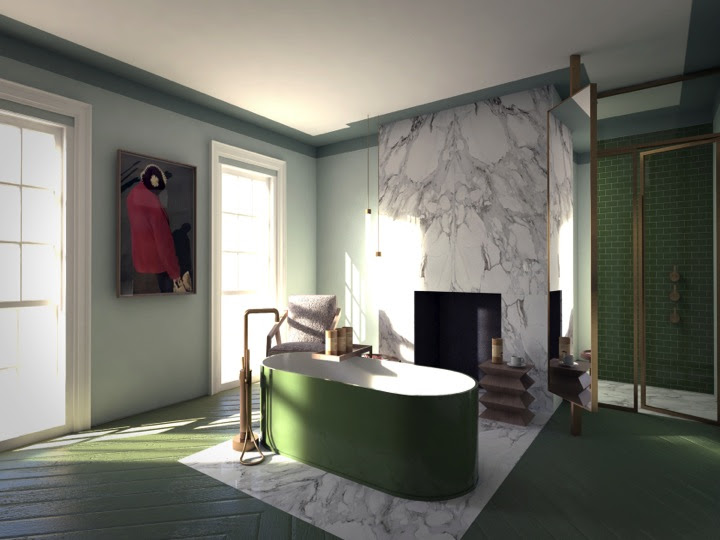 Will this finally be the year you bite the bullet and embark upon that long-awaited bathroom refurbishment? If so, you'll want to discover what's hot in the world of bathroom interiors.
Whilst minimalist style products, monochrome colour schemes and luxurious, freestanding baths all remain popular, there are other elements which are fast-becoming must-have essentials alongside bathroom suites. These 5 ideas will help you to create a bathroom that is totally on-trend.
Swap your pedestal basin for a vanity unit
One of the mainstays of any contemporary bathroom is storage. The easiest way to add a set of drawers or cupboard space is to swap your old pedestal basin for a vanity unit.
Whether you choose a floorstanding model or a wall hung design, this handy piece of furniture combines your sink with storage space. You can choose a clean white finish or something more natural, with a wood finish like warm oak or walnut. Greys and textured surfaces are also very popular with interior designers right now.
For added storage, choose a wall hung mirror cabinet to place above your vanity unit. Remember to choose a matching unit from the same furniture range for a coordinated look.
Go crazy for a feature wall or floor
When choosing your wall and floor coverings, you really can let your creative side run wild. With tiles, there are so many different and intriguing shapes and patterns that can be created. For example, metro tiles, which are incredibly popular, can be used in different arrangements, from vertical to herringbone. Stone and wood effect tiles can also introduce a touch of nature into your décor. Different coloured grouts can be used to add contrast to your tiles.
Shower wall panels are also increasing in popularity due to the ease in which they can be fitted and the almost limitless designs that can be achieved. With no grout, they offer a virtually seamless surface with no place for unsightly mould to develop.
Special finishes for your fixtures
Whilst chrome has been the dominant bathroom finish for decades, many people are looking for alternative metallic finishes when choosing taps, showers and accessories. Gold, copper, rose gold, brushed nickel and black are all proving popular alternatives, helping homeowners personalise their bathroom designs.
Lighten the mood with luxury lighting
Your bathroom really is the place to be bold with lighting. In place of that boring, functional old lighting fixture, why not add something with a little more style? Introduce a touch of opulence with a chandelier or create an industrial theme with a large bulb.
LED mirrors can help to provide task lighting right where you need it most, plus, with many battery operated models available, you won't need an electrician to install one.
Other on-trend ideas include strip lighting around your furniture or shelves, which can add a real ambience to your bathroom. Recessed downlights are ideal for minimalist style rooms, illuminating every corner of your space.
Be smart with your shower
Finally, the item that everyone is raving about: the smart shower. With our homes becoming ever smarter and inter-connected, it hasn't taken long for our bathrooms to follow suit. It is now possible to start your morning shower before your head has even left the pillow. You can even run your bath so it's ready the minute you walk through the door. With the affordable smart showers now available, the possibilities are endless.
What's more, smart shower systems can be programmed to work with smart home systems like Amazon Alexa and Google Home, so you can simply say "Alexa. Start my morning shower" for the perfect temperature and duration.
With these 5 great ideas, you can easily achieve an on-trend bathroom which will wow your friends and family.
Images from Avocado Bathroom by Boundary Space – See the full story here