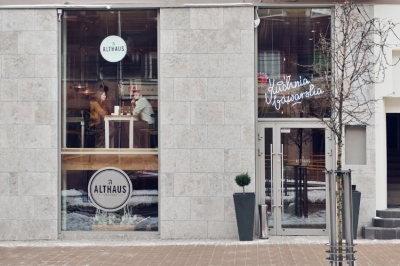 Project: ALTHAUS Restaurant
Designed by PB Studio
Location: Gdynia, Poland
Website: www.p-bstudio.com
The elegant ALTHAUS Restaurant located in Gdynia, Poland quickly became hotspot of the city (serving Bavarian traditional cuisine). Interior space of this restaurant is work of Polish Architects from PB Studio who have managed to create note of German sentiment between these walls.
From the Architects:
Althaus is a Bavarian restaurant situated in the centre of Gdynia, Poland. Large facade windows expose the interior to the pedestrians whereas the restaurants guests can experience the street life form a different level. The restaurant serves traditional Bavarian cuisine. Therefore, the southern Germany vibe was exposed subtly by using materials such as natural, golden oak, bottle green and copper which appears in decorative elements such as lamp, mosaic and chandelier, all of which refer to traditional beer production. There is slightly different atmosphere in every room: combination of calfskins and white painted wood is prevailing on the ground floor. In the centre of the upper floor there is a bar and a buffet covered in dark green paneling. There are two rooms surrounding the bar in which natural oak, white painted brick and dark green velvet, covering upholstered seats, are dominating materials.