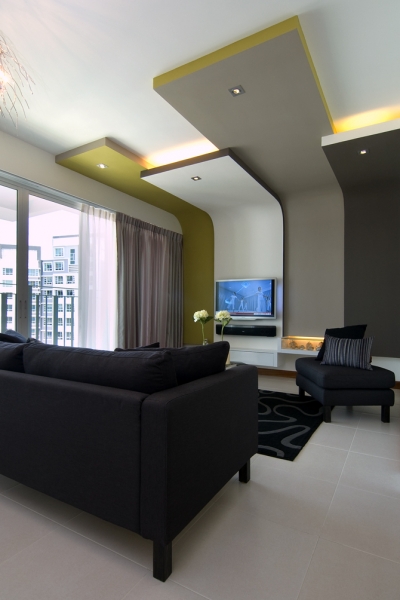 Project: Apartment Design in Singapore
Designed by KNQ Associates
Location: Singapore
Website: www.knqassociates.com
KNQ Associates are sharing with us their redesign of and apartment in Singapore.
From the Architects:
When you live alone, you have plenty of freedom in how you want your place designed and decorated. If you are a single woman, there can be so many choices that they can prove to be overwhelming.
This is where having a clear understanding of yourself is of utmost importance. The owner's adventurous personality – she loves diving and traveling – hence became the cue for us to create something edgy and provocative for her new apartment. The design approach is evident right from the moment one steps through the front door, which opens into a living area decorated in bold shades of green, black and white. Key features of the space include a cannot-miss-it curved TV wall which extends up to the ceiling to hold spotlights, a planter of pretty orchids and folding doors leading into the dining hall (previously one of the 3 bedrooms in the house). The pattern on the rug is reminiscent of water waves, which works in tandem with the free-flowing form of the TV wall.
To bring daylight into the original enclosed kitchen, a wall was taken down. In its place, we fitted a counter that allows the owner to be 'part of the action' in the living room when friends and relatives come visit. A drywall which partitions the fridge from the kitchen entry became a focal point where an abstract clock mural, designed and installed by us, is installed.
In the main bedroom, we split the space into 3 distinct areas – the raised bed deck, the walk-in closet outside the bathroom and the TV area. A playful art installation of butterflies and twigs features on the wall against which the bed is placed.
For a more subdued look in the master bedroom, we decided to keep all the colors here serene and light. This airy touch extends to the design of the spare bedroom, which the mum would sleep in when she comes over.