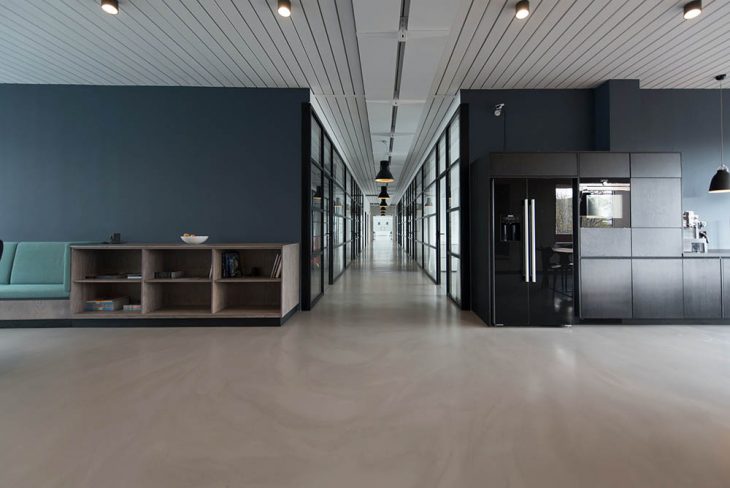 Designing an office space that's inspiring and functional at the same time is not an easy task. There are countless factors that can optimize a setting and create an environment of prosperity. But how do you determine which ideas will work best for your company? Here are a few you can benefit from regardless of the industry you're in.
1. Brand Your Space With Mood Lifting Signage
Mood setting starts at the lobby. It's the place that greets your clients before they even get to meet you. Appealing signage is a must to leave a great impression, streamline navigation and establish comfort. Work with experts to decide on the best styles and color schemes to match your brand philosophy.
"Decorative elements, wayfinding solutions and branding graphics can all be achieved with signage," explain the interior design experts at Front Signs, a company that's provided office lobby signs across the US.
2. Offer Leisure Spaces for Your Team Members
Lounge areas are one of the latest trends in office design. As social beings, employees like to form connections and bond with the people around them. Colleagues who feel a connection with one another are more likely to work well together.
A relaxation zone in the office inspires creativity and allows employees to disconnect from stress. This can be accomplished by simply changing the color of an accent wall and adding comfortable seating in front of it. Small gestures such as providing drinks, snacks and games will help employees feel valued while also allowing them to unwind and recharge for the tasks at hand.
3. Incorporate Flexible Layouts
Incorporating flexible layouts in the workspace helps companies address disturbances such as excess noise or a lack of personal interaction. The vision of a 'flexible workstation' changes periodically to adapt to current needs. In the last few years, open spaces came to replace cubicles to eliminate hierarchies and improve face-to-face communication. But now after the pandemic, we're somewhere in the middle.
Using a mix of open and closed spaces can simultaneously satisfy multiple work styles, personalities and tasks. From acrylic partitions to book-shelf walls, brands all over the world are customizing their interior design to offer ease of access while maintaining a sense of privacy.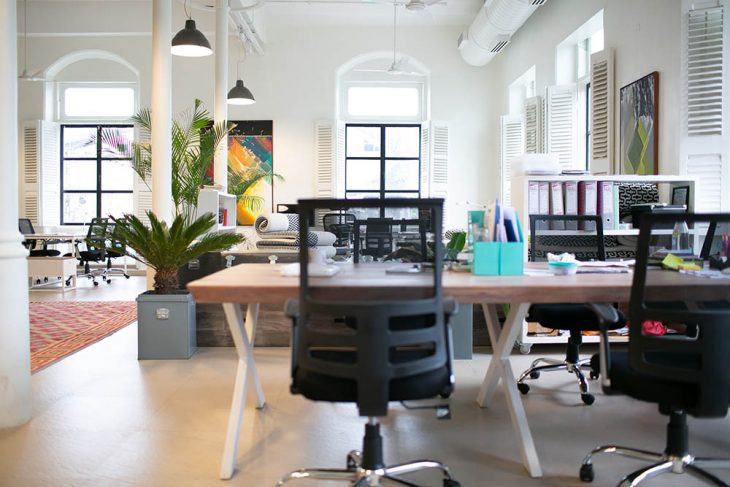 4. Bring Nature Into Your Office Design
Indoor plants can refresh the aesthetic of your office while also providing a calming effect. They bring vitality to boring environments by adding a diversity of color, texture, and life. A lack of gardening experience won't be a problem here. Most indoor plants are easy to care for as long as they're not under or overwatered.
Natural plants improve air quality and breathe new life into office spaces. They stimulate the senses and have positive effects on people's productivity. Besides being refreshing for the mind, the color green also has a soothing effect on the eyes.
5. Increase Natural Lighting
This is considered a next-level office design idea your staff is guaranteed to love. Employees crave access to natural light and views of the outside world, preferring it to perks like coffee and work out equipment.
There is no substitute for sunlight. It promotes the physical and emotional wellness of employees while also linking them to the freedom of the outdoors. It's advisable to keep this in mind while picking a new office location, remodeling or modifying the office layout.
6. Use Striking Colors
An average employee will describe the least inspirational office with dull color schemes such as grey and off-white. Nowadays, designers opt for colors that are bold and well-thought out. Experts consider the trendiest hues for modern offices to be deep blue, icy white and golden yellow.
Most of us spend a lot of time enclosed by walls and in front of computer screens so you can imagine the importance of the colors surrounding us. The above-mentioned shades are very powerful for creating clarity, vibrancy and fun. They also go well with other hues, leaving much room for imaginative complements.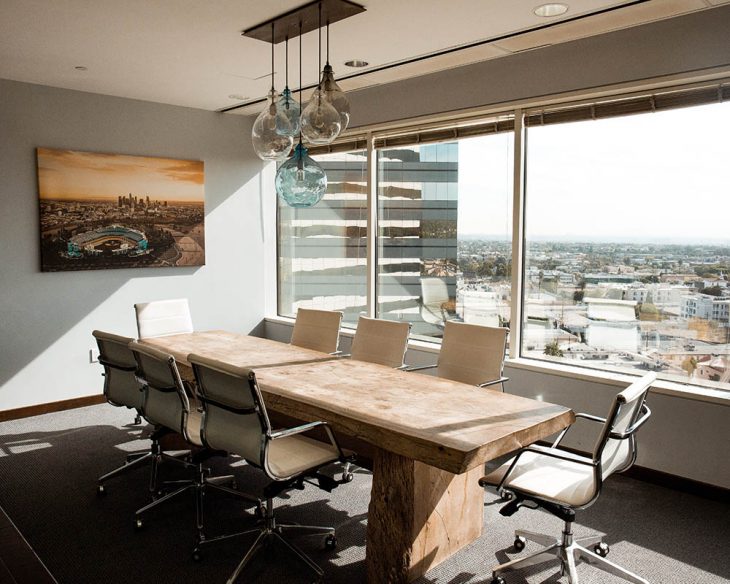 7. Get High-Tech Furniture
Smart furniture is far more than a flexible work chair. It's also about optimally placed charging sockets or adjustable circadian rays on your light fixtures. Interesting, right? Technology is inextricably linked to office designs in this day and age.
A good example are ergonomic chairs and desks with innovative features. Some can even make automatic adjustments or tell you how you can enhance your posture. Another clever idea is to mix old furniture with their ultra-modern counterparts. This will conserve your office belongings and create an exciting contrast of retro and modern styles.
8. Go Minimal
Nobody enjoys a messy environment. Employees love the feeling of a spacious office arrangement. A simple method to achieve this is to eliminate unnecessary embellishments. To take advantage of this, you'll need to make the most of what you already have and reduce clutter. Getting rid of things that don't serve a critical purpose is a must. It may seem difficult at first but it'll be worth it when you see the relieved expressions on your employees' faces.
Before anything gets said and done, remove items that feel excessively heavy or cumbersome. Use simple accents and subtle decor pieces to set a minimalistic tone to your office. Keep the quantity of solely aesthetic décor to a minimum and instead look for pieces that may serve a multifunctional purpose.
9. Adopt Activity Based Working (ABW)
Businesses use this strategy by offering different rooms for each of the tasks assigned to seperate teams and departments. Many believe that an activity based working environment generates greater results. This is because personnel are given access to spaces that are perfectly equipped for the task at hand without other distractions. As a result, you'll enjoy a more productive staff and a better bottom line.
To make the most of this work model, you'll need to figure out projects that your staff does more frequently and set a priority on each one. Using this knowledge, you'll be able to construct a conducive space that caters to those tasks. Your workforce will be appreciative of your efforts and utilize the resources to achieve superior outcomes.
10. Take a Multipurpose Approach
Having custom spaces tailored to specific needs is a great idea. But what if you're operating in a tight office that doesn't offer such luxuries? Time to think about optimizing each centimeter you have at your disposal. In this case, multipurpose areas will help in maximizing the space you have for your staff.
Your team members will be more productive if they have everything they need to perform a task. It's a good idea to consult with them while constructing these versatile workstations. Your employees may have some unique perspectives on what these areas require to be more effective. With their help, you'll be able to create a workplace design that's efficient and boosts employee morale.
Which Design Works Best for You?
Now that you've learned about the latest trends in modern office design, you'll need to make a few adjustments. The style of workplace design you select will be greatly influenced by the type of job you do. Allowing office design pros to assist you with this process is the most successful way to get the space you desire. It's time to turn your place of work into a worthwhile place to work in.