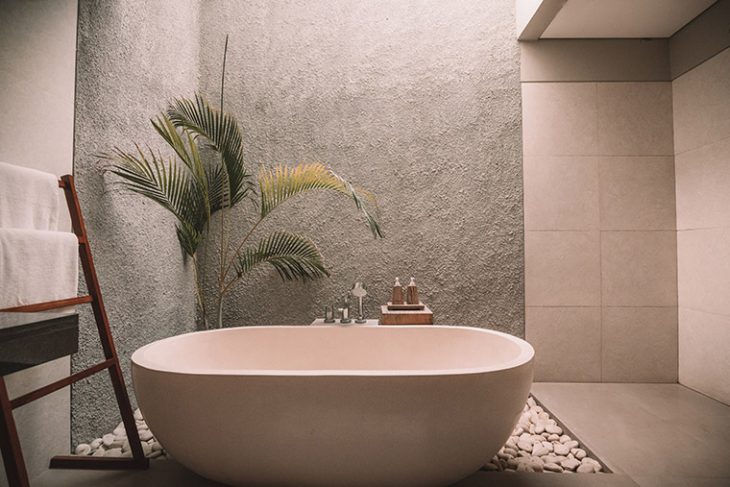 Who doesn't dream of a day at the spa? A space entirely set aside for pampering and relaxing, spas are an accessible taste of luxury. What would be even better, though, would be to get the spa experience at home, and with a few simple bathroom swaps you can make that a reality. Though it may be missing the estheticians, these smart restyling tips can imbue your routines with added pleasure.
A Simple Seat
Space is often at a premium in bathrooms, but one of the fastest ways to upgrade a bathroom space is by adding some seating. It doesn't need to be a full-sized couch or anything extravagant, but a small upholstered bench, an ottoman, or a stool go a long way. A seat means there's a place to set down your clothes or stack clean towels, sit to paint your nails, or wait for your face mask to dry.
Size Up Your Shower
Bathtubs get all the attention when it comes to bathroom design, and it's true that some people love a good long soak. If that's you, then great – scale up your tub to a larger model, if possible, so you can really sink into the water. For most adults, though, a spacious shower is actually more luxurious than a tub, which is why many designers recommend walk-in showers with glass doors and a great showerhead. Add to that some essential oils or other scent enhancements and you'll never want to get out.
Let The Rain Pour Down
Speaking of showers, one of the best ways to upgrade your shower experience is by changing out your showerhead. The standard showerhead delivers a relatively narrow flow. It may have a few pressure or spray settings, but the overall effect is unimpressive. What you really want in your shower is an oversized rain-style showerhead that delivers a broad, heavy spray. You'll feel pleasurably immersed, enveloped in luxurious storm.
Choose Luscious Linens
To first time buyers, bath towels often seem shockingly expensive. Why would large pieces of fabric cost so much? You won't find that answer here, but it's very clear that you get what you pay for. To that end, if you want a more enjoyable shower experience, one of the best things you can do is to purchase higher quality towels and a comfortable robe. There's nothing like lounging around in a soft, thick robe in a steamy bathroom to make you feel like you're being pampered.
Other Options
One of the great things about upgrading your bathroom is that there are countless little things you can do – new products you can buy like fancy soaps and moisturizers – that will add some variety to your routine. Even better, new soaps or some candles won't break the bank.
While sometimes upgrading your bathroom means going in for a total transformation, at least if it's in the budget, sometimes it's just about slowing down and enjoying the process. That's what you would do if you were at a spa – and it's the most important part of bringing the spa experience home.