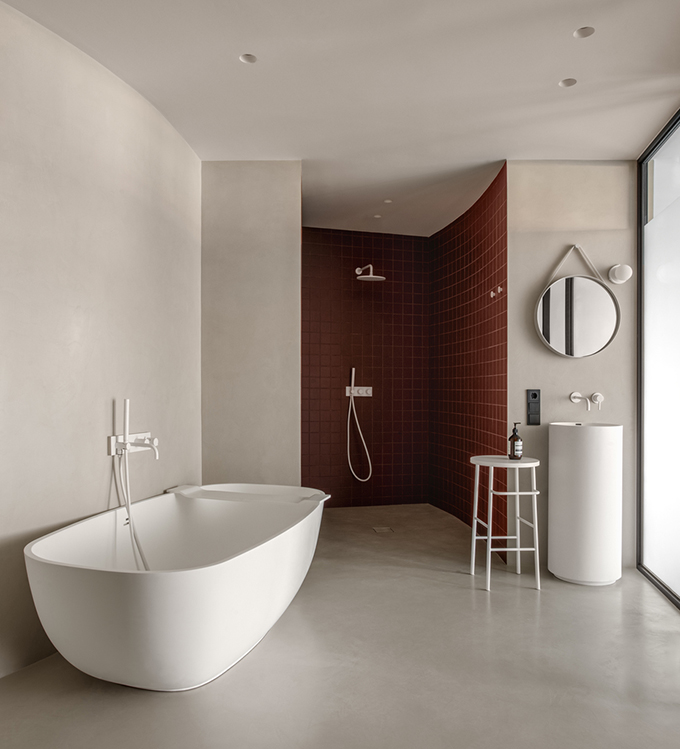 Can you imagine what it would be like to start your day in a spa each morning, rather than a musty bathroom that hasn't seen a good cleaning in months? It would probably put you in a better mood, right? Well, it's not as far-fetched as you might think.
5 Tips for Making Your Bathroom More Luxurious
Certain rooms in the home can be classified as "money rooms". These are rooms that people gravitate towards. They're rooms that photograph well, add value at resale, and convey a sense of luxury (when well designed).
The kitchen is the number one money room in the house. But the master bathroom doesn't trail too far behind. Here are some ways you can ensure you're getting the most bang for your buck.
Flooring
Cheap, dated tile is one of the easiest elements to swap out and upgrade. It also has the potential to make a massive visual change.
"Fortunately, there are several budget-friendly options for updating your bathroom floor," designer Anabelle Bernard Fournier writes. "Ranging from simple repainting of a wooden floor to modern vinyl to porcelain tile, the money you save on flooring can contribute to that elegant pedestal bathtub or that large walk-in shower you've always wanted."
Vinyl plank flooring is one of the more popular mid-range options these days. You can find a variety of colors and styles from any major home improvement store. Not only are they inexpensive and waterproof, but most can be installed with nothing more than an exacto knife and a couple of other basic tools.
Showers and Tubs
Nothing says luxurious quite like an elegant shower or tub. It's something you use regularly and, therefore, it's an element that you shouldn't feel guilty splurging on. Some of the latest luxury shower trends include:
Dual shower. Features multiple shower heads and is typically used when you have the space for a large shower.)
Frameless shower. As the name indicates, there's no frame around the door. This gives the glass the appearance of floating. It also opens up smaller bathrooms and makes them look bigger than they are.
Doorless shower. Don't want a door at all? That's fine, as well. Many of the latest luxury bathrooms feature three-quarter glass across the front with no door. This allows for a seamless transition in and out of the shower.
In terms of tubs, we're seeing less jacuzzi style tubs and more standalone options. Restored vintage clawfoot tubs are a hot commodity, as are freestanding porcelain tubs.
Countertops
Upgrade those worn out counters with something new, fresh, and luxurious. The beauty of bathroom countertops is that there isn't usually a ton of square footage. This means you can splurge on something like quartz, which looks and feels like a million bucks!
Lighting
Who says you have to stick with dated, fluorescent lighting in the bathroom? Wouldn't you rather have custom-grade light fixtures that diffuse warm and balanced lighting?
This article has some great inspiration and design suggestions for bathroom lighting. Consider spending a little extra to get something that fits your personality.
High-Tech Features
Most people don't think about the bathroom as being a high-tech hotspot, but it can be! There's innovative tech for just about every element and system in a typical bathroom. This includes:
Toilet seat warmers
Self-cleaning toilets
Digital faucets
Refrigerated medicine cabinets
Heated floors
And more…
Think about your biggest points of friction in the bathroom and do a little research. Chances are you'll find a high-tech feature or gadget to make your experience more luxurious.
DIY vs. Professional Remodeling
For most homeowners, the budget is one of the primary considerations in a bathroom remodel project. If you're tight on funds, you may consider doing some of the work yourself.
If you have some basic handy skills and the right tools, you may be able to tackle things like flooring, painting, and hardware installation on your own. But unless you have plumbing and electrical experience, it's better to leave these more complicated tasks to the professionals.
Regardless of which path you go, DIY or hiring contractors, you must start with a plan. Figure out what you want, create a budget, and develop a timeline. Remodeling isn't always easy, but it pays dividends in the long run!
All images featuring the Blue Terracotta apartment, a contemporary apartment with a minimal approach located in Kiev, Ukraine. In charge of the design were the architects at Rina Lovko Studio – see the complete project on ARCHISCENE.