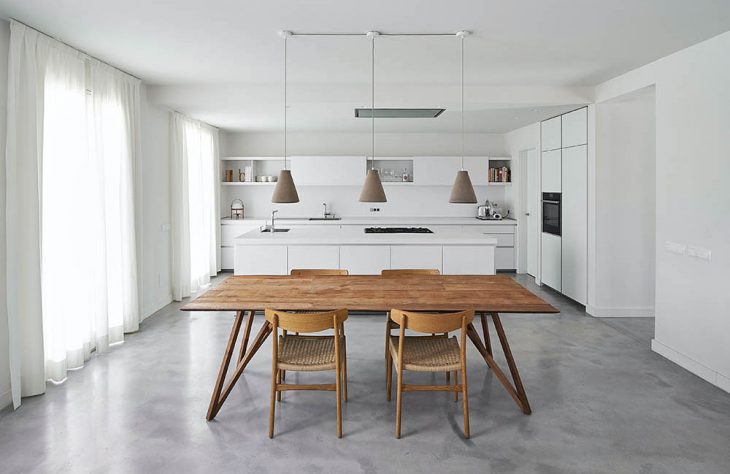 If you are outfitting your first office, you might have a fairly limited budget for furnishings. Office furniture can cost thousands of dollars, even though the manufacturing process and quality are often the same as similar and cheaper domestic counterparts. Many solo entrepreneurs are cutting corners on furnishing their offices with modified domestic furniture.
A conference table is one of the more expensive pieces of office furniture, but you can save quite a bit by purchasing a dining table instead. In fact, your average dining set of the same quality as a meeting table could cost several hundred dollars less than a conference table. More and more businesses are also opting for comfortable swivel dining armchairs in place of more expensive executive office chairs.
You can cut costs too by altering a dining set to meet your presentation and meeting needs. Most dining sets can be easily and cheaply modified to create a meeting space within your home as well. Here's how you can modify a dining set for use in a conference room.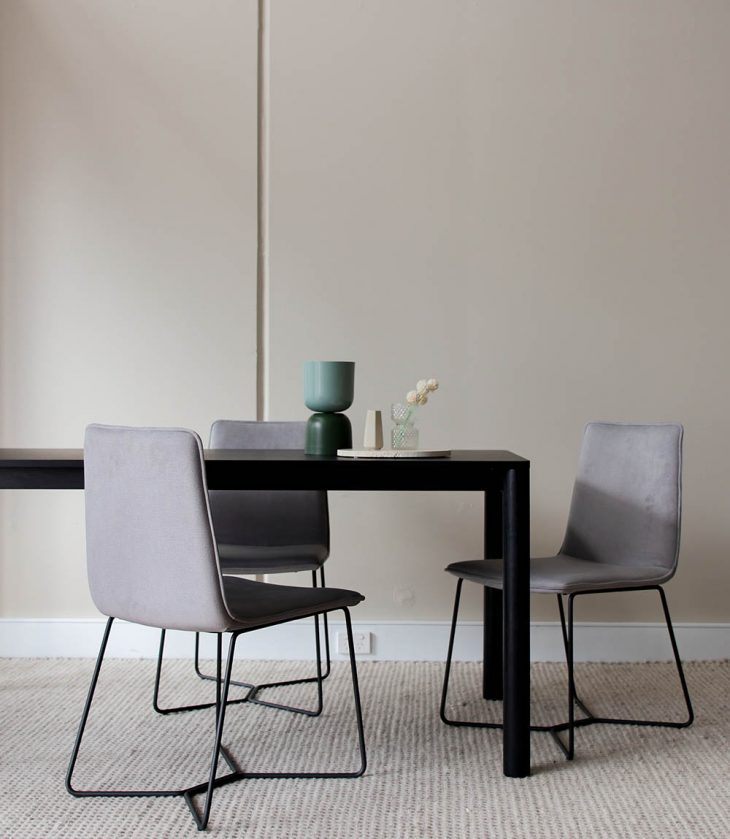 Consider your conference, presentation, or meeting needs
How will you be using your new conference table or meeting room? What the room will be used for, and the equipment you need to make it happen, plays a large role in how well a dining set will meet your needs. Here are some common features that you should keep in mind while modifying your dining set for meetings.
Technology requirements for presenters
If you'll be using your conference room for presentations, you're going to need your meeting room set up to accommodate the cords and controls needed to present from a connected computer or tablet. This likely means making sure that you have a ready outlet at the presentation end of the table, and you might need to drill a hole at that end of the table for safe cord management.
Technology requirements for the rest of the table
If your meetings will include those who need their own laptops, tablets, or another tech to spur the meeting forward, you should make sure that you have appropriate cords and outlets for them as well. Charging stations are particularly important for longer meetings.
If you have outlets available, you can drill a hole in the middle of the table to run cords to the individual seats. Alternatively, you can use an extendable table and run the cords through the small opening created by moving the leaves a few inches apart.
Accommodating phones
Even though most people use mobile devices today, there are still some big advantages to using a traditional phone system. If you want to offer the option to attend meetings by conference call, a standard phone system is best. You can usually install the phone system in the center of the table with the other cords and charge stations, although you may need to make other arrangements depending on your desired setup.
Get the right dining set for the purpose
You can't modify a completely unsuitable dining set into a meeting table. You must start with the right dining set that can be easily modified for the purpose. Here are some things to keep in mind if you are buying a dining set for use in a conference room.
Choose a dining set with multiple seating options
Most executive office chairs are on rollers, with arms and leather or faux leather upholstery. Today, dining chairs and even gaming chairs are also being made in this style. Even better, many rolling dining chairs offer adjustable arms so you can move them out of the way when needed, making them even better than some executive-style chairs.
However, you might still want to get additional more basic dining chairs that match the set which can be stacked out of the way when not needed. Especially if you choose an extendable table for more versatility and have a small office, you need to be able to easily store extra chairs when not in use.
You may also want to purchase matching bar stool-style seating for presenters. Standing for long periods is tiresome and makes it harder to concentrate as a meeting drags on. Some people also have physical limitations that prevent them from standing through an entire meeting. Including one or two bar-style seats give your presenters a comfortable and still professional place to perch during presentations.
The right size for the room and number of meeting attendees
How many people will you be hosting in the meeting room on a regular basis? Make sure that you get a table of an appropriate size to accommodate everyone. If your meeting size changes regularly you might consider getting an extendable table with optional leaves to expand the space when needed. Make sure that whether extended with leaves or at its smallest size it will fit in your space comfortably with room to move around the dining set.
Choosing the right style
There is nothing wrong with using a dining set in your conference room, but you still need to make sure that it looks professional. Office furniture is often heavy, bulky, and polished to a shine. If you choose the right dining set to modify, it should blend in seamlessly with your other office furnishings and décor. Dining tables in the traditional or industrial style are the most popular for business settings.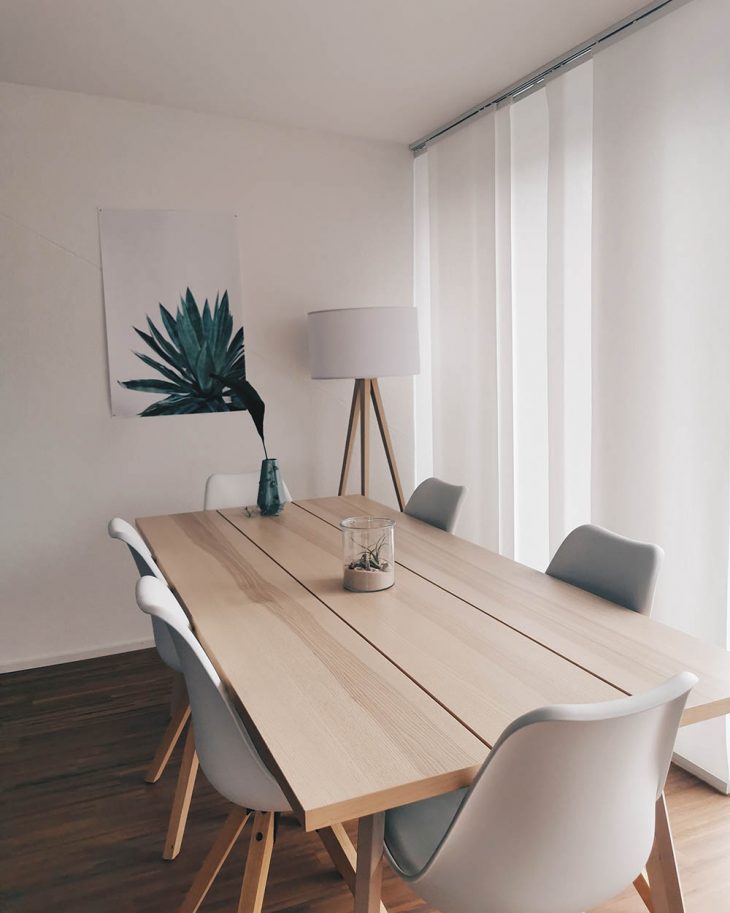 How to modify a dining table set for meetings
In addition to making holes for providing tech and power to those sitting at the table, there are a few easy things you can do to modify a dining set to your business needs. Rather than just sticking to a dining table and chairs, you can also make use of the other components in dining room furniture sets. Here are a few more ideas.
Use the matching sideboard as a remote wireless printing station
Sideboards are the perfect place to create a wireless printing station. You never know when you need to make revisions and print right away within a meeting. You can also use the sideboard's drawers and other storage features to house office supplies and other items you might need during your meetings. You might need to alter it by drilling holes for cord management and outlet access.
Choose a matching console table for a coffee station
Coffee and food are a must for any meeting, particularly morning meetings and those of extended duration. No matter what type of food or coffee fixings your colleagues or clients want, a console table is a great way to set it up for everyone to grab what they want when they want. Console tables work best for this purpose because you can more easily plug in a coffee maker without drilling holes. You may even have enough room under the console table to house a small minifridge.
Tools and materials needed to modify a dining table set for a meeting room
Drilling holes into a dining table, console table, or sideboard to accommodate phones, charge stations, and other cord management and technology access might seem easy, but you do need to have the right tools for the job.
If you just need a small hole for a cord here and there, you can create these smaller holes with a standard drill. However, if you need to install a cord grommet to manage multiple stations, you will need to have a portable saw appropriate for cutting a hole two or three inches in diameter. Cord grommets can be purchased relatively inexpensively and give your table a finished look even though you modify it yourself.
If you don't have the outlets needed for your meeting table, you may need to consider hiring an electrician to install additional outlets in the room. If possible, having outlets installed on the floor under the meeting table will make it easier to organize and set up each station.
Where to get a professional-looking dining table set
If you want the most options for a dining furniture set that will most closely resemble a conference table, shopping online is the only way to go. When you go through the right online furniture retailer, you'll have access to a plethora of options. Not only will you have access to more brands and furniture collections all in one place, you'll also be able to compare styles, designs, and prices more easily from one site.
Getting your dining table set online will only increase your office furniture savings as well. You'll get better discounts, find more frequent sales, and have access to larger clearance sections. You may also be able to save with free delivery options and other key features not available at your local office furniture store. When you're a fledgling business striving for cheap startup costs, shopping online is almost always the best option.