Project: Neil Barrett 'Shop in Shops'
Designed by Zaha Hadid Architects
Design: Zaha Hadid & Patrik Schumacher
Project Architect: Claudia Wulf, Elke Presser
Concept Development: Claudia Wulf, Elke Presser, Torsten Broeder
Location: Seoul, South Korea
Website: www.zaha-hadid.com
Zaha Hadid Architects have designed the interior space of Neil Barrett's shop with a sentiment of 'Shop in Shops' located in Seoul, Korea in their own unique ease blending in impeccably with designer's contemporary style. Discover more of their design after the jump: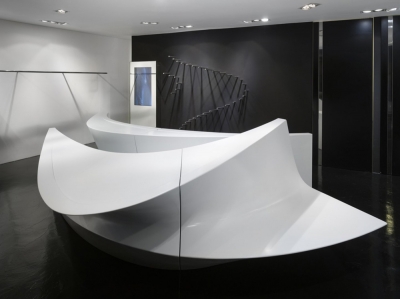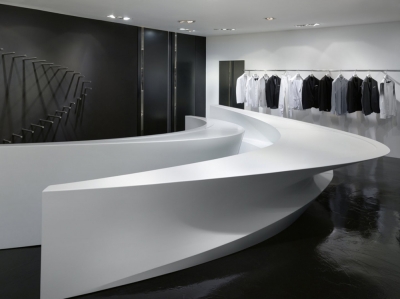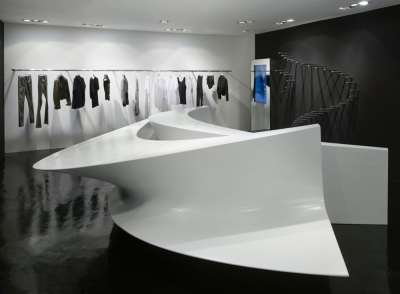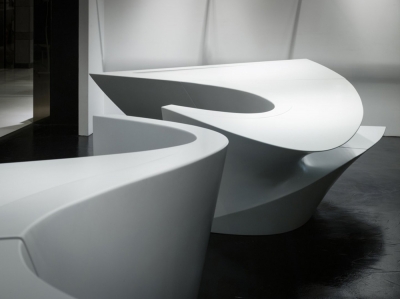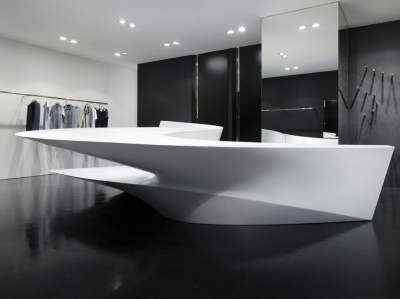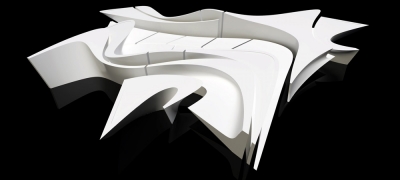 From the Architects:
The pieces have been carved and moulded from the original solid as pairs that define each other to create an artificial landscape that unfolds multiple layers for display. The emerging forms engage the same design principles adopted for the Neil Barrett Flagship Store in Tokyo; the characteristic peeling, twisting and folding of surfaces has been extended to incorporate double-curvatures and rotations.

Adaption to multiple conditions
The display landscape is a flexible modular system that allows multiple arrangements and adaptations according to specific locations and multiple conditions, developing an original space at every location. The pieces can be used individually or pieces can be used in conjunction with others from the collection accordingly to suit the scale and spaces of each shop, with each piece able to display shoes, bags or accessories.

Materiality
The Shop in Shop concept continues the geometries of the Tokyo Flagship Store, developing a dialogue between the Cartesian language of the existing envelope walls with the sculptural, smooth finish of each piece. This contrast of materials in combination with the formal language of the design plays with these visual and tactile characteristics and is further accentuated by the black polished floor.

Neil Barrett Shop in Shop designs are located in Seoul and Hong Kong:
• Galleria Main, 3F, Galleria Luxury Hall East, 515, Apgujung-dong, Gangnam-gu, Seoul
• Hyundai Main, 4F, Hyundai DPS, 429, Apgujung-dong, Gangnam-gu, Seoul
• Shinsegae Main, 5F, Shinsegae DPS, 52-5, Choongmuro 1-ga, Jung-gu, Seoul
• Hyundai Daegu, 2F, Hyundai DPS, 2-ga, Gyeosan-dong, Jung-gu, Daegu. Seoul
• The Landmark, B1/F, 15 Queen's Road Central, Hong Kong

Zaha Hadid Architects and Neil Barrett are continuing their collaboration on further Shop in Shop concepts to open in Beijing, Shanghai and Seoul.