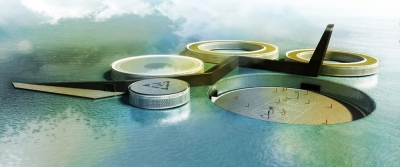 Project: [PACIFIC 06] Ocean Platform Prison – _ATOLL PRISON
Designed by Ariel Hakel, Tomás Sánchez and Miguel Minond
Building Area: 8 230 m2
GFA: 8 560 m2
Stories above Ground: 1
Stories below Ground: 1
Maximum Height: 20 m (watch tower)
Location: Pacific Ocean
Website: www.ac-ca.org
Third prize in the much talked about architectural competition for the design of Ocean Platform Prison named [PACIFIC 06] comes for the project design by Argentinian team of architects Ariel Hakel, Tomás Sánchez and Miguel Minond. This noted competition was hosted by [AC-CA], discover more of the project after the jump: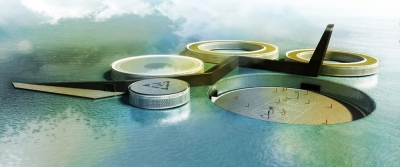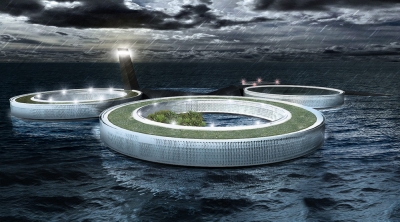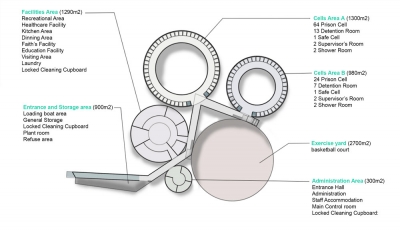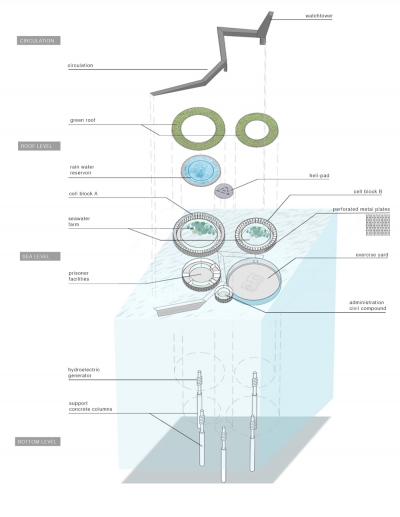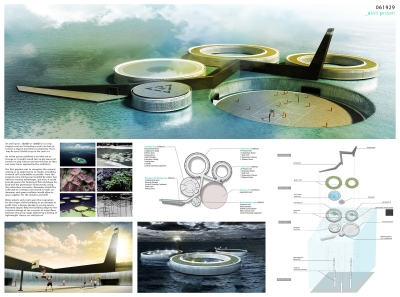 About the Project:
An atoll (pron.: /ˈætɒl/ or /æˈtɒl/)[ is a ring-shaped coral reef including a coral rim that encircles a lagoon partially or completely. There may be coral islands/cays on the coral rim.

An ocean prison platform is an idea not as strange as it might sound (we´ve got many references in pop culture and movies) but an idea not many times approached by architects.

Our first premise was to recognize the oceanic setting as an opportunity to render a building as much self sustainable as posible. From the program view, being sourrounded by water has obvious security advantages, but also, it could provide spaces for farming of fish and algae for food and the generation of electricity using the subsurface courrents. Rainwater should be collected on rooftops and stored in tanks underwater and green rooftops would allow to grow supplies for the inmates and staff.

Water plants and corals were the inspiration for the shape of the building, as an attempt to profit from a design already in use by nature. Rounded shapes help the building adapt to the constant change of sea currents as water flows between the prison gaps delivering a feeling of lightweight. Hence, an atoll prison.