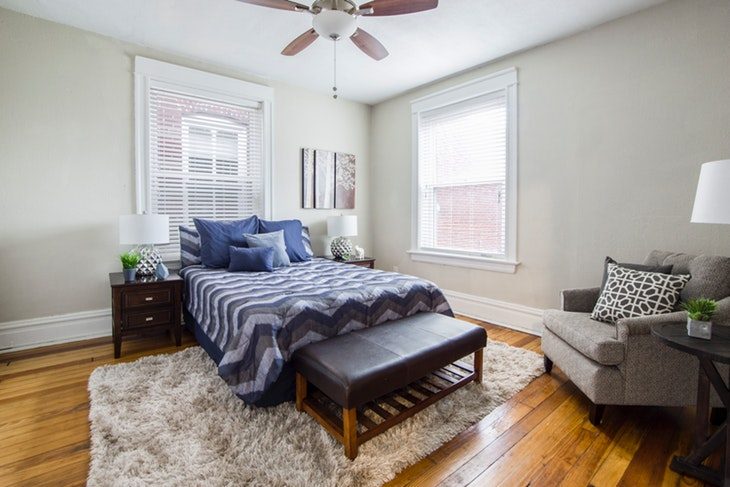 Your bedroom can serve as a multifunctional area – like a library, an office, or even a laundry room – but at the end of the day, it's a sanctuary of sleep. It should be the most soothing and luxurious space, an oasis ideal for comfort and relaxation. To plan your bedroom for a better night's sleep, here is what you need to consider.
Read more after the jump:

Your Bed Makes Your Bedroom
As obvious as this may sound, the bed, mattress, and pillow are among the items you need to get right. It can be stressful to put up with old beds and mattresses, and these may end up affecting your health negatively. Given the fact that you spend a substantial amount of time in bed, you need to invest in quality bedroom furniture and mattress from a company like snuginteriors. Choose something that is appropriate for your body, needs, and sleeping habits.
Air Circulation
The design of your bedroom should take into consideration air circulation in the room. You need to have a cool room rather than a bedroom that is too warm. Allow air into your bedroom by leaving your windows open or put the ceiling fan on low. You also need to remember that flowers or plants are an effective way to enhance the air quality in your bedroom. Alternatively, you could go for an air purifier or air filter.

Hide Electronics
It is also essential to remove the electrical gadget from your bedroom. Not because the electronics are distracting, but because you could easily be affected by their light. Digital alarm clocks, cable boxes, and other devices shouldn't be in your space. Nevertheless, achieving this isn't always realistic. You may opt to hide electronics such as the television in a cabinet or armoire. Installing a custom drop-down TV lift is the best option because it hides everything completely.
Limit Light
Darkness is a crucial factor when it comes to getting enough sleep. This means that you will need to get rid of clocks with lit displays as well as LED on your electronics. You should also have some excellent blinds and curtain to block any light from coming inside. Your bedroom should be bright during the day but dark at night to give you a better sleep.
Get Rid of Clutter
Too much clutter in the bedroom could lead to anxiety which in turn may deprive you of the sleep you need. To avoid this problem, try keeping your bedroom in order so you don't worry about tripping or falling over objects when you move about at night. Different storage options exist which you can use to handle the issue of clutter. Get rid of the items you don't need and create enough space in your bedroom to allow for the free circulation of air.
Final Word
Considering one or more of the tips highlighted above will go a long way in helping you to maintain a sanctuary of sleep in your own home. In addition to the above, you may also want to consider the color scheme and style to implement in your bedroom.