Colour plays a significant role in setting up the mood in your bedroom. It is the main factor that could make or break the feel and vibe in your personal space. So, it would help if you keep that in mind when you design your bedroom interiors.
Besides setting the mood, choosing the right colour is also a way of self-expression. You can express your style and personal preference through your choices, including the shades that you will use in your bedroom. You may also consider it as an investment. If you plan to sell your house, a newly painted bedroom can increase its value.
Putting together an ideal colour scheme is like piecing a giant puzzle. The wall is just one colour. You also have to consider your window treatments, furniture pieces, accents, bedding, and other things to pull it off. So, when you colour your room, do not focus on just one part of the puzzle. Instead, take note of each feature inside your bedroom to make one fluid look and set the kind of mood you fancy.
Start with the chunky bits
To get you going on the right track, you should start with the parts of your bedroom that take up enormous space. Since these areas are big, they immediately catch attention, so it's best to work on them first. It will then be easier to throw in other items that will go well with them. Those parts include the walls and your fitted wardrobes. So first, the bedroom wall is set as your background colour. And next to it, you have to choose a complementing hue for your wardrobe, which fills up the space on the walls to create sufficient storage for your clothes and other items.
If you decide to go for a calming vibe in your bedroom, you can go for any shade of blue for your bedroom wall, then choose a neutral colour for your fitted wardrobe, like grey or beige. But, on the other hand, if your goal is to achieve serenity, go for beige or white walls and a soft hue of green or blue for the wardrobes.
You may also want to consider the type of paint finish as it significantly affects the bedroom's overall look. High-gloss is the shiniest, while semi-gloss also has shine but not as intense as the latter. Another popular finish is the eggshell. It gives the surface texture, which adds character to it. If you don't want the usual smooth finish, it's an excellent option for you. Matte or flat finish has the best coverage, and it doesn't have any shine. There's also the satin finish that has a touch of sheen. It's also easier to clean than other finishes.
Make your bed frame count
The bed takes centre stage in any bedroom, but some people tend to overlook that fact. If you decide to set the mood of your room through a play of colours, you must keep a close watch on your bed frame. Make sure it agrees with your scheme.
One thing that separates a comfortable, relaxing, and cosy bedroom from the rest is using a few colours as needed. You do not want a monochromatic look because it could be boring, but you do not want it to be disturbing. Since we are talking about the bedroom where only a couple of activities occur, you can do several hues that work towards the main mood goal.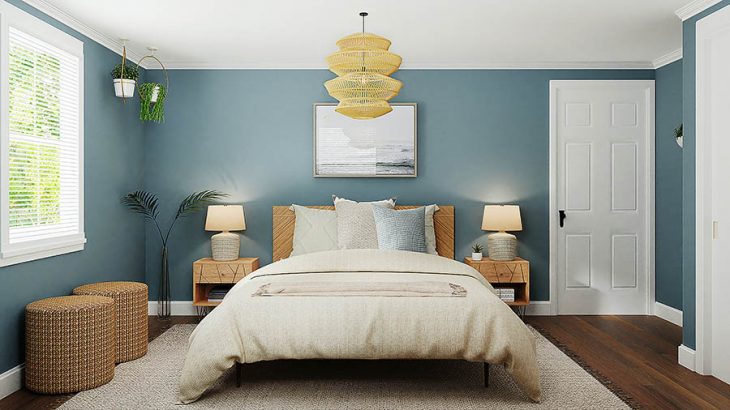 Use a splash of bright through your accents
An appropriately coloured bedroom should have a splash of different shades. But as you want to achieve a calming mood, you should make the splash very subtle. You can accomplish this through your choice of linens, window treatments, and even artwork pieces. To create an excellent ensemble, you must add bedroom accents that show contrast and personality to your space. Remember that complementary colours produce balance.
Plants are also an excellent addition to a bedroom. Their lush green colour is relaxing to the eyes. You will feel refreshed, which also helps in getting proper rest. Plants are also known to help purify the air, which helps in improving the air quality indoor. It's good for the health of the entire family.
Colour plays an essential role in creating a beautiful room with a lovely mood. The different tints and shades you use in every corner, every accent in your bedroom helps define its personality, so choose them well.