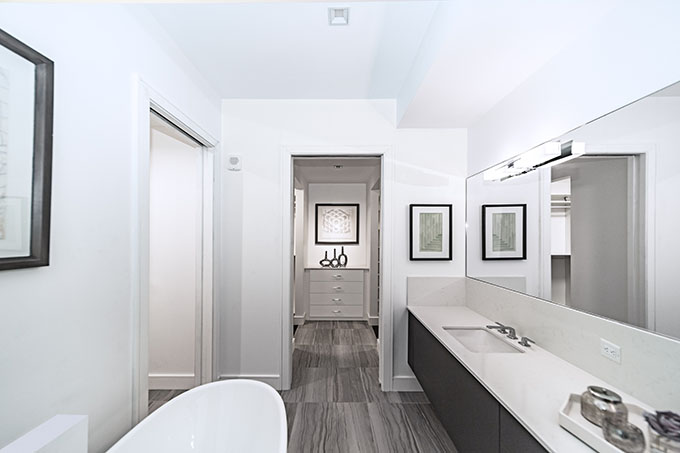 There are many benefits to installing a bathroom vanity. Most importantly, they add style and storage. Vanities come in two main varieties: wall hung and floor mounted. While both options can offer style and storage, they come with their own pros and cons, depending on your space and needs. Learn more about the differences between these two vanity types, so that you can choose the ideal option for your bathroom.
Difference 1: Aesthetics
Let's begin with wall-mounted vanities. A wall-mounted vanity often lends to a more contemporary style, as they traditionally have a more minimalistic, streamlined and modern design. And since they don't have a base or legs, wall-mounted vanities can occupy less space, something that can be particularly meaningful in smaller bathrooms. This bathroom vanity style can further create the appearance of more space, because the floor extends beneath the vanity to the wall.
Bathroom floor cabinets, on the other hand, can lend to aesthetics ranging from the elaborate and opulent, to ornate and sleek. Floor-mounted cabinets tend to feel more solid or secure, because they are installed directly onto the bathroom floor. The fact that the unit extends to the ground allows for a variety of aesthetic features, such as stylish curves and bump outs.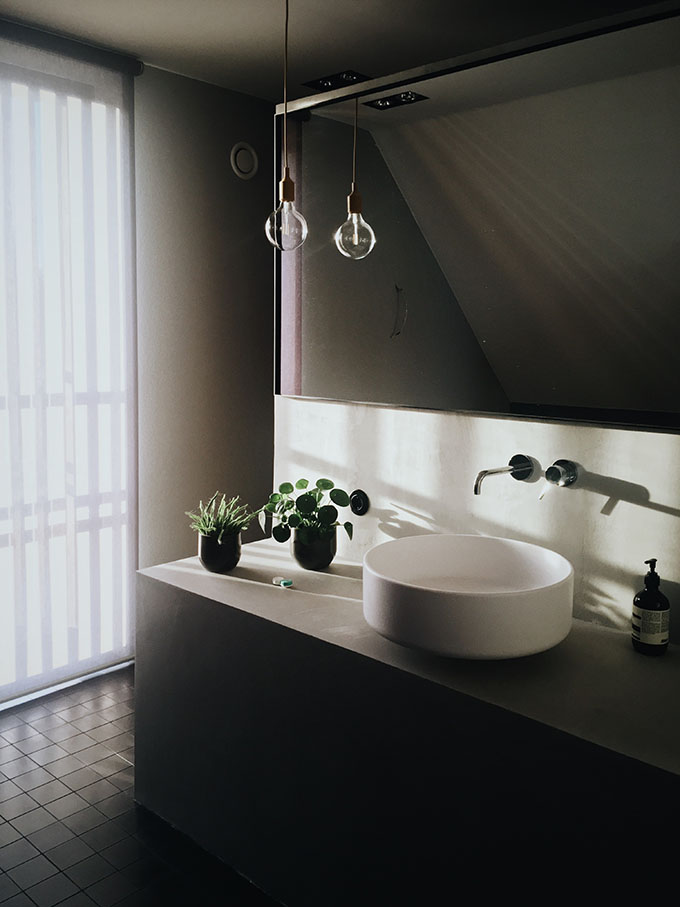 Difference 2: Storage Space
While wall-mounted vanities do not extend to the floor, they do vary in height and width. This means that some wall-mounted vanities may not provide the same cubic storage volume as floor-mounted alternatives. Nonetheless, some wall-mounted vanities can include a number of cleverly placed shelves and drawers.
Floor-mounted cabinets, alternatively, can be enclosed or left open, and can also offer adjustable shelves that can accommodate a range of toiletries. So if bathroom storage space is on your must-have list, floor-mounted cabinets have much to offer.
Difference 3: Installation
If you plan on installing your bathroom vanity yourself, you will want to consider how complicated the process will be when making your decision. Generally, floor-mounted cabinets are easier to install, as most are simply placed on the bathroom floor. For additional sturdiness and support, floor-mounted cabinets can be attached to wall studs. For many homeowners, however, the plumbing and caulking is enough to keep the fixture in place.
As the name implies, wall-mounted vanities must be mounted to the wall. In some homes, this means the wall must be framed and reinforced first, in order to support the weight of the vanity. While the installation method can vary greatly from one fixture to the next, some precise work will likely need to be completed before installing the vanity. Nevertheless, most manufacturers provide detailed installation instructions and a mounting template to help make the job easier.
Difference 4: Maintenance
Regardless of vanity type, ease of maintenance will largely depend on the vanity's material, the design, and the number and style of shelves and drawers. That being said, wall-mounted vanities are traditionally more minimalistic, which may result in easier upkeep. It's also easier to clean the bathroom floor, given that wall-mounted vanities are raised.
Floor-mounted vanities, on the other hand, can be more challenging to clean around. And water on the floor near the base of the vanity, if left unattended, can damage the surface of the vanity and detract from its longevity.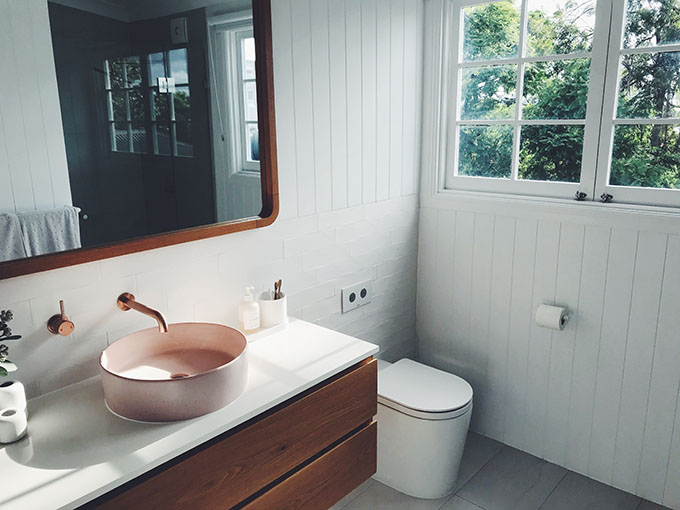 Difference 5: Flooring Requirements
You will also need to consider your bathroom floor when deciding on your next bathroom vanity. If transitioning from floor to wall-mounted vanity, for example, the once hidden floor will now be exposed, which means you may need to replace your bathroom floor (due to discoloration or staining), or source matching or complementary tile to fix the damaged area.
If you're simply swapping out one floor-mounted unit for another, you might still need to finish the floor, however, you can simply install the vanity right over top. While this option does add some expense, it will give you more options the next time you're looking to remodel your bathroom.
If your project is running on a tight budget, you have the option of installing the cabinets first, followed by the flooring, so that less tile or laminate is required. Bear in mind, however, that this approach may mean your next bathroom vanity's footprint will need to be pretty close.
Difference 6: Accessibility
If you or someone in your home has mobility issues, you'll want to consider accessibility when choosing your vanity style. Mobility aids, such as wheelchairs, can be challenging to operate in small, crowded bathrooms. A wall-mounted vanity may be a better choice in this case, as they offer additional clearance space. A shallow, wall-mounted vanity also makes it easier for someone using a mobility device to access the sink. While floor-mounted vanities come in a range of styles and sizes, they are typically less mobility-friendly .
When choosing a bathroom vanity, consider which type meets most of your needs. If you're remodeling the bathroom in your home, explore the cabinet solutions offered by your local custom cabinet designer and manufacturer, or contact their experts for help choosing the best bathroom cabinet for your home.