Yanlord Qianhai Dream Park Sales Center, a 600 sq. m. public space in Shenzhen, is the latest design by acclaimed architecture frim MYP Design. The project's design language provides an uncomplicated and welcoming space that seems like "home" instead of the conventional business project. The project combines beauty and practicality to produce a comprehensive and harmonious spatial experience.
We talked with lead architect Ma Yiping, founder and design director of MYP Design about the inspiration behind the project, the biggest challenges in the design process, the importance of natural light and the factors that contribute to the visitor experience.
How would you describe yourself as a designer, and what are the defining traits of your design sensibility?
Le Corbusier once said that the skillful ordering of space and light creates an atmosphere of happiness and contentment. In terms of design, we advocate the creation of ecologically responsible and unique spatial experiences of the highest quality. Combining the needs of the client and the specific nature of each project site, we incorporate natural materials, meticulous space planning, and carefully controlled light design to create calm, cultured spaces that are both pleasant and lively.
As for myself, design represents a means towards the highest aspirations for each new day. The universal appeal of well-executed design stands in opposition to mediocrity, and alludes to its poetic reflection of the rhythm of life, the spirit of deep thought, exploration, and the power of perseverance.
What process do you follow for each project?
For every project, we first assess the client's needs, and then engage in thorough research and concept development to arrive at the best possible spatial scheme given the site and budget. Following this, we develop details of the scheme through construction drawings and conclude by supervising on-site throughout the construction stage.
What inspires and influences your designs?
Outstanding modernist architects such as Le Corbusier, Louis Kahn, and Mies van der Rohe have had a profound influence on my approach to design – I have been inspired by their aesthetic sensibilities, concepts, and creativity.
I have also been influenced by aspects of different cultures, in particular the appreciation of subtlety and tradition in Asia, and the avant-garde modernity of the West. Through study and research into multiple and varied architectural approaches, I am better able to find creative solutions for my clients, whatever their tastes or expectations may be. I believe the pursuit of excellence in design is a constant endeavor, and provides the opportunity to constantly learn and discover new sources of inspiration for future projects.
Do you have a favourite project or story behind a project?
My favorite project is a showroom designed for Maoye Real Estate. Beginning with the floor plan, we tried a radically different approach for this type of program, and continued the logic of working against expectation in the spatial scheme as well. It led to a fresh treatment for the project which in the end was both surprising and fascinating for the client.
When is a design a success?
Success lies in the ability to meet the needs and expectations of the client, while creating a space which is both functional and aesthetically pleasing. During the design process, it is important to carefully consider the details of the project's spatial layout, materials, color scheme, and furniture to create a lively environment. In addition to meeting the requirements of our clients and creating architectural value, each project must also express its own particular individuality and uniqueness. By gaining an in-depth understanding of our clients' tastes and preferences, we are able to create distinctive works for them – I am always conscious of delivering a project which will allow them to feel the satisfaction of excellent design, and the recognition that visitors to the space will feel it as well.
What is the most rewarding aspect of your job?
For me, the most fulfilling part of design work is seeing the satisfaction and enthusiasm of clients for their projects. It is very gratifying when I'm able to translate clients' requirements and expectations into designs of high aesthetic value and practicality, especially when forging new design ideas to create works which are unexpected and unique. These projects fulfill the client's brief while also bringing a refined aesthetic experience to visitors, which for me is incredibly important in affirming the value and meaning of my work.
Can you tell me about a particularly challenging project and a particularly exciting project?
We were commissioned to design a private club in Shenzhen (Zhongzhou Wan Club), whose parameters constantly changed during the design development, making it necessary for us to revise and re-design the project many times over. It was a very challenging process. After two years, it is still under construction, and is expected to be completed later this year. Our team is looking forward to seeing it finally completed.
Could you briefly introduce the concept behind the Yanlord Qianhai Dream Park Sales Center?
Kyoto, the city where classical wabi-sabi aesthetics originated in Japan, stands as a symbol of its era's aesthetic consciousness. Shifting our focus to contemporary Shenzhen, what aesthetic values does our culture propose? This particular project has been concerned with the question from the beginning, and was carried through every stage of its design process. We are looking forward to welcoming visitors to explore and experience a contemporary cultural aesthetic here, unique to Shenzhen.
How would you summarize your thoughts about this project?
Reminiscent of the color of light reflected from the Ping An tower outside my studio window, we aimed to create an elegant atmosphere for this tucked-away space in central Shenzhen, to convey a sense of clarity and calmness. In order to achieve an elevated aesthetic quality for those entering the space, the precise use of light and color is extremely important as they represent the simplest and most effective natural elements available to an architect.
Additionally, a flower on a coffee table, a painting on the wall, a standalone sculpture, or a chair, they all become integrated parts of the scenery. Similar to a traditional Chinese scroll landscape painting (Dwelling in the Fuchun Mountains) which stretches over 10 meters, the space gradually unfolds allowing visitors to take their time and enjoy the atmosphere at their leisure.
What was your design inspiration for the project?
I found a lot of inspiration in taking Kyoto's aesthetic philosophy of wabi-sabi, and adapting it to the context of contemporary Shenzhen. The aesthetic of the project eschews overt flashiness and exuberance in favor of a calm natural simplicity, achieved through an uncomplicated architectural language.
Did the client have a specific design aesthetic that they wanted to achieve?
Contemporary Shenzhen is a thoroughly modern city whose image is defined by its high-rise buildings, technology and innovation parks, busy business districts, and lively nightlife – taken together, they create an atmosphere of a high tech, futuristic world. In contrast to the wabi-sabi aesthetic philosophy of Kyoto, Shenzhen emphasizes modernity and prosperity. In response, the client asked us to create a space where they could savor a subtler, more composed ambience of calm that could provide a place of respite from the modern world which surrounds it.
Natural light seems to play a big role in the project. How important is it to you?
In this project, the subtly shifting conditions of natural light lend the spaces a sense of life and vitality. I always strive to maximize the effective use of natural light in all of my interior commissions, considering its effects from the earliest stages of design in order to create spaces of rich textures, comfortable atmospheres, and refined aesthetics.
What was the most challenging part of the process?
Working within a budget is a challenging part of the process, and we work with the client during preliminary design and construction to develop a detailed plan to evaluate the available funds and designate them to the appropriate design elements. Everything is done to maximize the budget for the best result possible. Completing a project on a limited budget may require more creativity and flexibility, but it certainly doesn't prevent us from producing a great design.
You incorporated numerous works by emerging artists into the project. How important is it to support young talent and do you have any favorites?
The work of young artists often has a very unique and personal vision that can add a fresh spirit of innovation to our projects. Their presence adds a lively sense of energy to our spaces and lends the interior an artistic and cultured atmosphere.
What's your favorite part of this project?
My favorite space would be the lounge, whose elegantly tranquil atmosphere creates a place where time seems to slow down. Here, people can enjoy themselves peacefully without outside distraction, taking in a fusion of natural light and cultural refinement which reflects my desire to nurture the human spirit through the senses. I have tried to design a soothing space that allows people to truly relax and rediscover an inner balance for the benefit of their physical and mental health.
How do specific aspects of the design contribute to the visitor experience?
When we received the commission for this project, we strongly felt the visitor experience would be the crucial factor in developing the design. Our intention is to create a space conducive to mental and spiritual renewal through careful modulation of the space's aesthetics and cultural import. With this in mind, we designed the layout of the floor plan paying close attention to the flow of circulation, so that visitors can smoothly transition between different spaces, encouraging them to walk and explore in a relaxed, natural manner.
We also carefully considered the use of light and color, specifically how they can impart a range of emotional associations in a space to create a unique atmosphere.
Additionally, there are a number of complementary objects and artworks precisely placed throughout the project, including flowers, paintings, and sculptures, giving visitors an opportunity to actively observe and interact with them. We have also arranged for comfortable chairs and coffee tables to allow visitors to rest, read, and socialize, in consideration of providing another means by which they can deepen their experience of the space.
Overall, this design has been meticulously developed to enhance the visitor experience as much as possible, encouraging a state of physical relaxation and spiritual enrichment, through an appreciation of culture, aesthetic refinement, and the precise composition of space and light.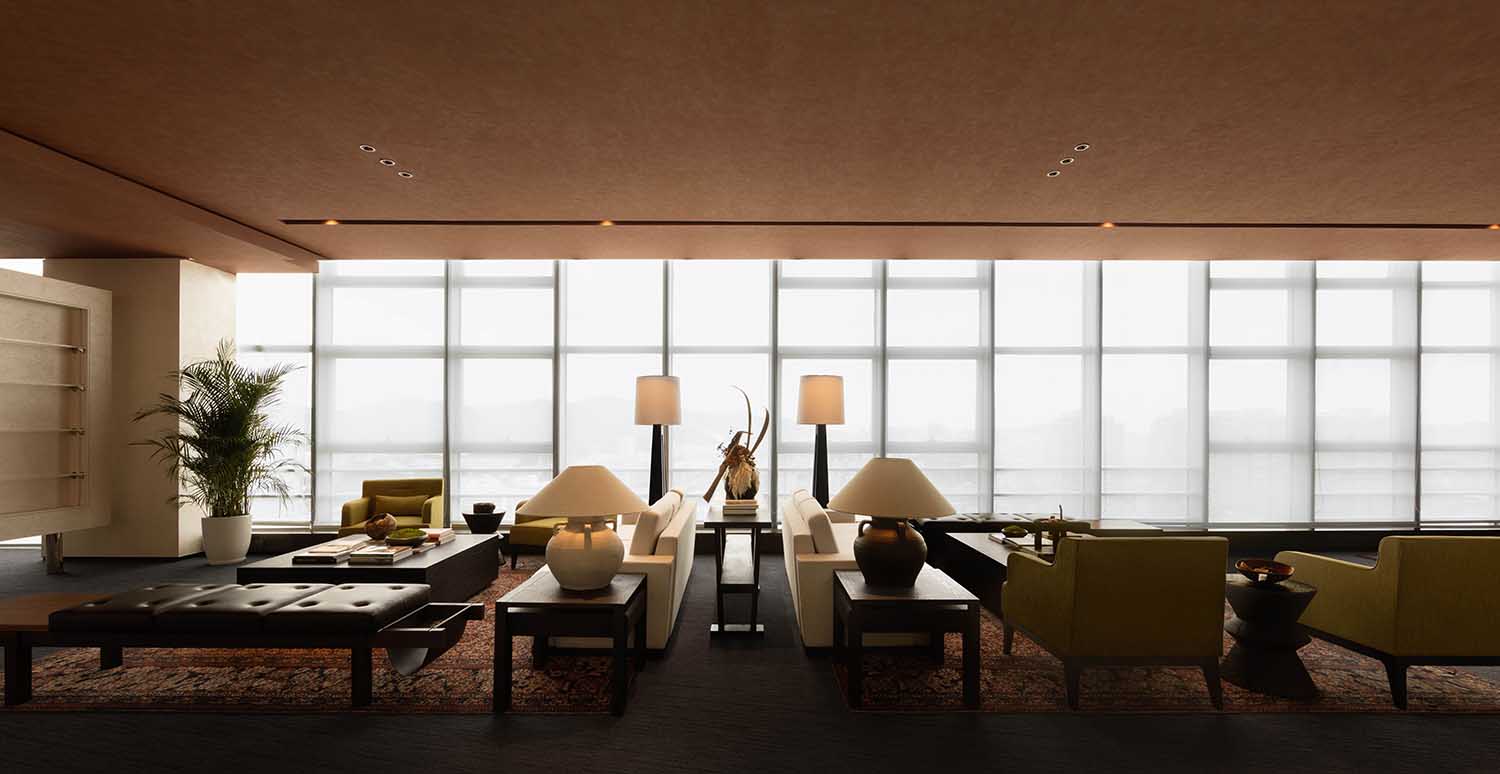 What kind of impression do you want to leave on the visitors?
We want to emphasize the highest qualities of design, through the responsive use of light, color, paintings, sculptures and other elements – to create a spatial experience distinct in its gentle elegance and clarity of aesthetic. Upon entering, visitors will immediately sense the relaxed ambience of the space, evoking an impression similar to a large painting slowly unfolding before their eyes. The project has been conceived as a comforting and cultured place which provides a haven from busy city life, bringing visitors into a refined realm of tranquility.
What's next for your business?
We will now reorient ourselves towards our firm's original focus, designing custom projects for private clients. We are looking forward to providing innovative designs for residences that are both aesthetically sophisticated and cost-effective for open-minded individuals with original ideas – it is a pleasure and an enjoyable challenge for us to create spaces which match well with their owners' tastes, imagination, and lifestyle.
Ma Yiping / Founder and Design Director of MYP Design
For Ma Yiping, design excellence is something to aspire to each day. Through the process of developing his designs, he engages in exploring the rhythms of human behavior, the pursuit of aesthetic clarity, careful decision-making, and subtle attention to detail. And above all, he upholds the value of perseverance and the realization of new concepts and ideas. He believes that a given design should not simply exist for the sake of it, but must derive from a poetic logic that transforms the conventional into something unique and architecturally innovative.
Since its establishment over a decade ago, his design firm has created a wide range of interiors for well-known real estate companies in China such as Shimao Property, Yanlord Land Group, Zhongzhou Real Estate, Shenzhen SDG Investment Development, and others.
MYP Design has positioned itself as a creative and responsible presence in an industry typically beset by obstacles such as unreliable service and implementation, while developing an excellent reputation for balancing cost and efficiency in every project they undertake.
Project Information
Project name: Shenzhen Yanlord Qianhai Dream Park Sales Center
Project location: Xinqiao Street, Bao'an District, Shenzhen, Guangdong Province, China
Project type: Interior design, interior renovation and accessorizing
Project status: Built
Client: Yanlard Real Estate
Design period: 2021 November – 2022 March
Construction period: 2022 March – May
Interior space: 600 square meters
Chief designer: Ma Yiping
Interior design team: Ma Yiping Design
Accessorizing team: Ma Yiping Design
Photographer: Ouyang Yun
Main materials
inorganic crushed stone, Bulgarian gray marble, texture paint, wood veneer, bronze
Find more projects by MYP Design: www.mypchina.com