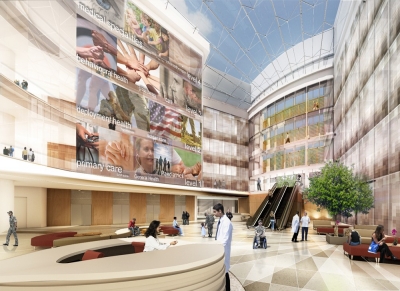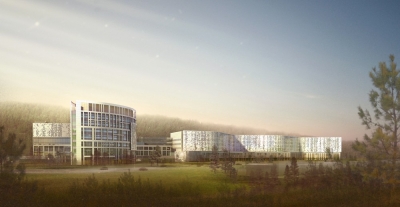 Project: Kaiserslautern Military Community Medical Center
Designed by Hellmuth, Obata + Kassabaum, PC (HOK)
Location: Kaiserslautern, Germany
Website: www.hok.com
World renowned practice Hellmuth, Obata + Kassabaum has designed the project for the Kaiserslautern Military Community Medical Center in Germany.
From the Architects:
KMCMC will be a place of great clinical innovation. Organised around 'Centres of Specialisations', services will be aligned into population specific centers and will support a 'Rapid Cycle Model of Care' with two distinct paths of care. The first path will respond to the needs of Wounded Warriors as they arrive from the flight line. The second path will support the regional community arriving for clinic visits, procedures and inpatient care. Evidence-based design suggests there are healing benefits to providing a visual connection to the natural landscape.
The new campus establishes a meaningful connection to the surrounding forest landscape by incorporating links with visual and physical access for all users from inside and outside the building. A group of three curvilinear forms on a radially arranged podium create the core of the composition. The clinic's patterned facade is developed from the abstracted image of the surrounding trees, with a lace-like pattern becoming the defining impression for the iconic facility.
The administration building anchors the visual sequence as a taller, oval-shaped form to the east. The star-shaped inpatient tower sits behind the two front buildings, connected to the horizontally massed diagnostics and treatment area. Throughout the campus, there are several courtyard landscape spaces and vegetative roof tops, a Hospital Chapel garden space, an outdoor dining courtyard and many opportunities for physical activity on-site.
Source WorldArchitectureNews. *