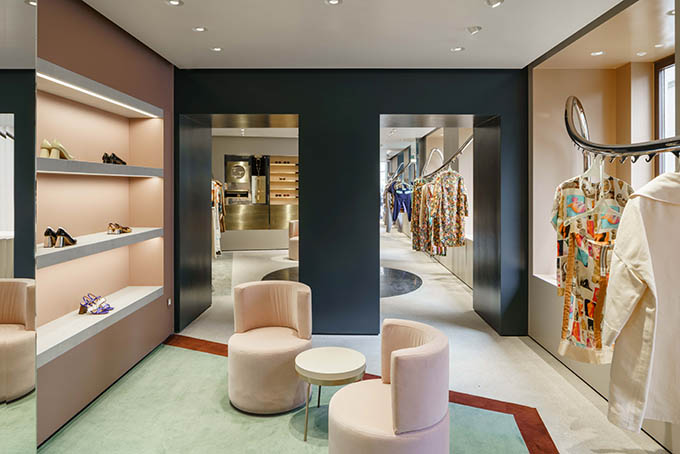 Luxury fashion nramd Marni has opened its first flagship store in the Bavarian Capital, Munich. The shop is located inside a historic building in Maximilianstraße 16. The 260 m2 space houses the men's and women's collections of the brand. Discover the complete story after the jump.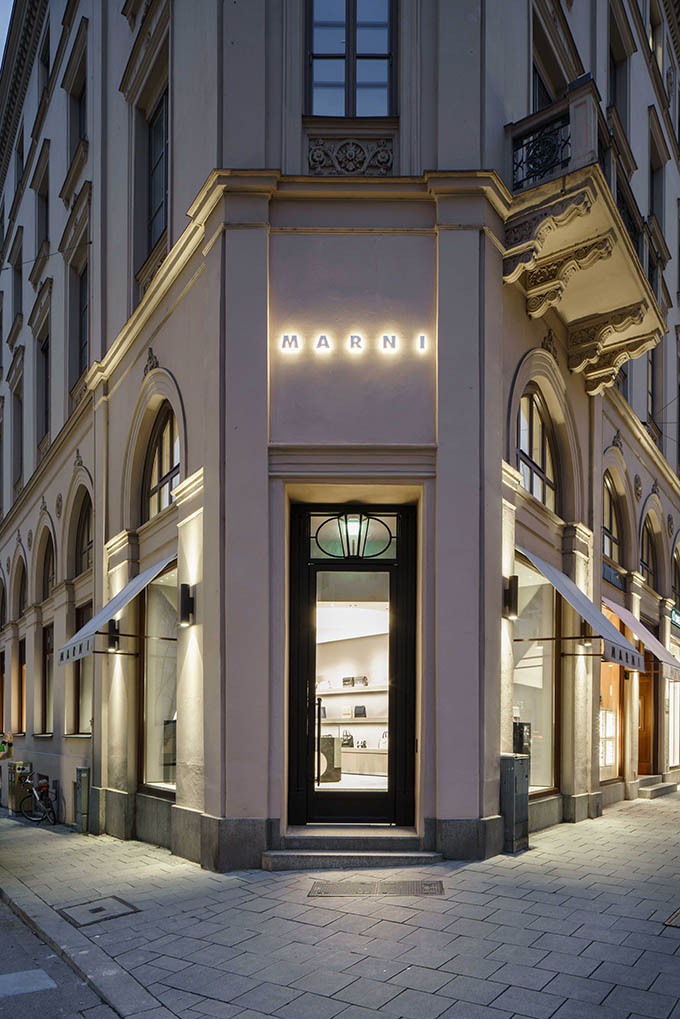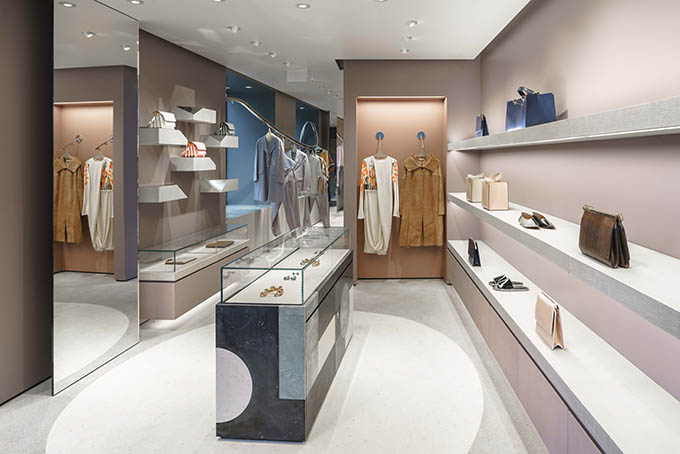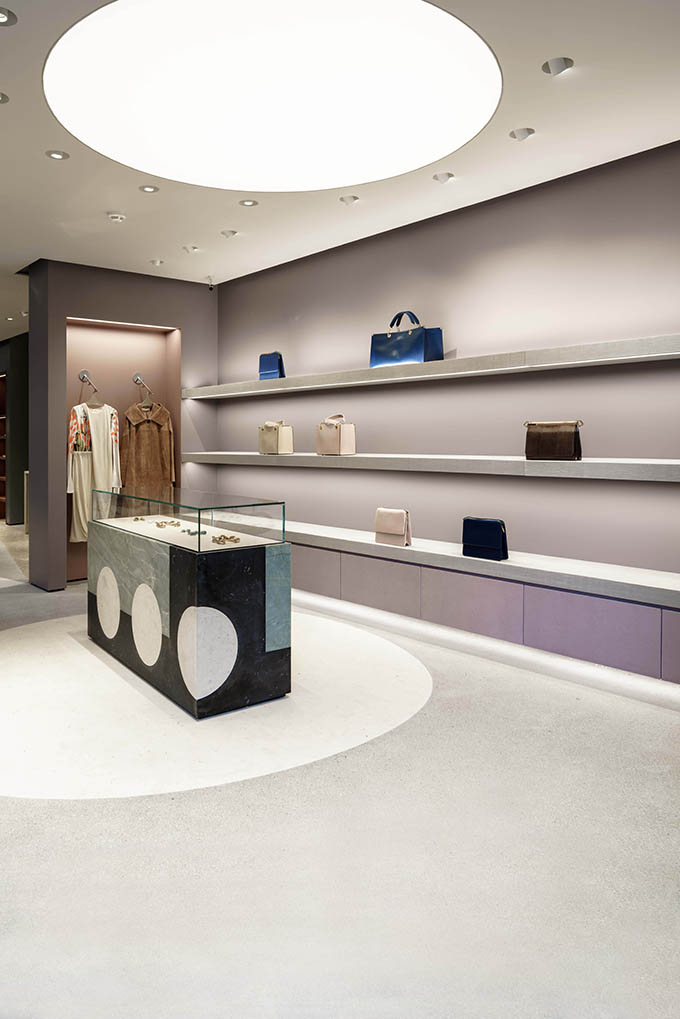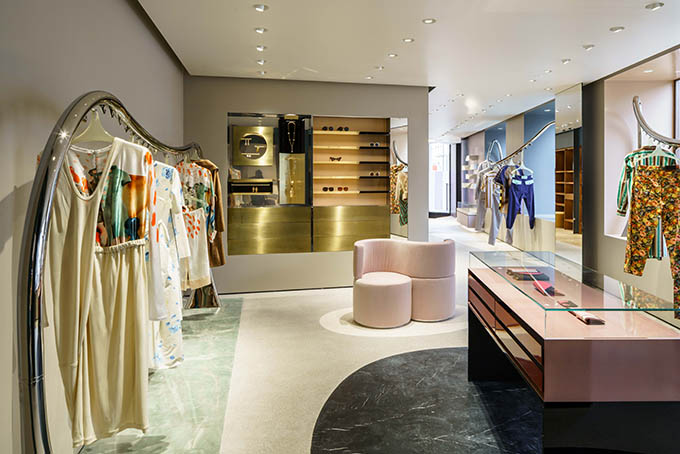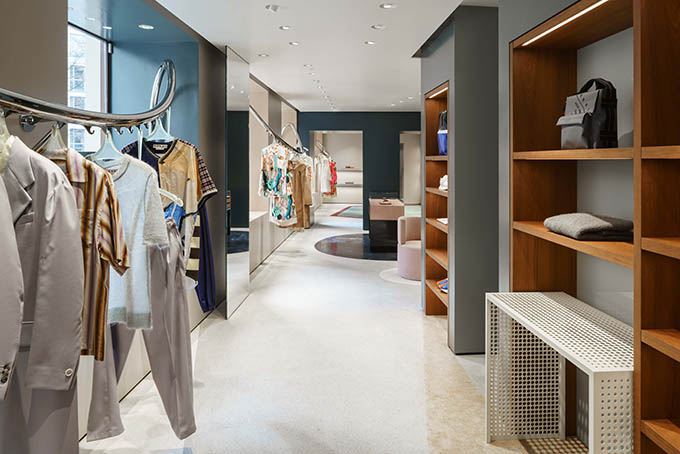 By combining typical elements of the brand's design with details celebrating the hosting city's artistic peculiarities, the premises exude Marni aesthetics and pays homage to Bauhaus with geometric patterns which characterise flooring and some furnishing elements—accompanying visitors along the entire path.
The entrance is characterised by walls in a sophisticated lilac tonality and hosts the women's bag and small leather goods collections, respectively displayed on cement shelves and inside glass cases. The room also features a wall-mounted exhibitor dedicated to ready-to-wear items, and a colourful marble and glass table for accessories. A large Barrisol triumphs in the centre of the room, illuminating the interior and creating a circle shape on the ceiling.
The area dedicated to men's collections showcases footwear and bag collections in flush wall-mounted furnishings. In this room, iconic Marni steel rails used to display ready-to-wear items are anchored to the windows, generating an original dynamic play of waves which is replicated in successive rooms.
The area hosting ready-to-wear collections for women is completed by a section dedicated to jewellery and glasses, with items on display in brass and polished steel exhibitors.
The last room showcases shoes, accessories and ready-to-wear items for women. The area is characterised by a large carpet rug set in green and burgundy flooring.
Just like its recent 2018 boutique inaugurations in Florence, Rome, Paris and New York, Marni continues its collaboration with the art universe, celebrating the opening of its Munich flagship store with a video by the artist Cooper Ronan.
Images are courtesy of Marni