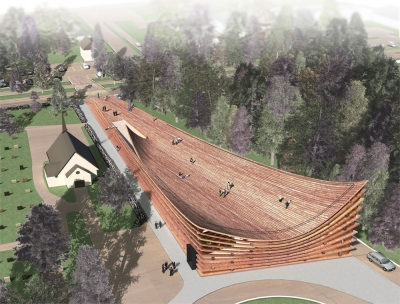 Project: New Våler Church
Designed by OOIIO Architecture
Team Project: Joaquín Millán Villamuelas, Cristi na Vicario del Cojo, Beatriz Cerratos Vázquez, Sergio Velasco Mayordomo, Bente Teigen Gundersen
Client: Valer Church Parish, Competition
Location: Hedmark, Norway
Website: www.ooiio.com
OOIIO Architecture shares with us their entry for the New Våler Church design competition, their talented team opts for wood as primary material. Discover more of their solution along with architects description after the jump:
From the Architects:
A few years ago, the inhabitants of Valer, an quiet Norwegian village not too far from Oslo, surrounded by forests and close to the Swedish border, watched how sadly their ancient wooden church was on fi re and got totally destroyed. This is why at the end of 2011, they decided to invite architects from all the world to design a new temple that mean a new beginning for the religious community at town.

OOIIO Architecture designed for Valer a diff erent and new typology of building, trying to solve two problems of the city at the same ti me. They need a new church, and they don´t have a representati ve public space, a meeti ng point where all the inhabitants could meet or immediately associate it to Valer, and nowhere else.
Usually, churches and temples show a main façade open to a public space more or less representati ve in front of them. OOIIO Architecture with this building off ers a new possibility for this old relati on. The church is at the same ti me a temple and a public space. It main façade is now the roof, and it can be used for all the Valer inhabitants as the representati ve space that they are missing.
Thanks to this new singular urban object, the users can discover new views to the city center and main monuments, like the cemetery, the chapel, or the old church ruins. They can lay under the sun in summer or just go for a walk or meet some friends. The temple interior is really bright and open to the surroundings. All the building is made in wood, following the local constructi on traditi on and industries.
It will be built on an elegant and quick way taking care of the carbon emissions.

The general building view remember quite a lot to the drying planks from the surrounding industries… or a pile of white papers, ready to be writt en with the new Valer History!.