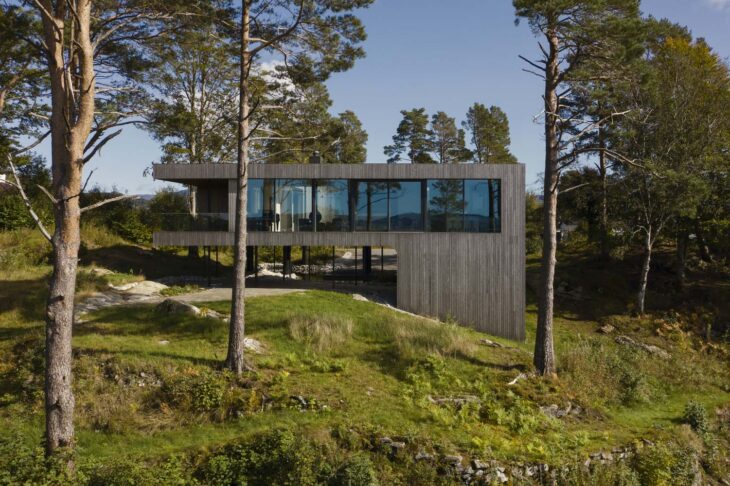 Saunders Architecture designed this stunning private residence in Bergen, Norway. The home is perched on the crest of a hill, overlooking Lake Nords and its collection of small islands. The area, located approximately fifteen minutes drive south of Bergen, has a semi-rural and even bucolic appearance, which stems partially from the abundance of forests and trees, but also from the open vistas of a unique and scenic terrain where hills and coastal inlets merge.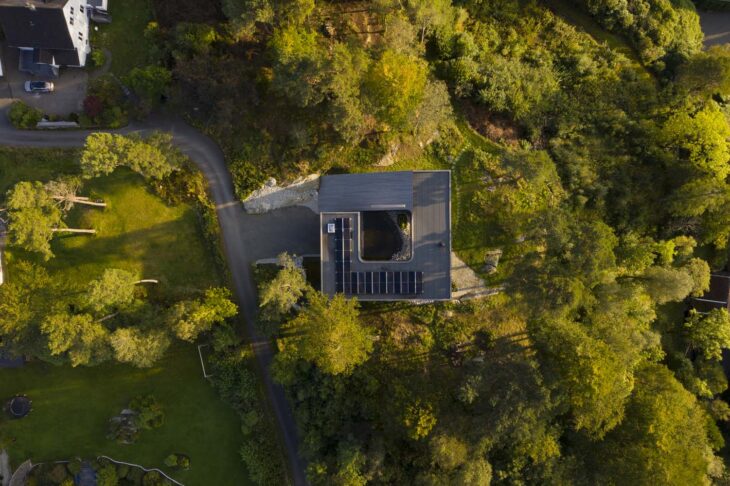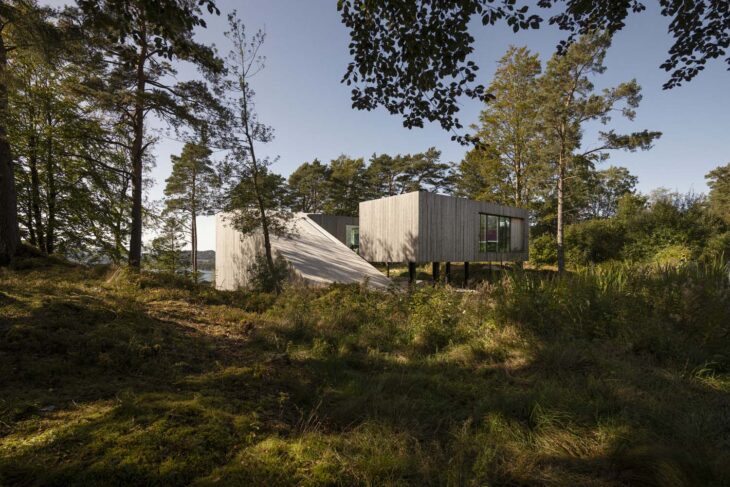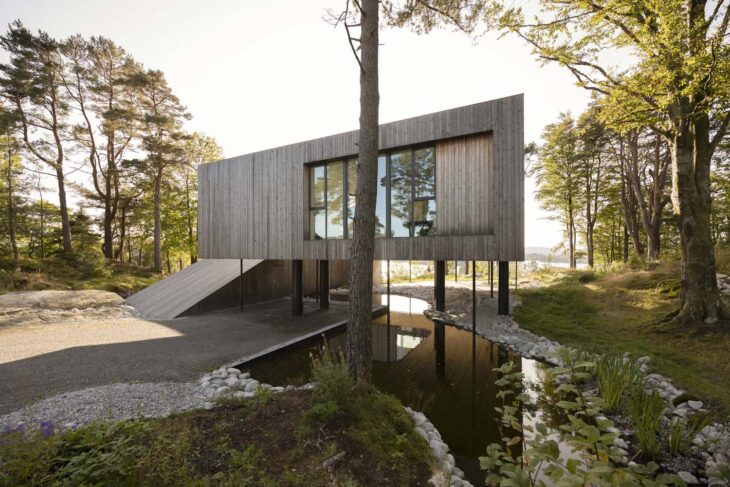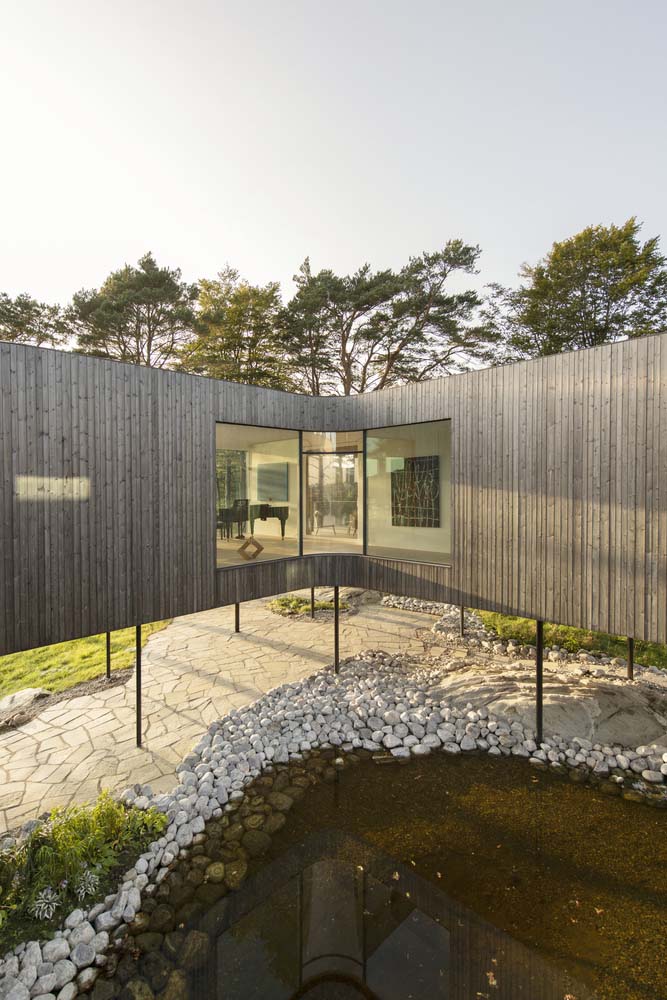 The design of the house itself, for Alexander and Tonje Grieg, makes the most of this engaging, open vista. Todd Saunders describes the house as a kind of 'view finder' with the main living spaces looking out across the water, while the side elevations are more protected and relatively enclosed, helping to sharpen the focus upon Lake Nordås itself.
Saunders had recently completed work on his own home, Villa S, where he had began experimenting with a variety of successful concepts and architectural solutions that would feed into the design process for Villa Grieg. These included elevating the main family areas to improve linkages with the view, creating a fluid and open plan living area, and creating a helpful feeling of distinction between these more'communal' parts of the house and spaces devoted to work or study.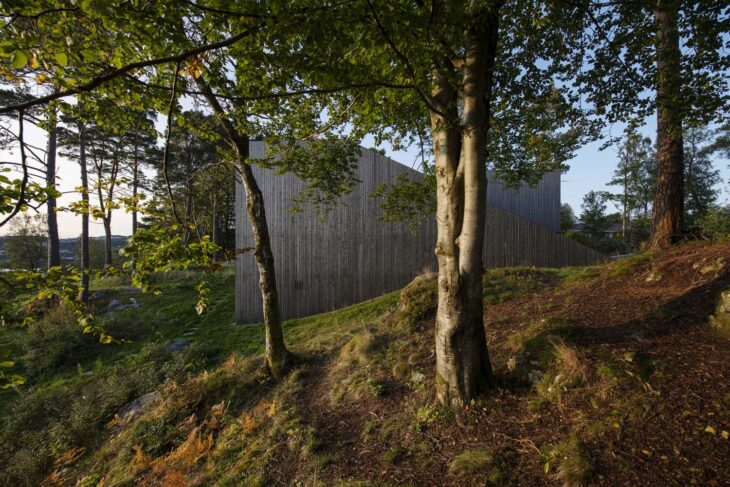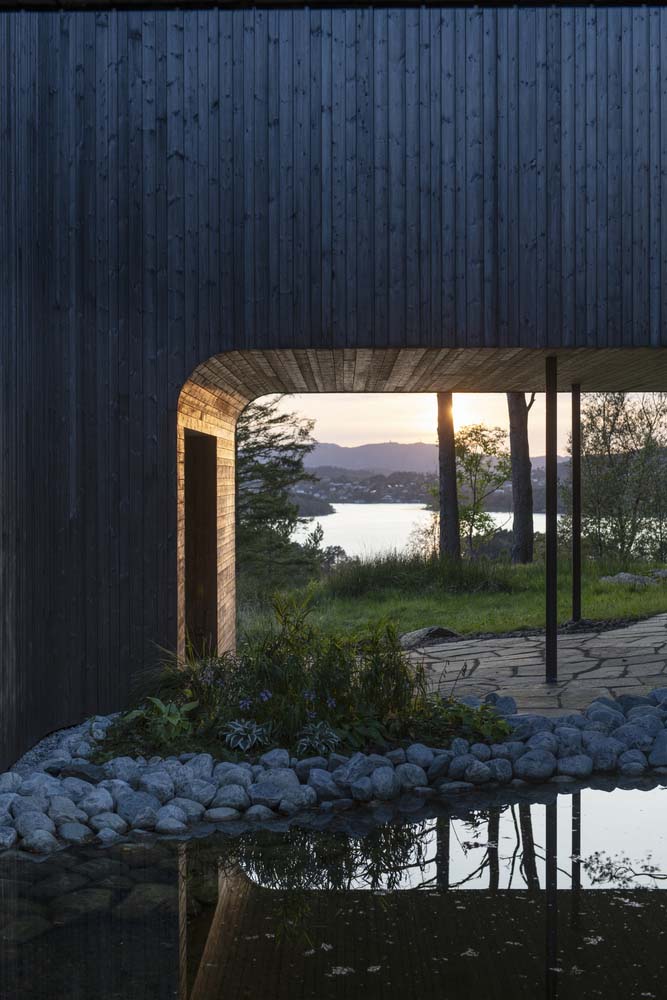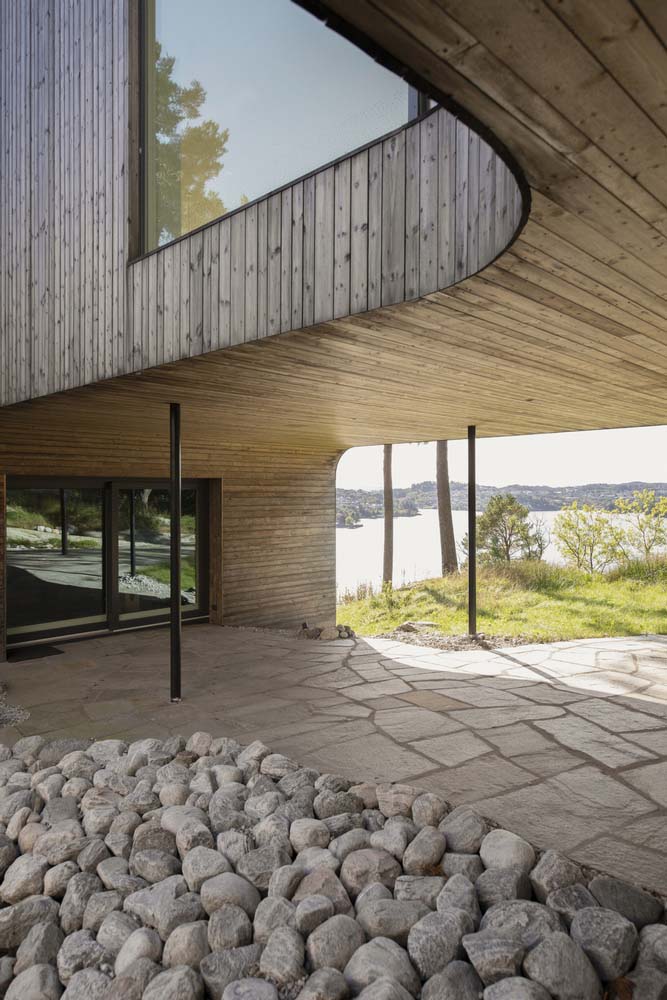 Apart from a storage room, the only space on the ground floor of the home is the music studio, which is located within a sculptural, sloping form that also houses the main entrance and the staircase. As one steps into the private realm of the residence, the stairs mount this slope as they rise up towards the main living room, and a long, horizontal band of glass frames a panorama of the open environment. All of the family areas, including two bedrooms, are located in this elevated section of the house, which floats above the ground plane on a system of piloti.
The enfilade of rooms opens with an open plan living space that incorporates the kitchen, dining area, and family seating zone, set beside a wall of floor-to-ceiling glass that pulls back to form an open balcony overlooking the lake to the west. A semi-sheltered veranda exists within the building's shape beyond this. There is a bedroom for the Grieg's daughter, as well as a bathroom and guest bedroom, following the order of other areas as they wrap around the open courtyard. A television room in the northeastern corner acts as a natural buffer zone, protecting the house's most private aspect, the huge master suite.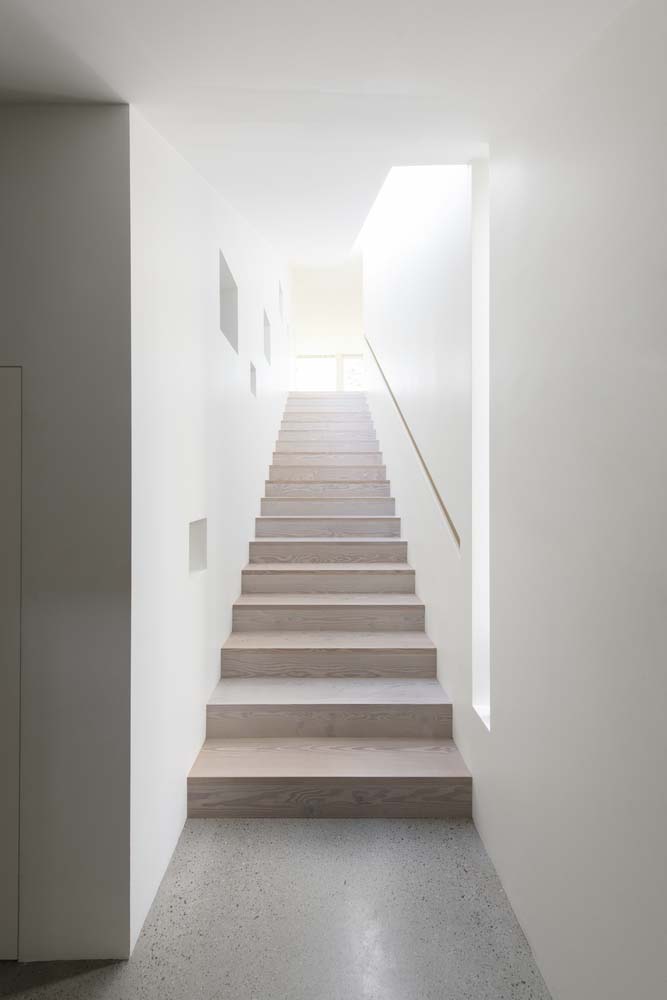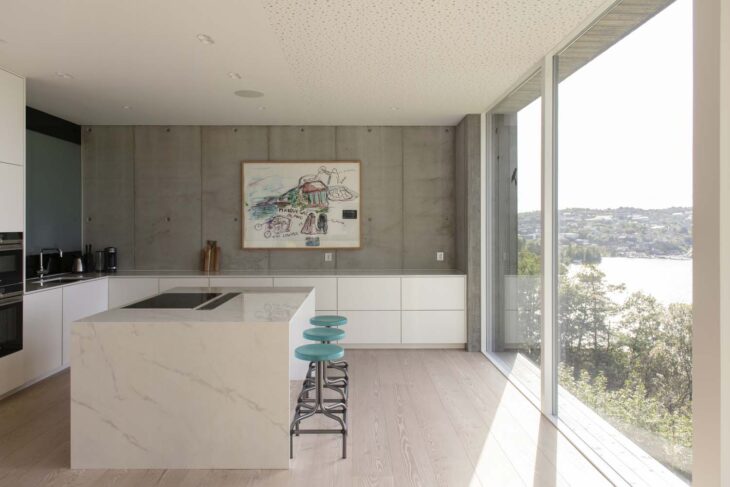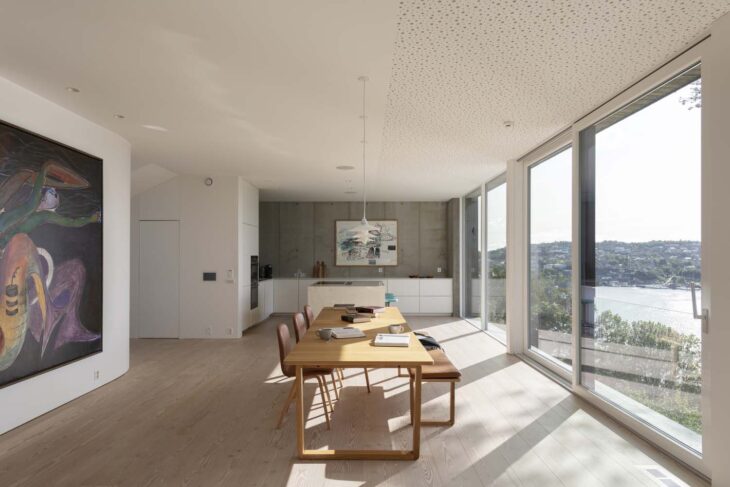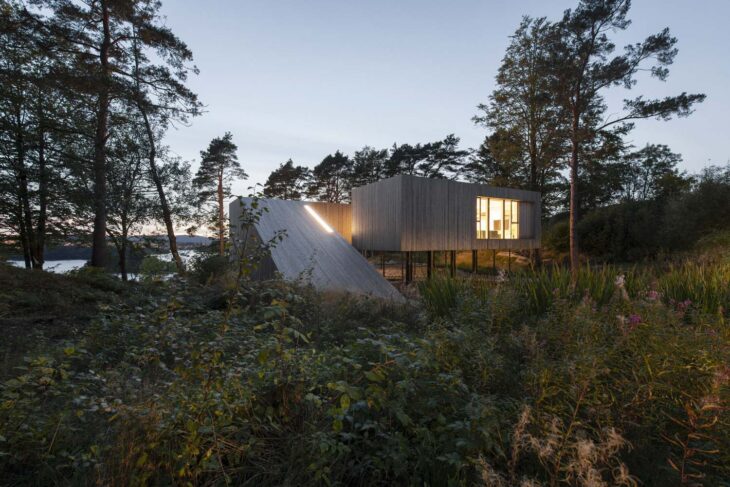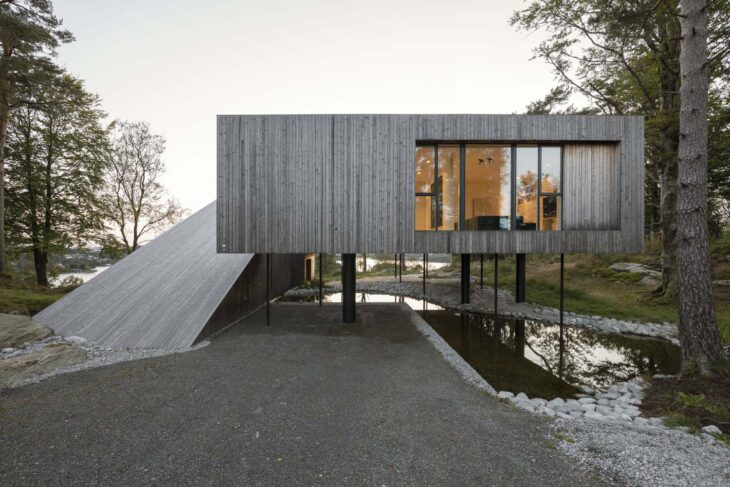 The house was built with a small overall footprint on purpose. With little artificial landscaping and careful preservation of the site's existing trees and vegetation, any impact on the natural nature of the area has been carefully minimized. The steel-framed building adapts to the undulations of the existing topography and the nature of the hillside itself rather than leveling the land.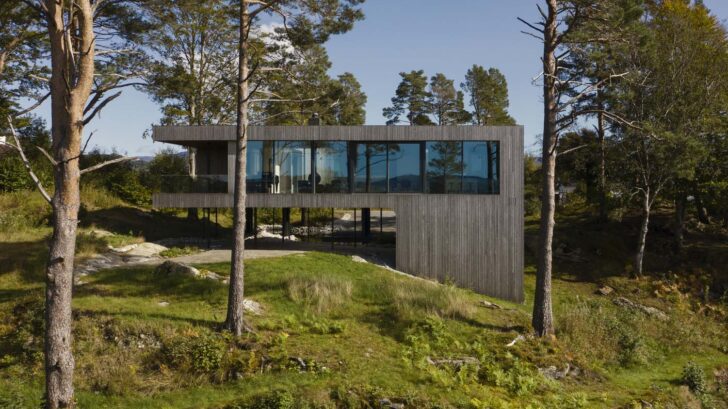 Architects: Saunders Architecture – www.saunders.no
Area: 286 m²
Year: 2017
Photographs: Ivar Kvaal
Lead Architects: Todd Saunders
Interior Architect: Michelsens Interiørentreprenør
Project Architect: Pedro Léger Pereira, Attila Béres, Pål Storsveen, and Ricardo Coutinho
Program: Residential Architecture
City: Bergen
Country: Norway