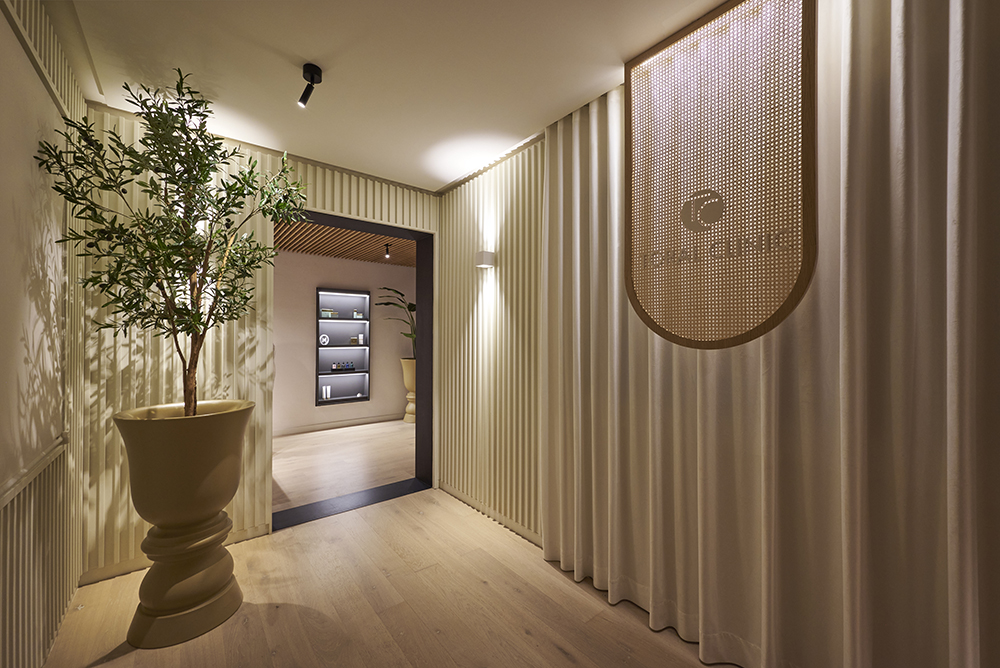 Vitale has recently completed its latest project, an aesthetic medicine clinic located on Avenida Diagonal in Barcelona, Spain. The goal of the clinic is to improve people's appearance in a natural and harmonious way. It is housed in a refurbished early 20th-century building on Diagonal Avenue in Barcelona. To deliver the greatest preventive care and minimally invasive treatments, the clinic is dedicated to innovation and cutting-edge technology.
In a market where extravagant or exceedingly aseptic settings are typically duplicated, Vitale's interior design concept aims to demonstrate a highly distinctive autonomous clinic. The clinic wants to be seen as a wellness destination with a reputation for individualized care, exclusivity, and a way of life that fosters both mental and physical health.
A lobby, reception area, product display area with a coffee corner, two waiting spaces, five service boxes, a medical office, two bathrooms, and a staff room are all included in the 205 m2 space that makes up the building.
Converting a freshly refurbished office space for use as offices into a medical area with additional functions presents a challenge for the project. And execute this change with minimal disruption to certain components, such as the flooring or wooden slats, at a very controlled cost. The clinic's interior design project must be functionally adjusted to the existing distribution as much as possible using plasterboard partitions and reversible low-impact solutions, such as double-sided glass cabinets to conceal existing interior windows or by using thick velvet curtains to cover the windows that look out onto the building's interior patios.
Under these guiding principles, Vitale draws inspiration from early 20th-century thermal baths as models for medical and therapeutic innovation toward a fundamental social revolution in terms of new routines and ways of living that are conducive to wellbeing. A serious and beautiful environment is created with an updated style in terms of materials and furnishings, where textiles, natural fiber, curved furniture, and indirect lighting take center stage. The wicker grid and cloth cushioning are small touches that evoke the past and give the area a genuine and authentic feel. They also wonderfully complement the bold personality of the geometric patterns on the existing pavement.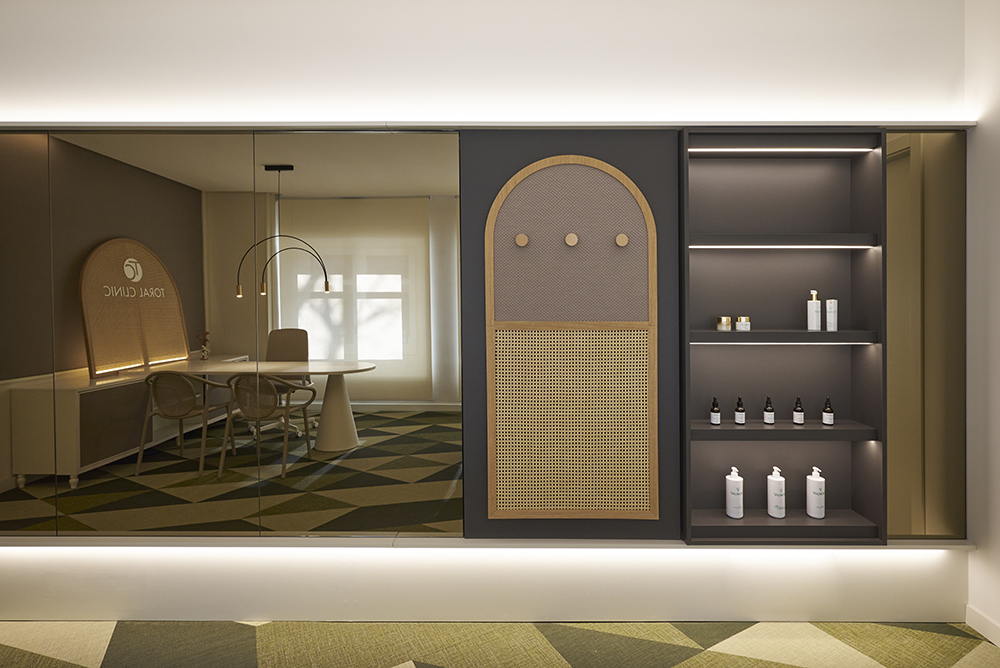 The reception area's layout is customized to the oak slat construction and has a storage unit covered in rhomboid fabric and a service counter made of illuminated wicker mesh. The space unites a distributor with a stealthy coffee spot and a product display area furnished with upholstered totems. The waiting room is a tranquil retreat hidden behind a sizable window that fills the space with natural light filtered by a curtain that, as night falls, maintains the same lighting effect.
The treatment cabins are equipped with a base unit for storage and a modular element that can be customized for each space. This element is designed as horizontal paneling that is framed by a perimeter light and serves to group various functional elements like coat racks, display niches, and huge bronze-tone mirrors. format, on the other hand, that accentuates the sense of space.
An essential concern at the clinic, especially in the treatment rooms, is the control of natural light and the impression of closeness in relation to the outside, as well as achieving a warm glow at night.
On a wicker mesh frame, the brand is displayed. Corporate colors are a key component of the design, always present and softly accompanies the patient.
The end result is a clinic that exudes exclusivity and well-being in a setting designed with peace and sensitivity.
Project information
Project: Toral Clinic
Year: 2022
Location: Av. Diagonal, 598. 2nd (Barcelona). Trebol Building (Renovated by Turull
Sørensen Architects).
Surface: 205 m2
Interior Design and Strategy: Vitale
Branding: FEEL! Epicentro Creativo
Furniture: Remind and Temps (Pedrali), Twins (Expormim), Isen Coffee Table and
Matching Totem Poles (Frajumar), Nix and Blur (Teulat).
Plant pots: Suave collection by Vondom
Lighting: Volta suspensions by Estiluz and Tant by Aromas.
Textile upholstery: Febrik Mosaic2 by Kvadrat.
Custom carpentry and furniture: Decomader
Photography: Santiago Martin