Atelier L'Abri has recently completed works on its latest project in Québec, Canada – Farouche Tremblant. The project includes a Nordic farm, a café-bar, four-season micro-refuges, and an outdoor basecamp, taking use of the territory's natural and untamed attributes.
A barn on the north side of Chemin du Lac-Supérieur serves as the farm's headquarters. The path to the little organic vegetable farm takes you past tunnel greenhouses, flower fields, and barren terrain. Hiking paths begin behind the agricultural building and allow Farouche tourists to explore the mountains of Devil's Valley.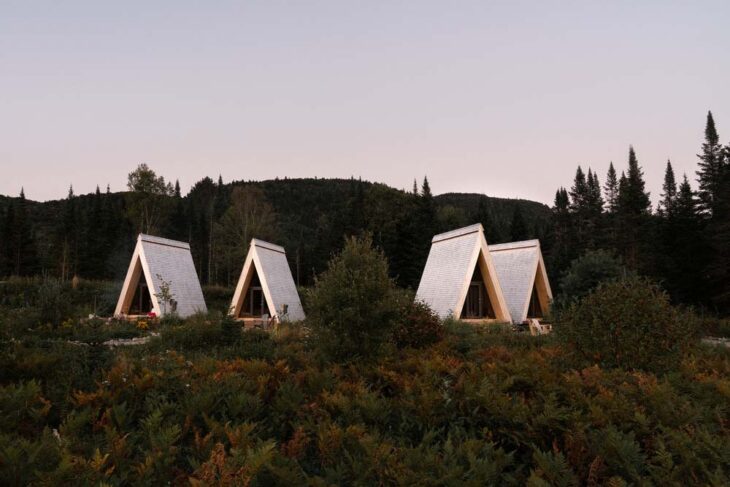 The café is located on the river's edge, to the south of the road, and is central to the activities available on the property. Visitors enter the building through the little market, which sells seasonal products from the Farouche vegetable farm as well as cheeses, beers, and wines from local suppliers. The dining room and kitchen provide passing tourists and cabin guests with the opportunity to sample farm-produced meals. The café lounge faces the river, and its huge west-facing windows provide spectacular views of Mont-Tremblant and sunsets behind the Laurentian mountaintops. The fire in the wood stove enables visitors to congregate and watch the ever-changing silhouette of nature.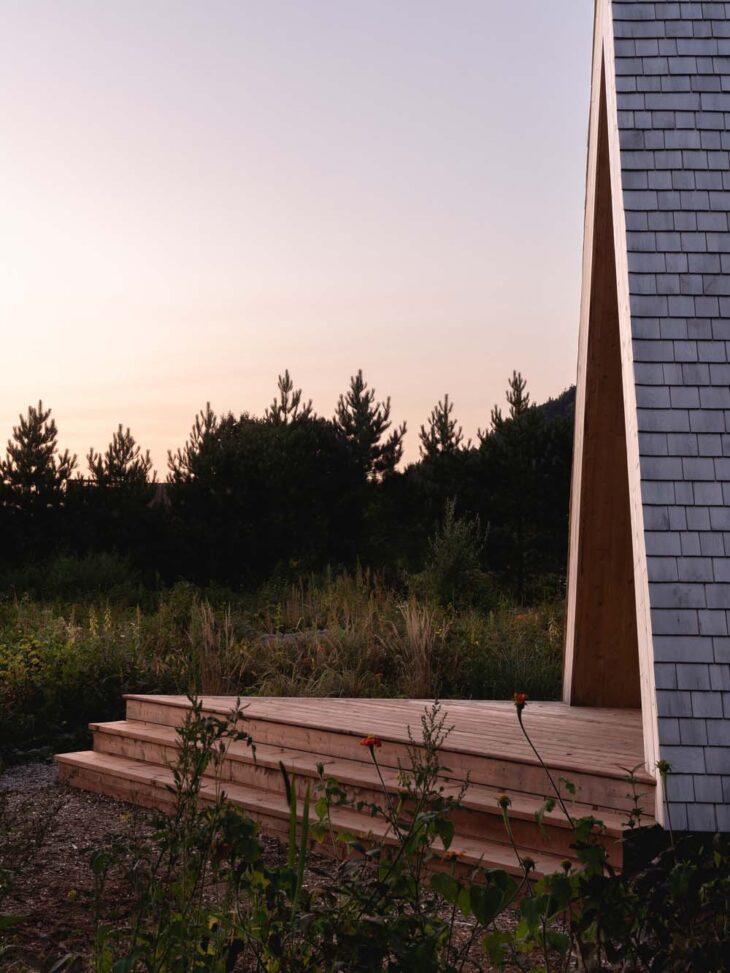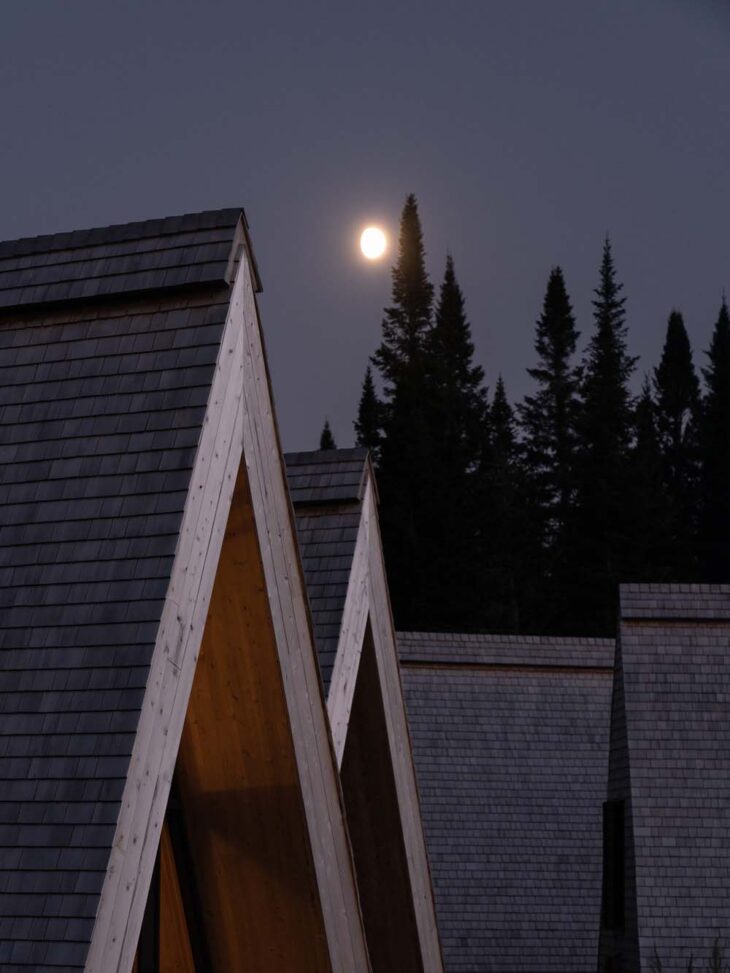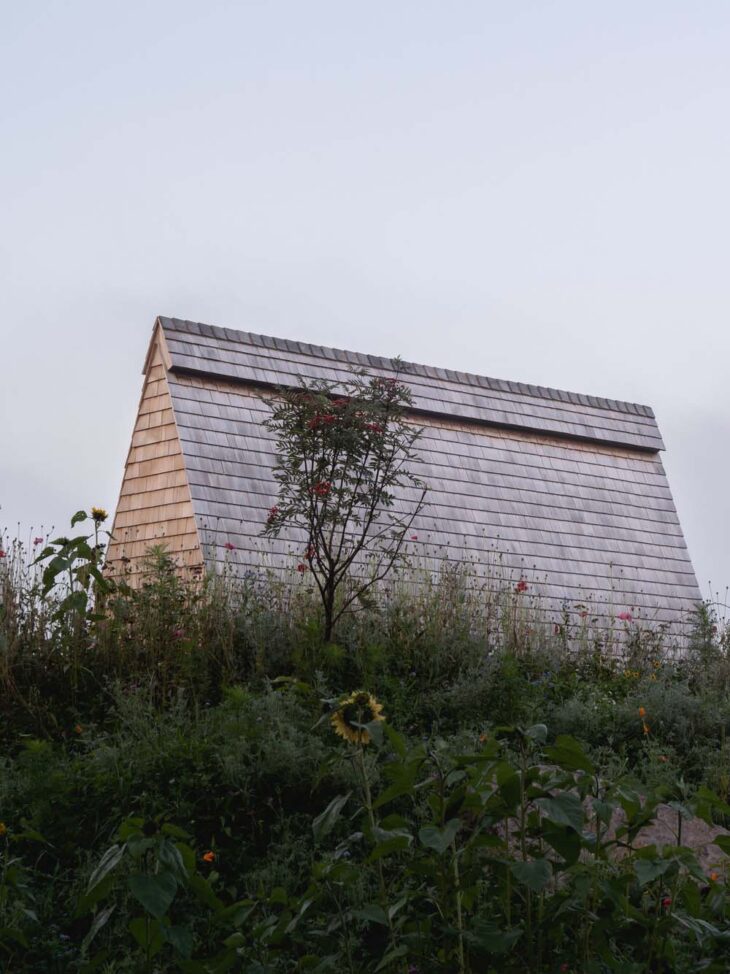 South of the café is the cedar shingle micro-cabins camp. The four modest A-frame shelters, which are naturally organized and connected by a meandering route, each include a king bed, a sofa, and a gas stove inside their compact design. In essence, the structures dissolve into the nature, allowing guests to fully immerse themselves in the untamed splendor of the Devil's River.
Project information:
Project : Farouche Tremblant
Site : Lac-Supérieur, Québec, Canada
Area : 5000sf (464sm)
Client : Farouche Tremblant
Architecture : Atelier L'Abri – labri.ca
Construction : Construction Pascal Rondeau
Engineering : Alte Coop
Project Team : Stefania Praf, Charles-Édouard Dorion, Vincent Pasquier, Nicolas Lapierre, Francis Martel-Labrecque
Products: Lepage Millwork, Vicwest, Scierie Armand Duhamel & Fils, Entrepôt du Cèdre
Delivery: 2022
Photographer: Raphaël Thibodeau