5QUEENS Development, a Limassol-based company, has unveiled plans for the Büro Business Center, a project that promises to redefine the skyline of the city's business district. Collaborating with the esteemed ZIKZAK Architects for the façade design, this business center stands out as a beacon of environmental consciousness, integrating cutting-edge technology and design inspired by the German Bauhaus movement.
The Büro Business Center, translating to "office" in German, takes inspiration from the Bauhaus movement known for its clean lines, formality, and precise geometry. This influence is unmistakably reflected in the building's contours, creating a unique fusion of contemporary design and historical inspiration.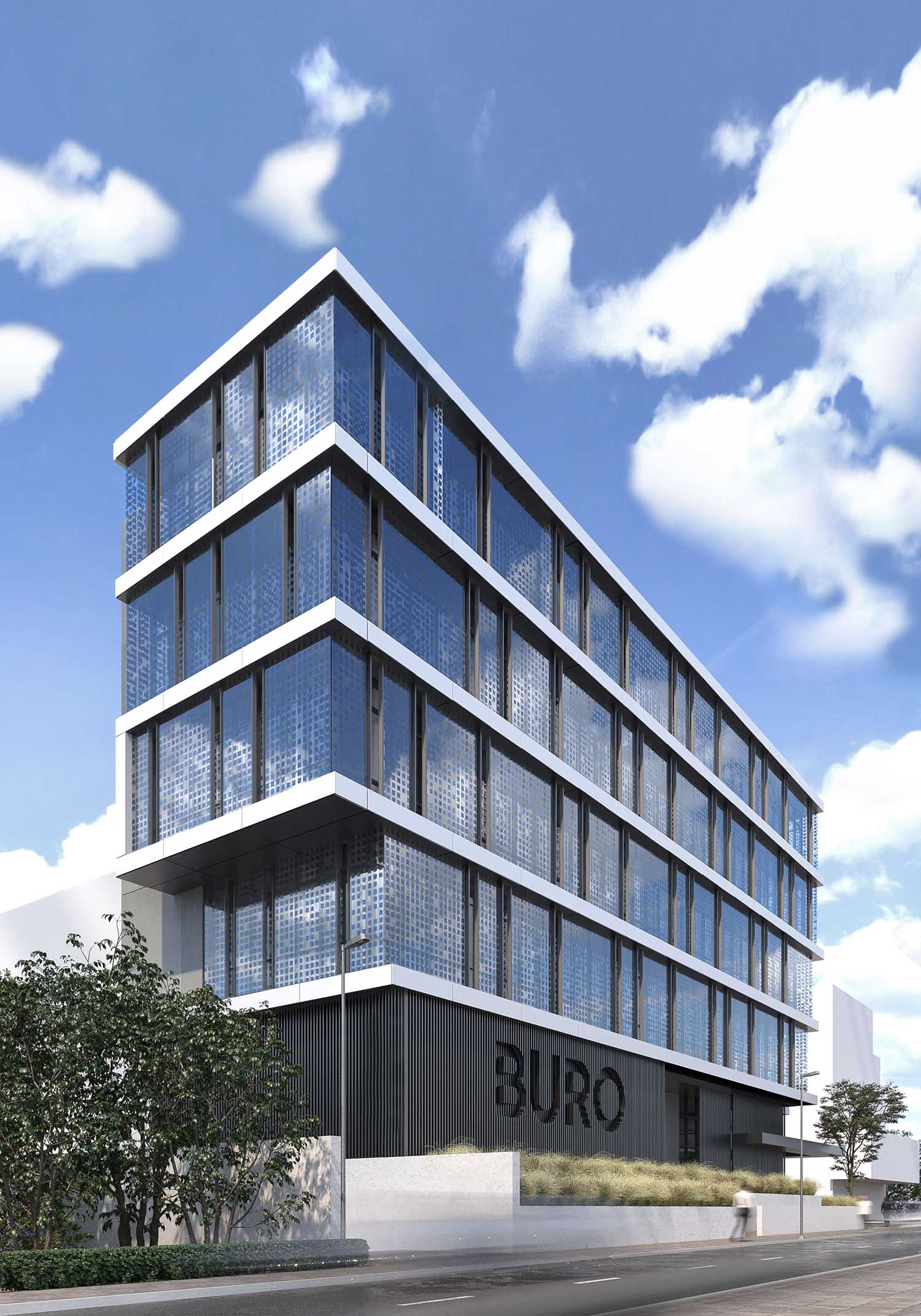 A standout feature of this project is its commitment to environmental sustainability. The structure's shell is equipped with translucent solar panels strategically placed on glass facades facing south, east, and west. These solar panels not only make the building energy-efficient but also serve as a visual masterpiece, reflecting the architect's attention to detail.
The solar panels, composed of cells adhered to the glass, not only generate electricity but also act as a shield against direct sunlight. This dual functionality prevents overheating of the interior in the scorching Cypriot climate, significantly reducing cooling costs during the summer months. Additionally, the lower level of the building is concealed behind a rail structure, providing extra shade and protection to the first floor. The black rails, aside from their functional purpose, also contribute to the building's aesthetic by adding contrast and accentuating different levels.
As the sun sets, the Büro Business Center comes alive with external lighting that highlights the building's relief and geometric forms. The translucent solar panels, serving as both energy-efficient daytime shields and nighttime illuminators, create a captivating appearance reminiscent of Tetris game figures, adding a touch of playfulness to the sophisticated design.
The Büro Business Center positions itself as a prime example of modern office architecture in Limassol's business district, offering an environmentally conscious and contemporary workspace. The integration of sustainable technologies not only underscores the commitment to a greener future but also positions the business center as an attractive option for tenants looking to optimize operational costs.
With its stylish and minimalist façade, the Büro Business Center is set to become a landmark, showcasing the harmonious intersection of form, function, and eco-conscious design in the heart of Cyprus.
Project information:
Project name: Büro Business Center
Interior design: ZIKZAK Architects
Project team: N. Zykh, I. Yasyn, A. Yehiiants, O. Tarasko, M. Gerdvoen
Principal architect: Nick Zykh
Design team: I. Yasyn, A. Yehiiants, O. Tarasko, M. Gerdvoen
Project location: Limassol, Cyprus
Project area: 3661 sq m
Design year: 2023
Client: 5QUEENS Development, Limassol, Cyprus