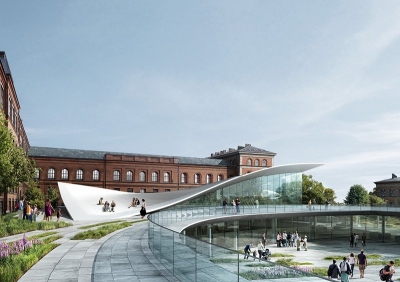 Project: Natural History Museum
Designed by Kengo Kuma & Associates, Erik Møller Arkitekter, JAJA Architects
Kengo Kuma & Associates Team: Principal: Kengo Kuma; Partner: Yuki Ikeguchi; Team: Miguel Huelga de la Fuente, Akira Kindo, Nicola Maniero, Ryuya Umezawa, Kimio Suzuki, Jaime Fernández; Collaborators: Karl Johan Nyqvist, Rodrigo Veláquez, Shinnosuke Takayanagi, Giacomo Sponzilli, Jonas May, Matthew Cho, Chang Kwon Park
Erik Møller Arkitekter Team: Partner: Peder Elgaard; Team: Johanne Donsted, Christian Kusk Nielsen
JAJA Architects Team: Partners: Jan Yoshiyuki Tanaka, Jakob Steen Christensen, Kathrin Susanna Gimmel; Team: Sam De Boever, Ingrid Roalsø
Consultants: Buro Happold: Jo Gamwell, Paul Roberts, Alex Nikolic; Thing & Wainø Landskabsarkitekter: Marie Thin, Uffe Wainø; 2+1 idébureau: Rasmus Rune Nielsen
Location: Copenhagen, Denmark
Website: kkaa.co.jp, www.ema.dk & ja-ja.dk
Kengo Kuma & Associates, Erik Møller Arkitekter and JAJA Architects design the additional wing to the Natural History Museum in Copenhagen. Discover more of their solution after the jump:
From the Architects:
The museum in the garden. The garden in the museum. Located in the Botanical Garden in the heart of Copenhagen, our proposal extends the beautiful spatial qualities of the garden across the site, connecting to the city and further into the museum – allowing movement that ties city, garden and museum into a unified whole. The intricate relation between garden and museum makes the New Natural History Museum a part of the experience of the garden and an integrated part of city.