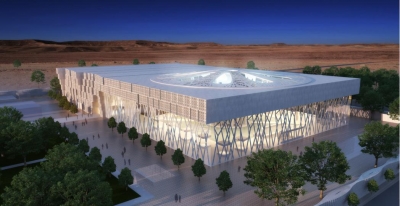 Project: National Museum of Afghanistan
Designed by TheeAe LTD
Site Area: 16 000 sqm
Total Building Area: 18 000 sqm
Height: 18m
Location: Kabul, Afghanistan
Website: theeae.com
Project for the National Museum of Afghanistan designed by TheeAe LTD for a location in Kabul.
From the Architects:
Afghanistan's culture that abides in the country was much ruined and deserted. Its new museum to catch up the lost richness and its cultural asset is necessitated to give hope and inspire people in that region.

Finding this design chance as a way to bring the lost heritage back to the present, the major concern for the architecture was not only about the collections but also emotional realm of space that requires a place to take a rest and feel the joy of the nature in its heritage safe and secured.

Our Architectural design was initiated to express the culture as if it has been with its heritage for centuries and centuries by emphasizing whose characters are natural environment, richly enormous sculptor, open valley of mountain and bright sun lights that penetrate thru patterned frames.