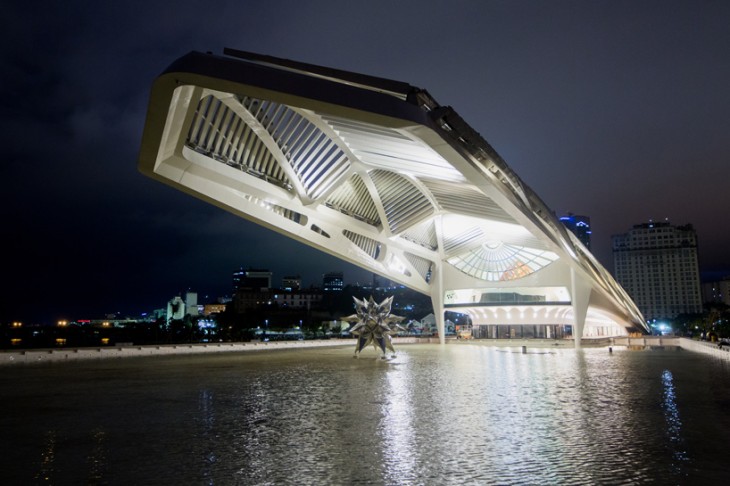 The Museum of Tomorrow, designed by spanish architect Santiago Calatrava, is set to open its doors in rio de janeiro's puerto maravilha neighborhood. The design of the museum is influenced by local culture and, through its architecture, explores the relationship between the city and the natural environment. It consists of 5,000 square meters of temporary and permanent exhibition space, as well as a 7,600 square meter plaza that wraps around the structure and extends along the dock. the building boasts large overhangs 75 meters in length on the side facing the square, and 45 meters in length on the side facing the sea. these features highlight the extension of the museum from the dock into the bay. the permanent exhibition is housed upstairs, and features a roof 10 meters high with panoramic views of guanabara bay. the total height of the building is limited to 18 meters, which protects the view of the bay from sao bento monastery, a UNESCO world heritage site.
'the city of rio de janeiro is setting an example to the world of how to recover quality urban spaces through drastic intervention and the creation of cultural facilities such as the museum of tomorrow and the new museum of art,'explained santiago calatrava. 'this vision led us, in our first designs, to propose the addition of a plaza outside the museum. the plaza creates a more cohesive urban space and reflects the neighborhood's greater transformation.'
the cantilevering roof with its large mobile wings and the façade structure expand almost the full length of the pier, emphasizing the extension into the guanabara bay. the building is orientated in the north-south direction, off-center from the pier's longitudinal east-west axis, maximizing a continuous landscaping feature containing gardens, paths and leisure areas along the southern length of the pier. located on the maua pier, the museum of tomorrow is part of a larger revitalization of the porto maravilha neighborhood. the museum's exhibits will address issues including: population growth and increased life expectancy, consumption patterns, climate change, genetic engineering and bioethics, the distribution of wealth, technological advances, and changes in biodiversity.